Your backyard is not only for when you're having guests for a party or gathering. It's also a space that can be your source of refuge – a place you can go to when you just want to relax and unwind. Hence, it should always be comfortable. And to do that, here are some design ideas that you can use to revamp your backyard.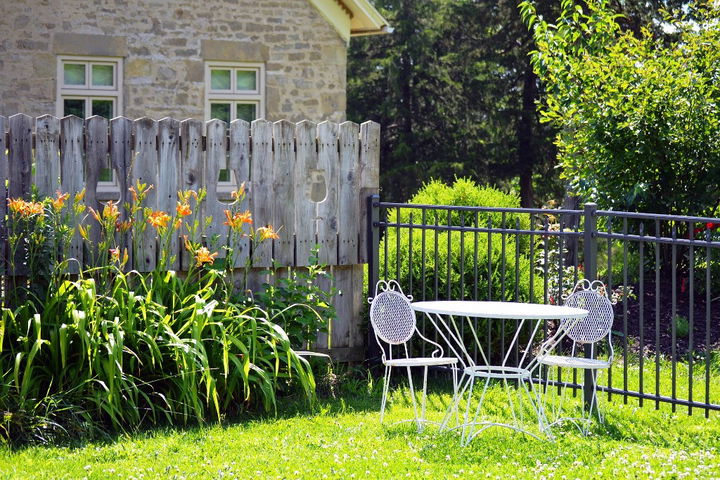 Use Comfortable Seating
Everyone probably already has chairs in their backyard. But, don't just use whatever chair that you can find in your home. Rather, consider lounge chairs, chaise lounges, pallet chairs, or deep seating sets.
You can also add a swing chair or a hammock. They will allow you to relax and stretch out by your pool, on your deck, under your umbrella, etc. They're more comfortable for your backyard than other seats you can find in the market. With these, you're more likely to spend more time outside.
For outdoor seating, one of the designs you can go for are rattan and wicker chairs. You can also go for wooden chairs but make sure they have comfortable seat cushions. For others, on the other hand, like to use seats with frames made out of iron. This is because it's easier to clean.
But then again, regardless of what seat design you go for, make sure that it has enough cushion so you will stay comfortable no matter how long you'll stay seated.
Add Some Shade
It's fun to bask in the sun and get a good tan until hours later, you get a sunburn, which is can be painful. Too much exposure to the sun may also trigger migraines, headaches, and light sensitivity, which can make you uncomfortable throughout the day. Additionally, it may increase the chances of the early appearance of fine lines and wrinkles.
True enough, sun exposure is beneficial. But too much of it, just like any other thing, can be bad too.
To limit your sun exposure while you're relaxing in your backyard, consider adding some shades. Having a retractable awning installed is one of the ways you can do that. Aside from aesthetics, it also offers flexibility as you can retract it whenever you can.
If you want a more natural approach, though, you can simply have some trees planted, especially where you'd want to set up your chairs. Not only will it give you some shade but will also clean the air around you.
Use Some Pillows and Blankets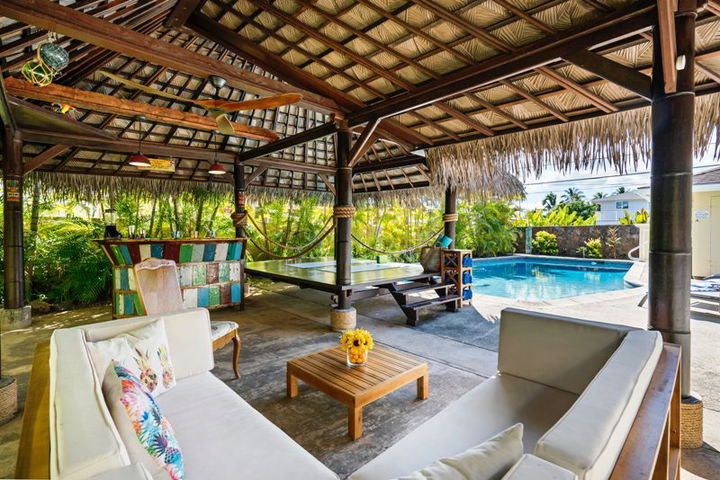 Contrary to what some people think, pillows and blankets don't only go in your bedroom. Apparently, you can also use them in your backyard to make it more comfortable. These items, when placed in your seating set, will make your backyard more inviting and cozy.
They also work well, especially during colder months. They will give you warmth and comfort as you unwind.
However, make sure not to forget to take them inside your home when you're expecting snow or a strong storm coming, especially if they're not waterproof or meant for outdoor use as they might get damaged.
If you leave them outdoors, they could get wet and won't dry properly. Eventually, it would only accumulate mold and mildew, which could compromise its quality.
So, if you don't have arbors or overhead roofs in your backyard that could protect your pillows and blankets from heavy rain or snow, don't forget to take them inside your home.
Install Water Feature
For some homeowners, adding some water features like a fountain is a bit too extra for their backyard. But, apparently, it's a great addition to your space if you want to make it more comfortable.
The mere sight and sound of water already have a calming effect on the mind, giving you a more tranquil environment. It's also what will attract birds to your property, which will make it even more relaxing.
This is because the human brain interprets them as non-threatening for their soft sound, unlike alarm clocks and screams. They are also considered as "white noise," which doesn't drown out any sounds in your head or in your environment. Thus, helping you to concentrate and let go of the stress you're feeling.
You can also add a swimming pool, which will help you stay cool during the warmer months. Not to mention, it will also give you an opportunity to stay fit.
A pond is also a great idea to make your backyard comfortable and aesthetically pleasing. It also produces a relaxing sound of trickling water.
Use Plants to Create Privacy
Comfort also means privacy. And if you want to add more privacy to your backyard, you can design it by carefully placing walls, fences, and screens of the right height so you won't have to worry much about your neighbors.
You can also utilize thick bushes, hedges, bamboos, or tall shrubs. This will also give an added surprise to your backyard as you move through your space.
Add Natural Fragrance
Believe it or not but certain smells can also help you relax. This is because the body's olfactory system has a strong direct line to the part of the brain that has something to do with memory and emotions. That's why scented candles and fragrant oils are used in spas to help customers relax.
That said, one of the first things that some people may think of is to light a scented candle while they're relaxing in their backyard. But instead of using them in your garden, you can just add fragrant plants, particularly in your seating area.
Apparently, certain flowering shrubs and vines have intoxicating smells, which can help calm your mind as you unwind in your backyard like casa blanca lily, angel's trumpet, and yellow primrose, to name a few. They can make your backyard look livelier and beautiful too.
Your backyard isn't only for entertaining your guests. Make the most out of it by using it as a place to unwind too. Make it cozy and comfortable so you won't have to spend more outside your home trying to shake your stress away.