Many people try to decorate their apartments in non-standard ways, and pallets are one of them. These structures are made of wooden planks and serve as a podium for goods. The main advantage of pallets is their originality, simplicity of design, and low cost. This can be the basis for your interior design. Here are basic options for how to decorate your dorm room using pallets.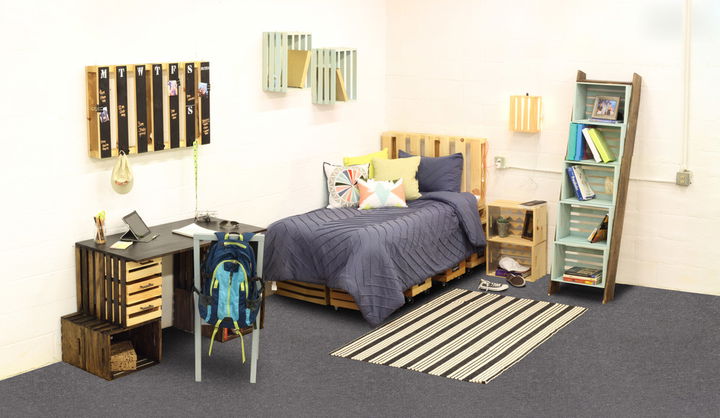 Crate Desk
One of the more popular options for using pallets is a table. If you are a student and need to decorate your premises at minimal cost, this is the best option. You can choose several pallets as a base and buy one wooden sheet that can be screwed with special screws or metal structures for overall integrity. The wooden covering can be painted with varnish after grinding the chips. This will save you some money to spend on custom essay order.
Dorm Bookshelf
If you have a lot of paper books, then you probably thought about an additional bookshelf. Of course, you can visit any IKEA store or buy something in the sale. Nevertheless, it all costs money. If you are a student, you probably do not have enough funds to spend it on expensive furniture.
Take a few pallets and download the drawings from the Internet. You can make small bookshelves as well as storage space for your perfumes or other items. As with a wooden table, you can sand all surfaces and paint them with varnish. Alternatively, you can use multi-colored paint on each pallet to make your interior unique.
DIY Bed
If you do not want to spend a lot of money buying a bed in the store, you can make it yourself. All you need to do is choose a mattress in advance that will serve as the basis for your new bed. Based on its proportions, you should create a drawing. Further, you can buy wooden pallets of any height to make a wooden frame.
Connect the epaulets with self-tapping screws and treat them with a special solution so that the wood does not dry out or crack. After that, you can put the mattress on top or fix it with several wooden corners. Now you have a full bed that can be used everywhere on and from time to time painted in different colors to freshen up the interior.
Pallet Bench
Benches or pallet sofas are also a good idea. Firstly, it is a universal solution that fits into many interior options. Secondly, it is very accessible, and any student can do it. All you need is download a ready-made template with drawings from the Internet or come up with your own version for creating a bench or sofa.
Once the preliminary calculations are ready, you can buy several pallets and connect them in such a way to form the seat and back of your future divano.ru. You will certainly have to spend money on materials for cushions and upholstery. You can put a finished mattress or a cover you created on top to make a cushioned seat.
If you make such a sofa or bench, then you will have free money. They can be spent to delegate some of the work to the writing service. Websites such as papercoach.net will help you maintain your high scores while you decorate your home.
Necessary Preparations
Before you start combining the pallets, you need to prepare the point. This is the main component of a successful renovation. You have to borrow special gloves, screws, glue, tape measure, and any other accessories from friends that will help you speed up the process of creating furniture from pallets. You also need to understand that buying several pallets takes up a lot of space. This is especially true if you want to make a whole wardrobe from pallets or a bed.
You can rent a garage or ask your friends to let you into their apartments for these purposes. Once you are ready, you can choose the right varnish with the shortest drying time and not stink too much. Then you can do all the necessary steps for creating furniture at home. The most important thing to remember is the correct dimensions. Never start sawing pallets before you have measured the correct length or width. Then you have to shop again.
It is best to buy new pallets that have not been in the rain for a long time. The fact is that wooden structures in the open air are exposed to various temperature conditions, liquids, and other negative factors. As a result, the tree structure is broken, and you risk the strength of the structure.
This is especially true if you make a table that will fall apart under your computer's weight. You don't want to spend extra money on repairing your equipment, do you? Any pallet should have a natural appearance without mold or staining. Then you can safely buy such stuff and make furniture.