Wooden pallets are a staple in the packaging, logistics, and shipping industries. They are critical in protecting goods that need to go or travel through a supply chain.
However, the use and production of wood pallets are often criticized for being environmentally destructive. First, they're made from trees. Second, most of these pallets are kept in storage spaces and take a lot of space in landfills.
The good thing, however, is that you can contribute to the reduction of environmental impacts by upcycling or repurposing wood pallets. There are a hundred things that you can do with these pallets, you only need a bit of imagination and resourcefulness.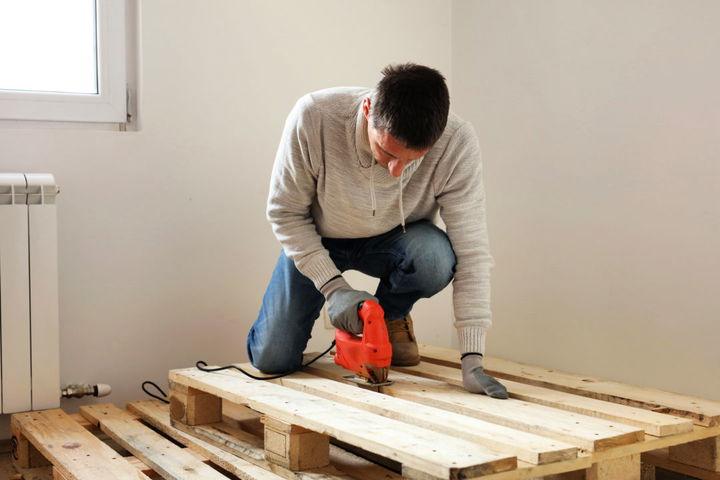 What Is a Pallet?
The supply chain owes much of its efficiency and product preservation through the use of wooden pallets. With these, assembling, storing, stacking, and transporting goods have become way easier.
Pallets from companies such as  ChallengerPallet.com are typically moved by forklifts, pallet jacks, or conveyors, and they are secured by belts, straps, wraps, and nets. In addition, a pallet can be shaped differently depending on how they're going to be used or stacked. For instance, there are two-way and four-way entries that are reversible, wing-type, closed, or open-boarded wood pallets.
What Makes a Good Wooden Pallet?
If you think about it, any type of tree, whether hardwood or softwood may be used to make wooden pallets. In the US, wooden pallets are made predominantly from oak and pine. Oak is technically classified as hardwood, while pine is considered softwood.
There are, however, environmentally-friendly ways to make them.
1) Presswood Pallet
Also called a molded wooden pallet, this type of wooden pallet is made from recycled wood shavings, old pallets, or wood fibers that are processed to make a single woodblock. Presswood pallets are more similar in characteristics to plastic pallets.
However, they're less durable compared to regular wood pallets. While generally water-resistant, they may be prone to water damage if left for long periods in damp and cold conditions. You can recycle them, but mainly as decorative items and not as furniture or other fixtures because of their attributes.
2) Plywood Pallet
This type of pallet is lightweight and tough enough to withstand rough conditions. However, they have limitations in terms of their capacity. Specifically, it can only support a certain amount of weight. For higher efficiency, only light or medium-heavy merchandise may be transported using plywood pallets.
An advantage it has over normal wood is its resistance to insects such as bugs. Plywood pallet is typically more moisture-resistant as well. And because of that, more environmentalists agree that they are more eco-friendly. In addition, most wooden pallets are made from waste lumber, which is seen as more environmentally friendly since no carbon dioxide-absorbing tree is cut to make them.
Do-It-Yourself Wooden Pallet Projects
Wooden pallets can be converted and repurposed to just about anything. More importantly, they're cheap and readily available for almost every do-it-yourself home renovation project you can think of. They're also great for giving your home a rustic or shabby chic look.
If you're looking for ideas, this article lists down several home projects that can turn those wooden pallets from drab to fab. Do note that the best way to go about this list is to start small. As you gain experience, you can move on to bigger and more ambitious projects.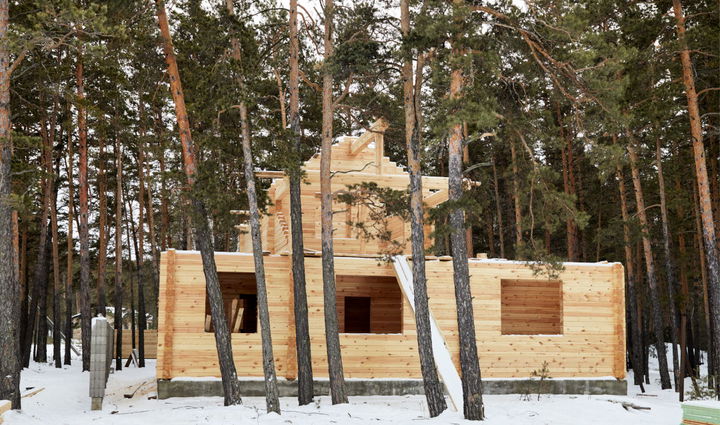 1. Wooden Pallet Playhouse
Want your kids to have their own space? Gather all salvaged wood and shipping pallets to create their very own playhouse.
You may come across pallets made from oak, pine, spruce cherry, or cedar. Try to avoid hardwood as they're too tough to work with. Stick to pine, if possible, as they're softer and easier to re-attach together.
Screen the wood and only use tough-looking ones. Sand and stain the planks properly for a smooth finish.
2. Wooden Pallet Jewelry Organizer
Want an instant jewelry organizer? Cut the pallet to your desired size and repaint it if you want. Securely fasten the pallet to your wall or your cabinet door and start filling the organizer with your accessories.
3. Wooden Wine Rack
Recycle that slightly damaged wooden pallet that came with your recently-shipped electronic appliance into a wine rack. Unlike other Do-It-Yourself (DIY) projects, it doesn't require a lot of materials to finish. With a wooden wine rack, you won't have to think about where to keep your bottles (and glasses) anymore.
4. Wooden Pallet Shed
Ready to tackle more complicated projects? Try building a shed. For this, you'll also need plenty of pallets to cut and put together. You may also need the assistance of an experienced builder or carpenter. The end product doesn't have to be too fancy, but it will add a rustic feel to your property.
5. Wooden Pallet Backyard Patio
If you've got a great deal of time on your hands, and a great supply of wooden pallets, consider sprucing up your home by creating a backyard patio.
To completely transform your space, consult with an experienced designer or professional builder for more complicated and breath-taking designs that mix form and function. You may also put the pallets together and repaint or apply varnish. You can also add some lights and other fixtures such as a bench, coffee table, or swing.
6. Wooden Pallet Bed
If you want to have a more durable bed frame, ditch metal for wood. You don't have to spend too much time and money. If you're lucky, you can get pallets for free and cut the edges and reassemble.
Depending on how modernistic you want your bed to be, experiment with form and stacking strategies for a unique look. Also, make sure to check for splinters and nails before applying varnish or paint.
7. Wooden Pallet Headboard
Roll up your sleeves, take out your home-building arsenal and woodworking knowledge to use. While the wooden pallet bed may be easy to make, the headboard is another story.
Depending on the size and design, you may need additional work other than just cutting or repainting your pallets. You may want to consider adding a soft, cushiony foam to make a regal-looking tufted bed.
8. Wooden Pallet Swing
Whether you want it on a tree, on your porch, or in the garden, you can transform several pieces of wooden pallets into a swing. Just make sure it's securely attached and reshaped to accommodate at least two persons to spread the fun.
9. Wood Pallet TV Rack
If you think attaching a bracket on your wall and placing your television on it is so "blah", spice up your entertainment area by making a TV rack from wooden pallets. You can play up with the design and colors, as well as the form.
Dismantle the pallet to make planks and sand them. Repaint if you want to add a splash of color to your living room. Making a television rack is quite easy, here are a few design inspirations.
10. Wooden Pallet Wall
Want your bedroom to go from "meh" to "wow"? Jazz up your wall by adding wooden pallets. Sand the pallets and break them down. Paint the wall with dark paint to hide any inconsistencies, as pallets are never shaped perfectly. If you have time to spare, cut the slabs into interesting shapes, or leave it as it is.
Have the wood polished or repainted to make it look aesthetically pleasing. Of course, this is not exclusively for bedrooms, you can add wood pallet decorations on the living room, kitchen, or any part of the house.
11. Wood Pallet Ceiling
Do you have chunks of broken but still usable wooden pallets for your DIY projects? Take them out, cut the edges, and sand the planks. Wash and air dry the slabs. And once they're ready, take out your wood glue and nail gun. Have fun tacking up the pieces of wood to your ceiling for that rustic look. You can also paint it if you want.
12. Wood Pallet Storage Cabinet
If storage space is a big issue in your home, gather all the pallets you can have. Cut and splice them out. Prepare some nails, varnish, sander, drill, and door handles to make your own cabinet. Don't forget to sand and seal the cabinet with a wood sealer to make it more durable.
13. Wood Pallet Bookshelf
Are books taking too much space in your room? Have your pallet planks ready and re-attach them to form a nice bookshelf slash cabinet.
Get your woodworking tools ready such as measuring tape, saw, nails, glue, hammer. You can also make this for a friend who loves books or anyone who has problems finding space to store small objects.
14. Wooden Pallet Picture Shelves
This project won't eat up much of your free time. After preparing your pallet planks, measure, cut, re-attach, and install. Sounds easy, but it may not be the case if you're doing it for the first time. Don't worry if you're faced with an imperfect product. You can redesign it or add pieces that will just make it look like a decorative addition.
15. Wooden Pallet Coffee Table
A rustic table and coffee cup just go really well together. Maybe it's the color, maybe it's the smell. But whatever it is, you can make your own coffee table from disassembled pallet planks.
It doesn't matter whether your pallet is not in tip-top shape, as long as it's durable. It's easy to have the plank sanded, varnished, or repainted anyway. Whether you're planning to make the table a fixture inside or outside the home, you'll never go wrong.
16. Wooden Pallet Bench
If you're a newbie furniture maker, making a bench from wooden pallets is a great way to start. It's quite easy to make. Just cut the bench, form the bench seat and back portion, then the armrest as well as leg supports. Fasten with construction screws and reinforce the attachments. Repaint the bench to make it look like new. If you're successful at this, the next best thing to make is a table to match it with.
17. Wooden Pallet Sofa
Before anything else, check if the pallet is made from hardwood like oak to make sure it's sturdy. Also, check whether the wood is treated with anti-bug chemicals to make sure it won't get attacked by wood-damaging pests.
Similar to making the platform bed, you can mix and match or experiment to come up with an interesting design or form. As with any DIY project that involves the use of pallets, you need to stretch your creative and woodworking skills.
You can create a sofa that's quite flexible, allowing for both indoor and outdoor use. Add a thick layer of cushion that may be tailor-made for ultimate rest and relaxation.
18. Wooden Pallet Shoe Rack
If your kicks are just strewn about in the living room or on your front porch, it's time to create a new set of shoe rack.
A wooden shoe rack is one fine way to store your precious pairs, whether it be sneakers, boots, running shoes, flats, and so on. Just measure, cut, and assemble. Add a coat of paint or varnish, and you're good to go.
19. Wooden Pallet Pet Bed
Your furry friends need their own slice of real estate, so you better put those carpentry skills to good use by making a pet bed. Depending on the size and design, it may take you a few hours to a few days to make a pet haven for either your dog or cat (or both).
20. Wooden Pallet Pot Rack
Pot racks are typically made from metal, but you can create your own with wooden material. If you want to make your kitchen more stylish, use pallet planks, repaint it, and hang it on your ceiling. Consider mounting it on your wall, too, for a tidier look.
21. Wooden Pallet Divider
This one may seem like a huge project, but it is easy to make and perfect for beginners. Just take four to six pallets, put them together and place them on any part of the house to serve as a privacy screen. After re-painting, add some decorative items to fill in the gaps and spaces.
22. Wooden Pallet Flooring
If you can tack pallets to your ceiling, why not place them on floors too. Save some pallets and place them on your floor to imitate the look of reclaimed wooden floors, so you don't need to repaint the planks.
How to Get Wooden Pallets Near You
It may be tricky to look for places where you can get pallets for free or for minimal costs. But if you know where to look, you may be able to get good quality pallets for your construction projects. You can check out these places for starters:
Local Shops or Super Markets
Equipment Suppliers
Manufacturing Plants
Pet Supply Stores
Food Stores
Dry Goods Sellers
Hardware and Furniture Stores
Newspaper Companies
Schools
Fresh Produce Markets
Local Recyclers
Online Suppliers
Final Word
With imagination and crafty skills, you can add beauty to your home without spending too much. If you're itching to start a new project, take all those wooden pallets, roll up your sleeves, and get to work!