Do you really want to save the rustic and worn wood around you? Do you really want some perfect wall arts and decors? If yes, then we have a great pallet wall art for you to give really fascinating looks to your home blank wall areas. We have made this DIY pallet sunshine wall art using some crumbled pieces of pallet wood, you can do it with any would you have. We found some weathered pallets in the surroundings while walking unintentionally there.
There was some appreciable wood in them to be reclaimed so we tore them apart the make this focally stimulating DIY pallet wall art to compliment the home walls. We have made creative use of odds and ends of pallet wood that surround the rising sun. Yellow paint has been used to point out the sun rays that really add a vibrant behavior in entire pattern. After making the rising sun we left with some side space on this wooden board so we wrote some customized words on it to give a sensational feel to it.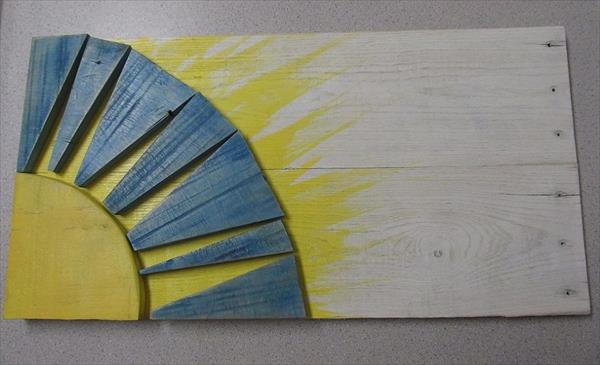 This entire work is just supreme in terms of creativity and also adds great in home decors. Enjoy this rare and unique use of pallet for your living room walls or for any wall throughout your home.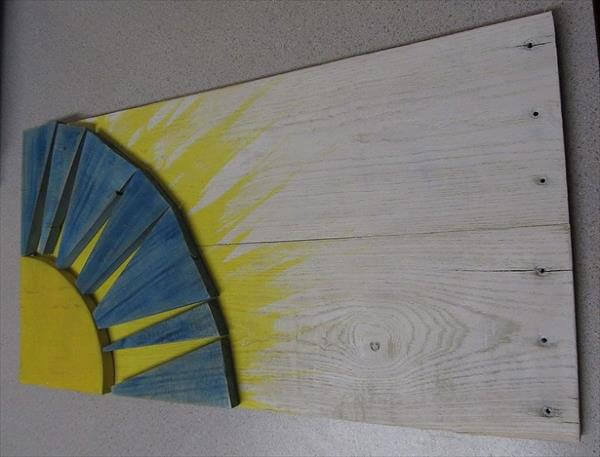 You can write some custom words, name letters and a morning message on the empty space on this wooden frame using stenciling techniques or with your own creative hands if you are good in painting.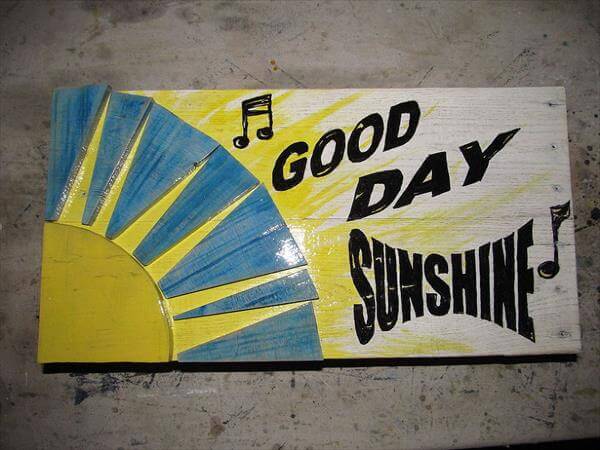 You can raise it in various color patterns and textures and can also use this DIY pallet idea for gift-giving purposes. This is just an unexampled and likeable way to reuse the useless wood.
This pallet sign of sun is just beginners friendly and also avoid any overload on your wallet so don't stop you creative hands to get a copy of this eyeful art pattern.