It is main part of our efforts to give you the idea to get a quality material out of pallet wood which would also be handsome in layout. This time we are with an idea of DIY pallet bed which is looking so gracious that everybody will want his hands on to this pallet furniture plans. There are all enjoyable features in this handcrafted layout which possess that industrially prepared models.
It is much that just a DIY pallet bed frame design there is row of 4 side pockets on each side to set up the material which needs to be secured well for a long time. Shoes, blankets and clothes can easily be managed in these creative storage drawers. Grab the pallet wood if this rustic dainty bed has impressed you a lot and make a copy of it at home. We have formulated the layout with all specification of a complete bed like the DIY pallet headboard frame on head of the bed.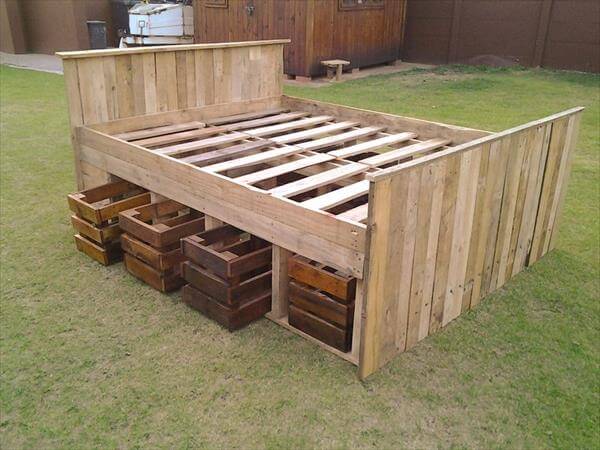 This DIY pallet bed inspiration is enough to skip the thought that there is no worth of useless wood in life because we have assembled it in this beautiful frame through crumbled and collapsed piece of wood like pallet wood.
There is a lot more optional you can do to raise it on trends and modern furniture fad, the first thing that will make it totally changed is the paint to it to give it a theme of desires. Another great option is to make it coated with stain which is available in plenty of shades and maple, weathered brown, dark brown, minwax and walnut shades are most popular to get wood in rocking nature along with extra strength.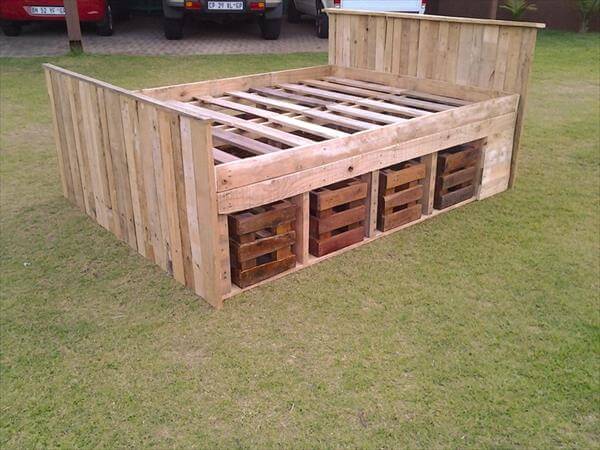 The side rows of drawers look much fetching and are much advantageous and can provide any household a packed setting. We were left with some extra pallets, and this idea for DIY pallet drawers came to us to be secured under the bed frame.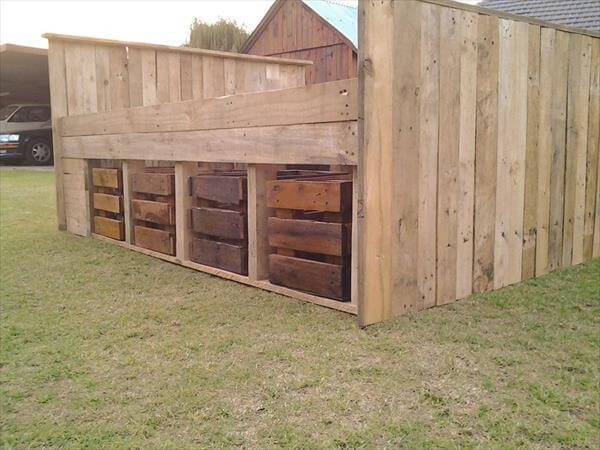 To get it in just fine and pleasing one appearance depends only the precision in cutting and joining. More sharp you go with cutting according to measures more accurate will be the layout to amaze every looking eye. It took up to 2 days to get this highly beneficial need of home on a budget.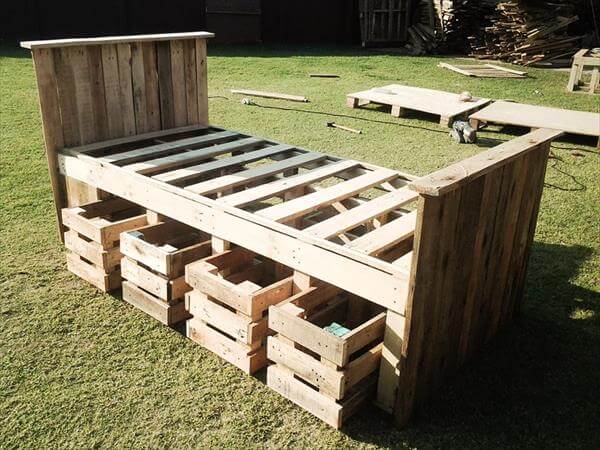 To avoid complications to turn it over again and again, select the wide outer space as working place, the home outdoor garden will be the best place to work with wood. Make good use of sandpaper by rubbing it with hands on the wood to get the wood back into beauty and shine.