In this modern age, everybody is becoming a victim of inflation. Higher rates of daily life essentials are affecting the people badly and this situation is causing great problems to short budgeted people. Modern furniture is also going to be more pricey and to live without it is really not possible. However, we have some ways to get the fascinating and serviceable furniture for home on much wallet-friendly plans. Pallet wood can really be a good friend of you in your hard time. By using only your genius imaginations and master mind you can get any furniture essential out of pallet wood.
This time we are sharing this nice idea of DIY pallet bed made of pallets, the most extensive and also expensive component of home furniture but this time it is totally free of cost. this design comes with all the necessary components like DIY pallet headboard, footboards and side rails. Each component of this bed frame has been constructed separately according to dimensions of the bed. Appreciated use of white, blue and different tones of wood empowers the wood with visual boost and makes the entire DIY pallet project more pleasing to eyes.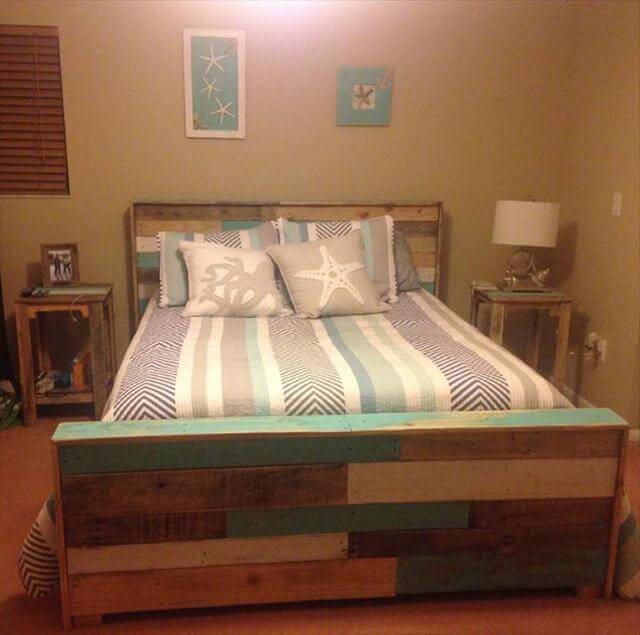 Bed is a really sleeping station and we have shared here the thriftiest plan here to access a bed. Retired and rescued shipping skids have been recycled for this comfy bed frame.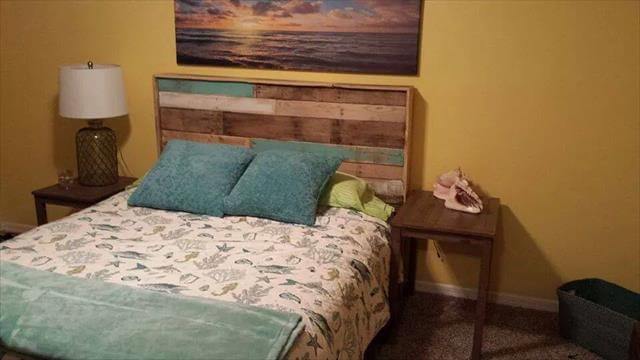 The dimensions of this bed frame are exactly that of king size, the construction is just super handy so one can simply get a bed now at home using the pallets.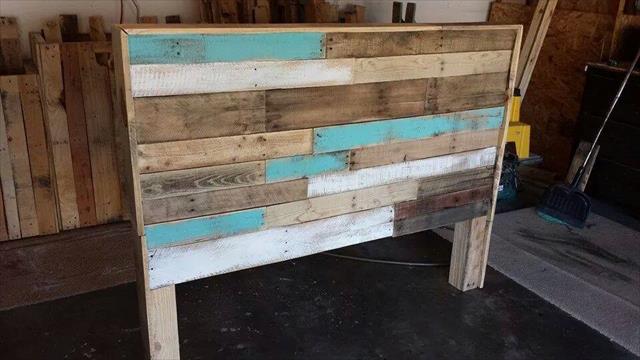 Each individual piece of bed frame has been constructed separately, here comes the super sturdy design of pallet headboard made of pallets having different wood species.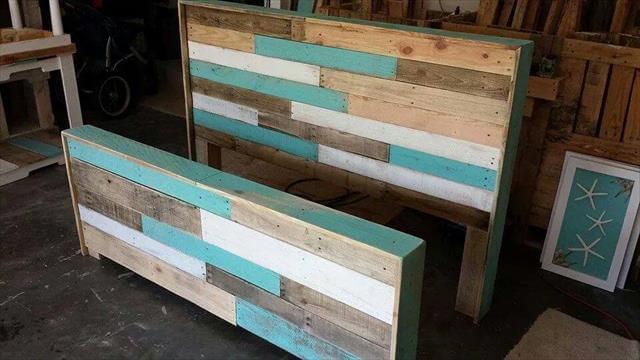 Headboards and footboards not only avoid the falling of pillows but also accentuate the design for a visual boost. Here are nice headboard and foot board panels to be installed to your bed frame.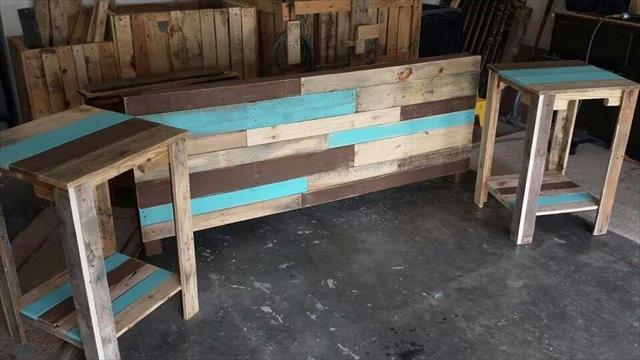 To support the night conveniences two DIY pallet nightstands have also been constructed with pallets to put on both sides of the bed frame. Leftover wood during the foot board and headboard construction has been reclaimed to build these supporting designs of tables.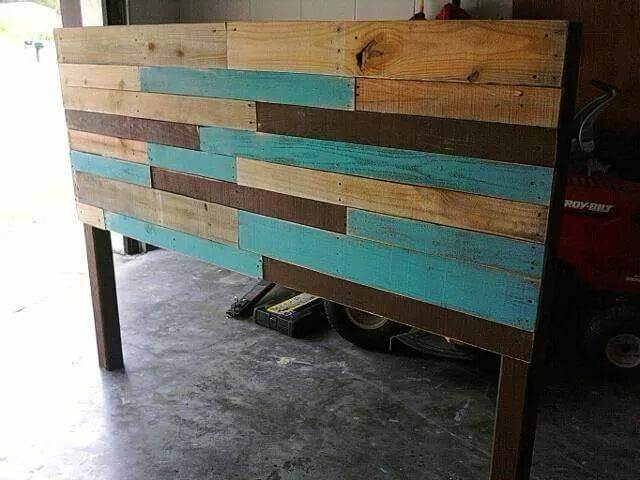 Entire wood has been passed through a complete process of sanding and gritting to be emerged with a smooth and splinter free appearance. This accent piece of headboard looks really looks awesome due to multiple wood tones and colored nature of wood.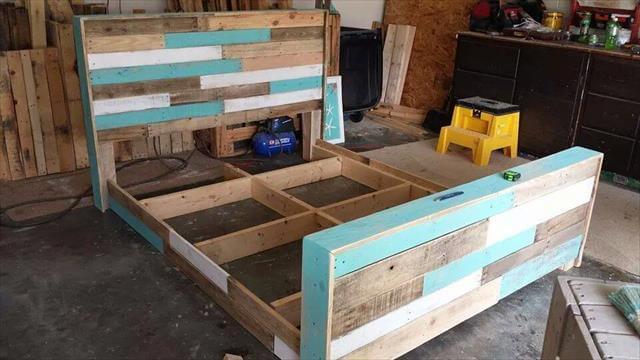 Here is the view of perfect assemblage of all the parts to shape up a heavy duty bed frame. Boards of  pallets have been separated apart to pick up the according sizes to build the inner sleeping section of the bed. Wood glue, nails and screws have been used to hold the entire frame tight.
Really nice DIY pallet projects for short budgeted home lovers to go for a dreamy sleep over the night. This bed frame is super functional, sturdy and designful and has unbeatable price table. This pallet bed for a nice wooden bed is compatible to both vintage inspired and modern interior and will also be super cool addition to your farmhouse styled bedrooms!!