If you have a really large home deck and terrace space but are suffering from short budget to organize it for seating, then why are you not making use of pallet wood? We have organized our patio with this rustic DIY outdoor pallet furniture by practical recycling of pallet wood. We got all this chic DIY pallet furniture on a very short amount of budget that was really amazing.
We have made some DIY pallet chair ideas, a coffee table and a 2 seated pallet sofa. Just make them padded or cushioned and start enjoying the serene outdoor sitting with family and friends. To do this DIY pallet project at home was really not a big deal; an untrained person can go for whole construction alone without complications.
Rustic display is looking much knockout and stimulating which we love all! Avail this affordable pallet idea and get the sturdy furniture for home patio, garden, deck and terrace.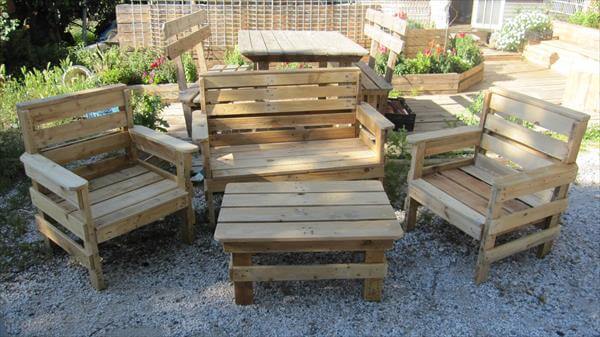 This cluster of pallet furniture can inspire every looking eye and has been built to last. Go and get the pallet wood to do some really cool DIY pallet exterior home improvements.
Pallet Bench/Sofa:
Here comes the 2 seated DIY pallet sofa which is a very honest and dutiful example of wise pallet reclaiming. You can view the rustic nail holes, and wood dings and knots which held much likeable and visually pleasing and make it a pure vintage delight.
Pallet Chair:
Just look at this pallet chair design, is not it competing the industrial chair design. Sturdy armrests and legs make a graceful impact and give a boss like sitting. The design for this chair is very visible and defined to understand and can easily be obtained in any dimensions you want.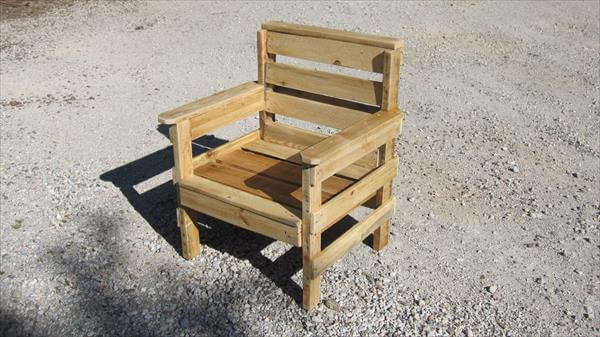 Pallet Coffee Table:
 While talking about the construction of whole DIY pallet patio furniture then how we can forget about the centerpiece of it. yes, we are just talking about this DIY pallet coffee table creation which will provide a great support to your beverage and coffee cups there and will act as a dutiful conversation starter.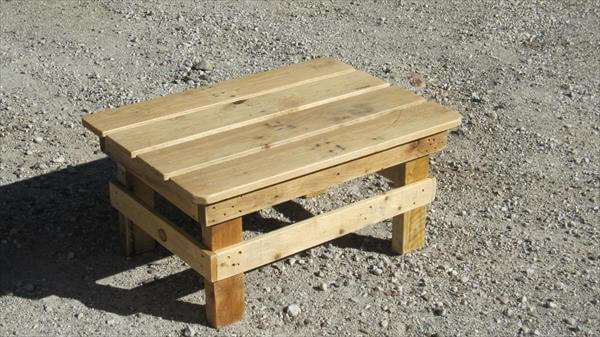 Outdoor Pallet Furniture Set:
Most amazing things about this chic patio furniture are the low budget and lasting endurance which can inspire anybody to have it just like we felt. You are only required some shipping pallets and some basic wooden tools to make all this done at home.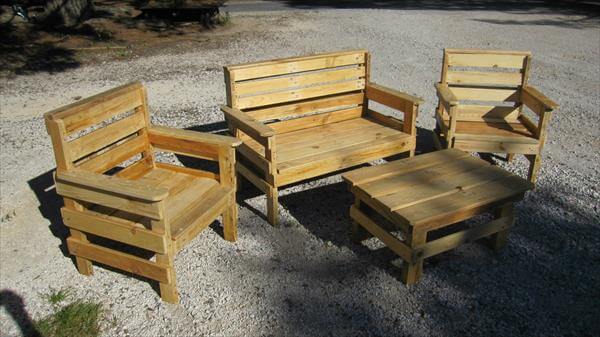 Such a great pallet wood projects come to you after a genius thinking of people around the world, you can also contribute to these chic DIY pallet ideas if you can think creatively about the ordinary stuff around you especially the useless wood.