Do you really want to have fun with pallets? Then just copy this DIY pallet patio furniture for very charming sitting area for your home deck, garden and also for the home terrace. We have shaped up a DIY pallet gazebo design using the pallet wood in productive and yielding way and found this chic sitting place with shelter. Gazebos also create great fun for children as they can play and sit in them during summer afternoons. The cost price of this whole pallet outdoor is zero and you can also make it duplicated to have fun at your outdoor.
We have also provided the inner DIY pallet sitting bench to this gazebo structure so you can enjoy conversations with family and friends all the day long. There is much more to do with pallet wood if you took it creatively, we have given a great collection of DIY pallet ideas that can make your home improved, cozy and vibrant on a much thrifty type of budget.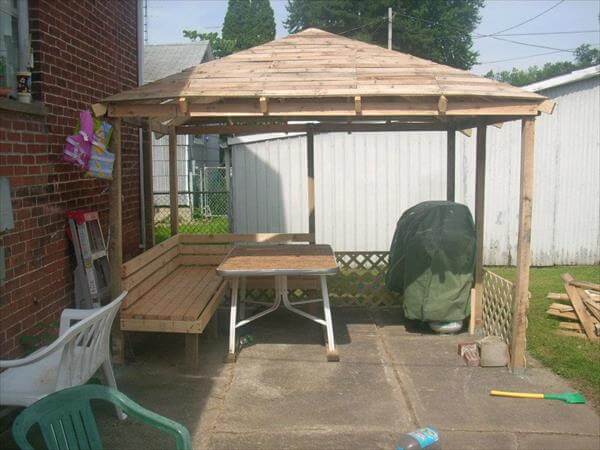 We have also provided it the inner sitting plan so you can enjoy you leisure time by sitting in it and the roof will provide the sun protection if there are summers.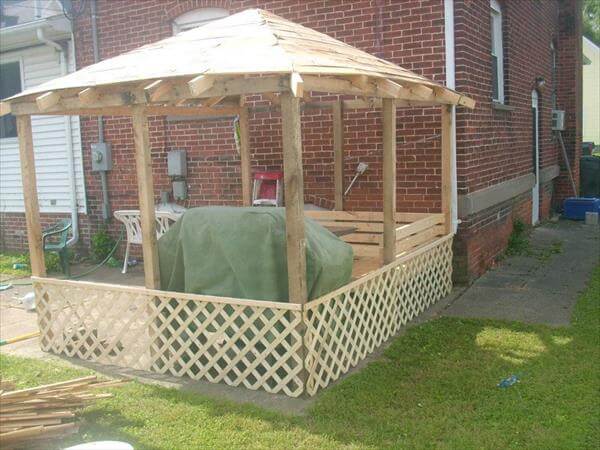 This is another pleasurable outcome of pallet wood to make your home more functional in sitting and enjoyment criteria. Make it copied to have some chic looks of your garden, deck and also the home outdoor area.
You just need to have a furniture plan, it can totally be completed using pallet wood as we have made some artistic layout of pallet beds, benches, amusing pool side and adirondack chairs and also some remarkable type of pallet tables.