All the furniture objects of home have their own unique character but there are some furniture items which have a much supporting and assistive role and coffee table is one of them. We have shaped up an antique DIY pallet coffee table which has much handy makeover. We have shaped up this pallet wood furniture in some bigger dimensions to support a variety of things while being in from of living room sofa.
We got these shipping skids from near one DIY store and they charged us a very low amount of money. We have raised this dutiful type of DIY pallet furniture in pure prehistoric and mid century inspired appearance which held much gracious and provocative. If you are really searching an outstanding and endured nature of table then pallet wood will be great choice to go economically. Both indoor and outdoor can be served with this precious type of table and it would be great selection to create a vintage environment to any living space.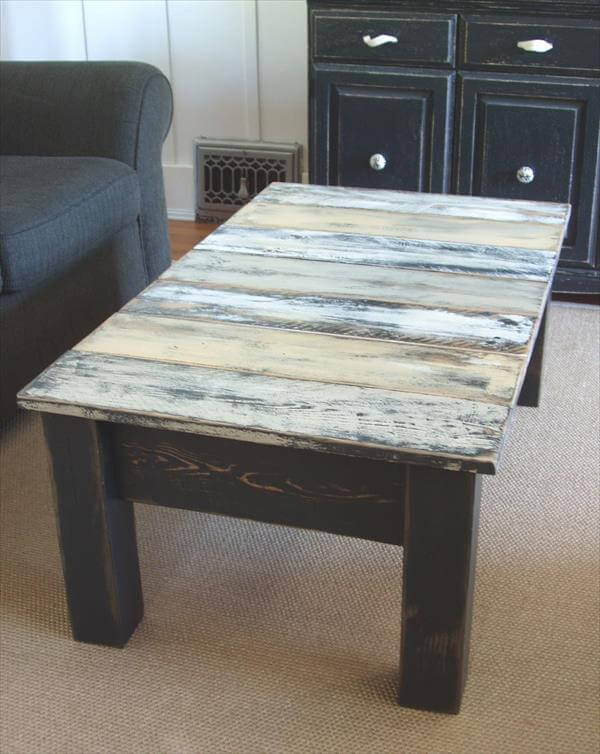 We have stained this truly obsessed type of table in dark weathered stain to get an amazing piece of art too along with routine functionality. You can also go with walnut or minwax shade of stain for a tremendous light brown and black wooden shades respectively.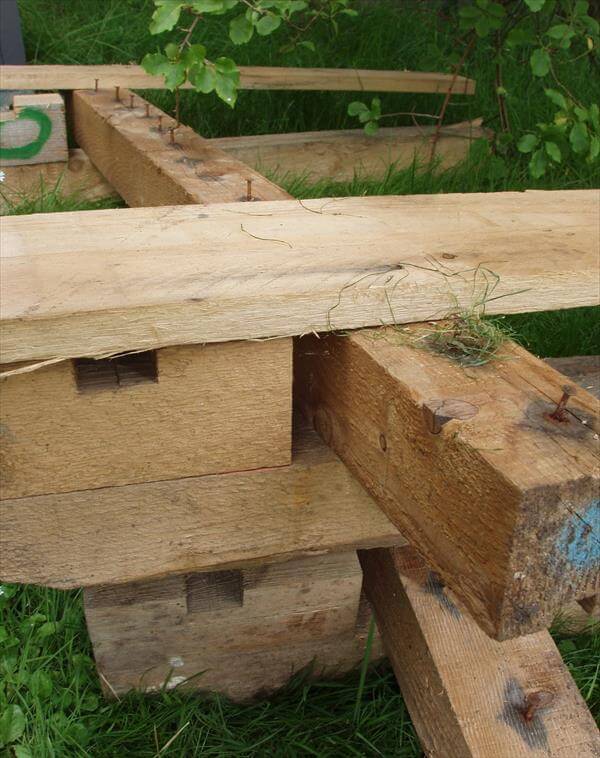 First part of the makeover is the dismantling of pallets which may be time taken and you need to keep patience in this step. Pull out the loosely bound nails to facilitate the disassembling of pallets. To consume much less of your muscle effort make use of pry bar for tearing the pallet apart.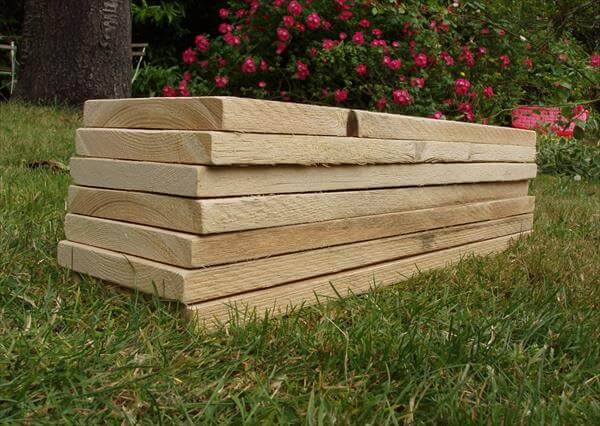 We did all the dismantling process in short time and did not waste even a single plank and these all the benefits of using proper tools. Make a pile of individual pallet pieces and move on to next level of construction.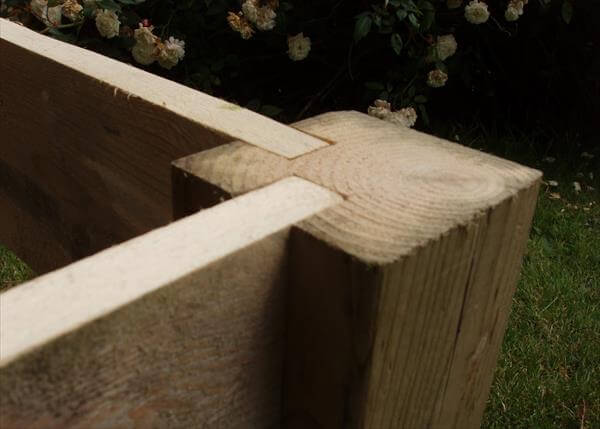 We took the think one pallet lengths and cut them into 4 equal parts to get some sturdy legs out of them. Legs are magnificently thick and have been given some clever cuts to fix up the whole frame or base of table. This formulation of pallet table has peak valued endurance and can easily be managed.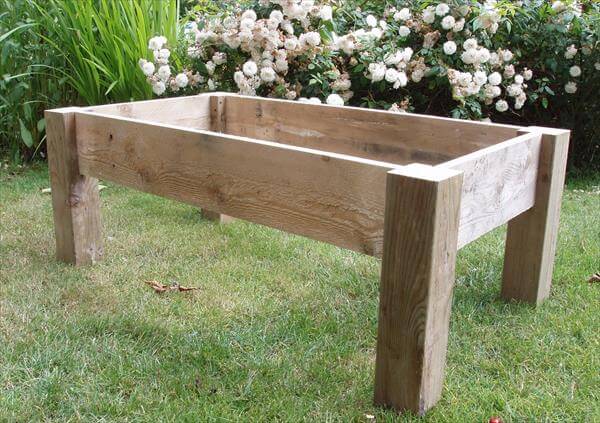 We fixed up the all sides with same style and technique and it came up with a really arresting behavior. Now we just have to be topped it with separated pallet pieces to gain a complete shape of table.
We picked some individual pallet pieces of equal thickness and length from the sorted out pile of planks and arranged them in very delightful manner to cover the top area. After it we layered the glue in between the planks and made the table strengthened from inside.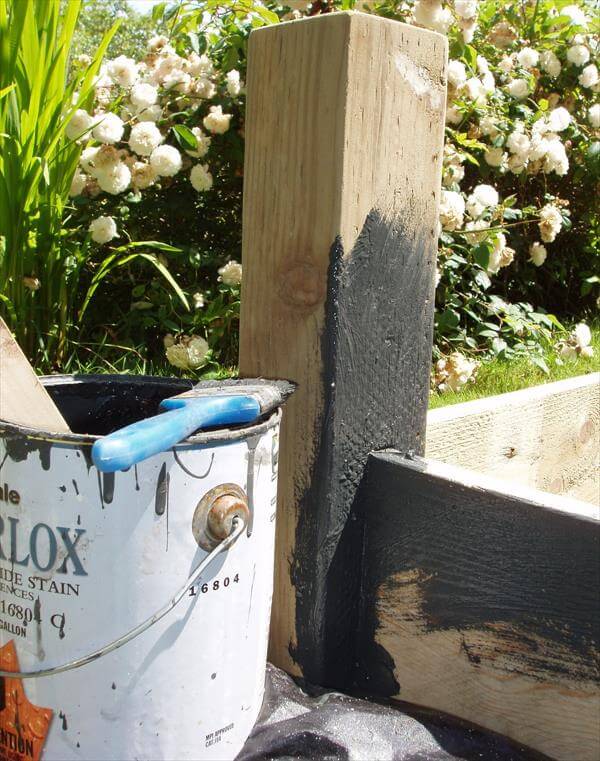 To give a crazy and desired theme to wood we selected the weathered shade of stain which really magnified it on trends. There are dozens of stain shades pick that you think best and according and dress up the wood in hilarious appearance.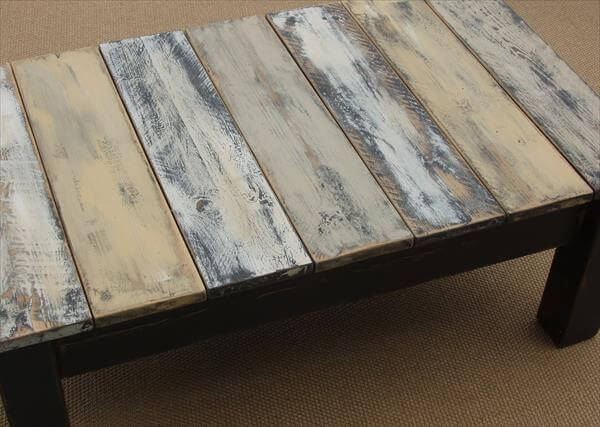 After coating it with dark shade of stain we further applied a white chalk paint layer for a gracious distressed theme. Just set it up in at the center of any sitting plan and start its supporting services.
There are lots of DIY pallet bed frame ideas which make you get with very stunning types of furniture and are nothing in budget for your bedroom. You can achieve any goal of furniture out of pallets if you a creative and yielding mindset towards pallet wood recycling.