We luckily found some workable pallet supply from the backyard and recently made it reclaimed for a chic kitchen utility purpose. We have gone this time for very simple dimensions of our target DIY pallet furniture which has been raised in pretty rustic mode. We have reclaimed a DIY pallet kitchen utensil rack design out of pallet wood reclaiming which is always wallet friendly in budget.
We have also featured it with some vintage hooks to provide the hanging functionality too at the same time. This wan a very utilitarian idea and it provided a great storage and hanging space to our kitchen. We just want some vintage and antique effects of it so made it chalk painted which gives a perfect distressed looking to it which held much cheerful and appreciated to all.
You coat this DIY pallet kitchen rack with stain or varnish to ensure its life time availability.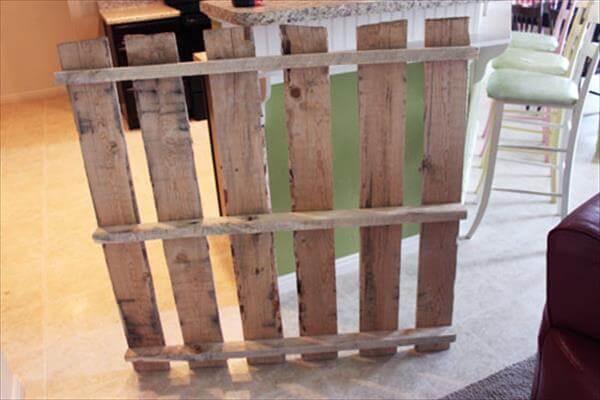 Here is the rustic preview of our rack model which we got from the wise dismantling of pallet wood with a spy or pry bar tool which really lowered the energy barrier for this hard task.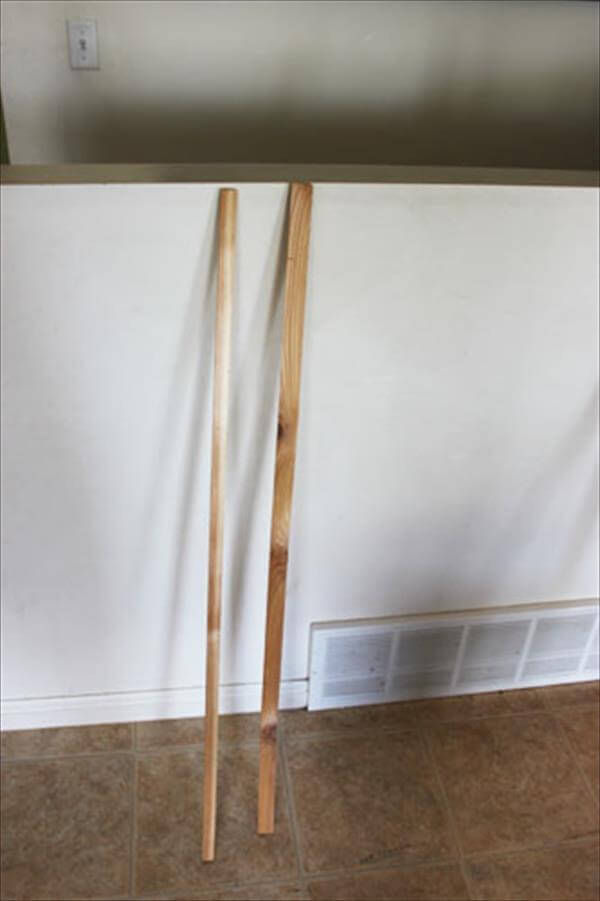 We gave a throughout sanding to all the pallets in the project for splinter free and smooth surface of targeted design. You can make use of electrical tools (like orbital or palm sanders) or do this with your skillful hands by using a medium or high grit of sand paper.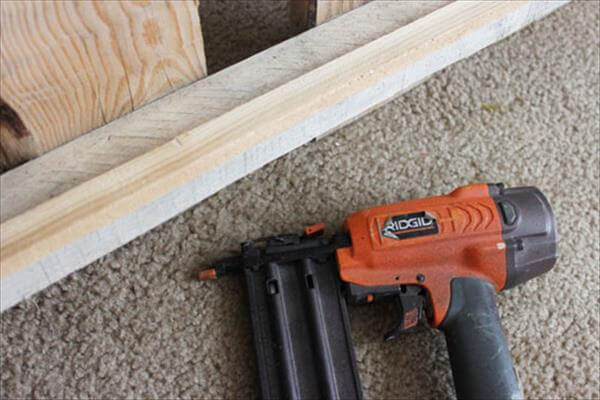 Here comes the assembly, which we have done esthetically by using the nail gun and some screws where we were needed utterly. Try this model out at your hallway to act as a DIY pallet plate shelf, this setting will also rock!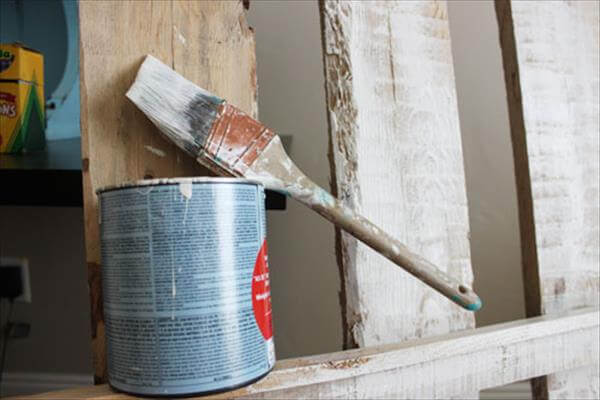 To make id mid century inspired to add some shabby chic looks to it we have made it white painted with hands using the water base chalk solution. This made it distressed and vintage which was our target.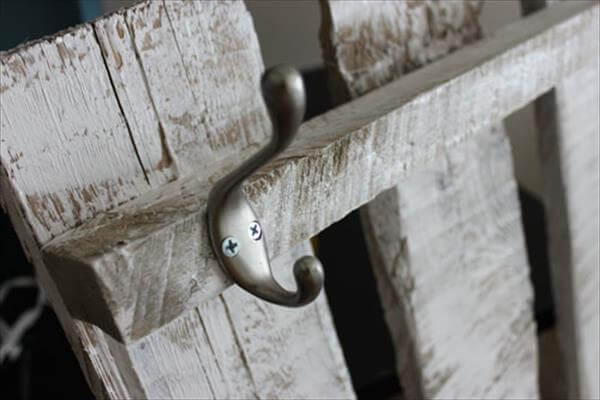 We added some double sided hanging hooks to it to get the hanging utilities out of it, this can easily provide the services of a DIY pallet coat rack which would be another cool character of this rustic pallet delight.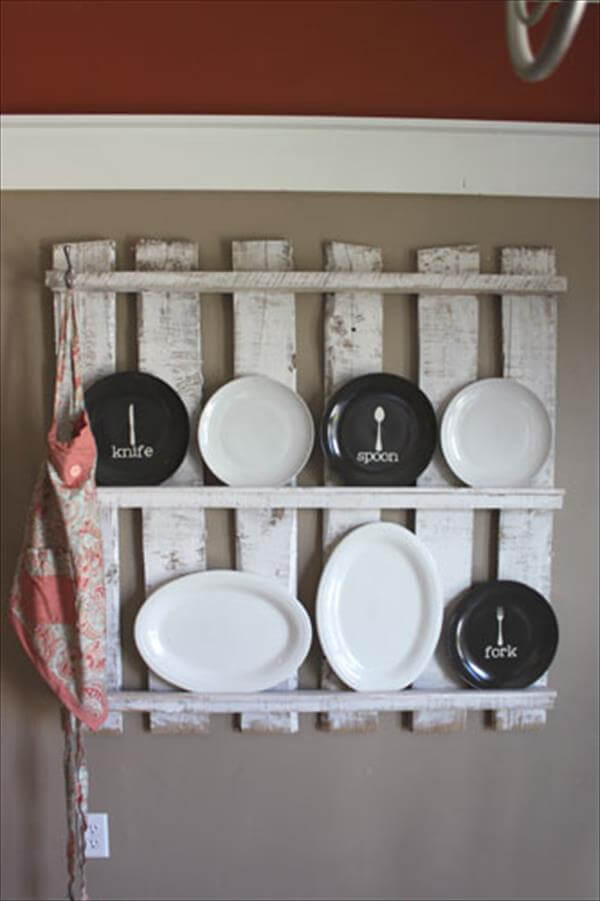 We have added some hardware wall hangers at the back to make firmly fixed on wall especially on the kitchen wall. You can find such an hardware hangers on a much low budget from the near one hardware store.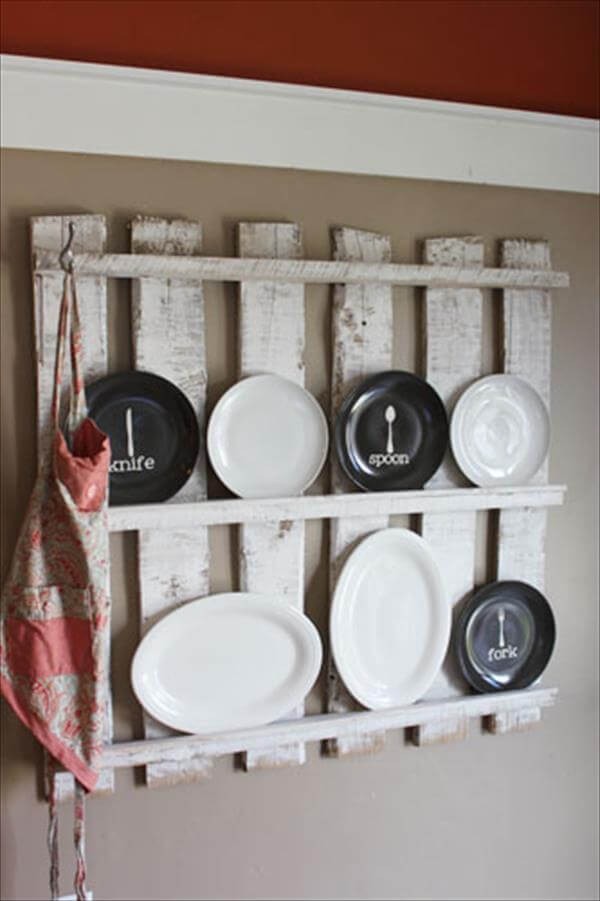 We apply this whole rustic setting in our kitchen to put on the dishes and other kitchen utensils. Hooks can provide a very functional hanging to our kitchen tools. If you have really been inspired from this chic pallet wood recycling phenomenon then make this whole pallet kitchen cloned by just getting your hands on the pallet wood.