We would like to share with you the whole DIY pallet projects which we have done to renovate our whole apartment. We have gone for some terrific wooden improvements here to move on to that traditional and vintage living interior. We have done here the chic DIY pallet bathroom and kitchen wall remodeling which gave a very dignified wooden theme to our apartment. We have done various tremendous changes by dismantling the pallet wood which we have used about 34 big one pallet skids in this remodeling process.
We have build a DIY pallet kitchen wall which is facilitated the kitchen hanging needs by just providing some nails and hooks to this wooden wall which is just hard task to do with a cemented wall. We have also made some chic storage utilities from the rest of pallet wood like this rustic utensil rack, and DIY pallet swing the entrance. There is lot more to add some extra decors to our home like the usage of rustic wood log for pendant lamp, and addition of DIY pallet Mason jar lights which added a great antique lighting phenomenon to our apartment.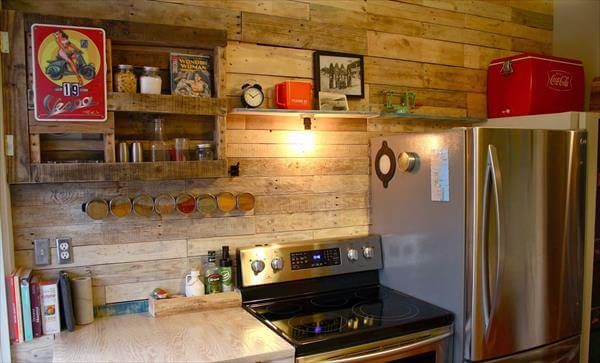 Here is the very knockout display of our handcrafting at home which made our kitchen not only isolated but also graceful to a great extent. This was a very valued addition to make our kitchen wall lasting and visually stimulating.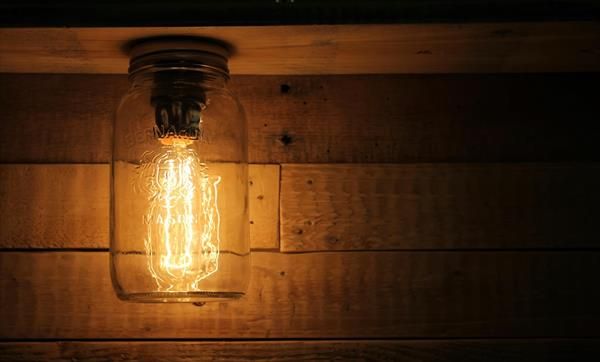 Here is the much thrifty and secured way to get the covered the home lights, we have used the mason jars glass containers and jars to add an additional cover to lights. We have applied this formulation to whole lights of our apartment for some really cherished antique behavior of our apartment.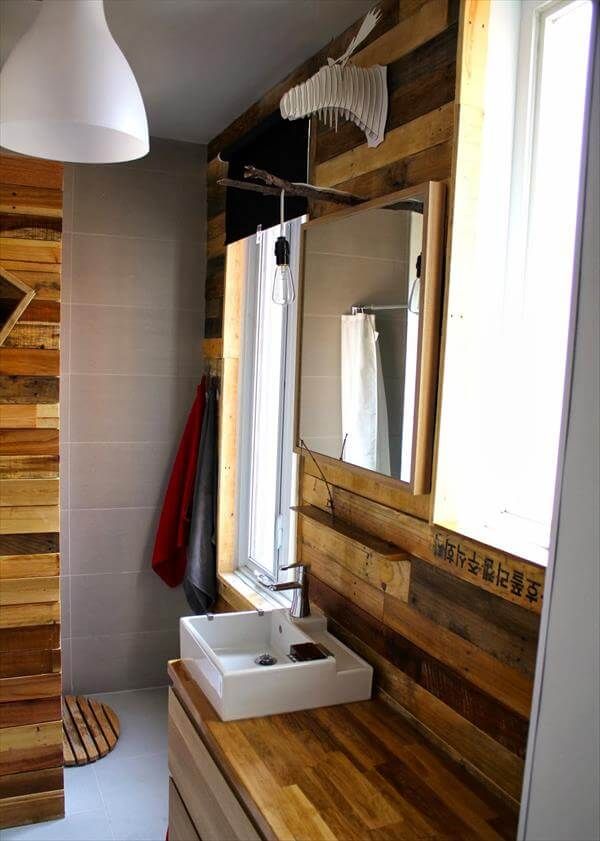 The wooden paneling of wall through pallet wood reclaiming was look too awesome that we were not going for satisfaction we wanted a little bit more and extra our of pallets. So we paneled the bathroom too with pallet wood especially the bathroom mirror wall.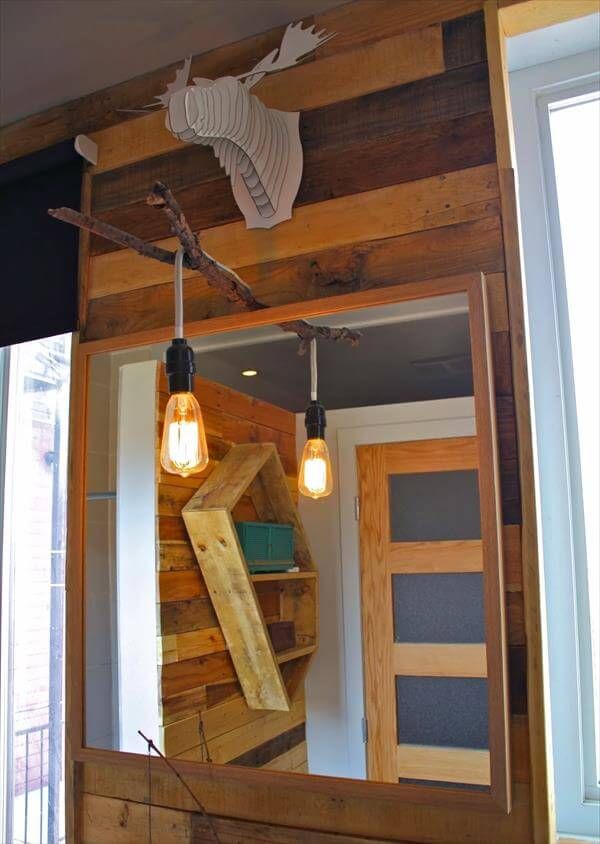 We sorted out a very well defined and holding layout from the broken up tree branches and use it as a rustic light holder for our bathroom pendant lights. This pallet behavior made us happy a lot and is a very good and practical example of wooden creativity.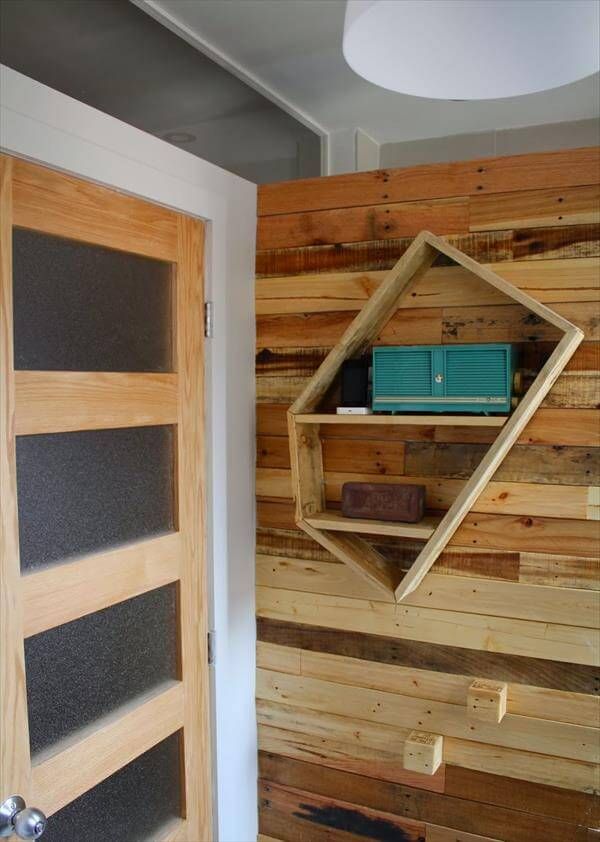 Along with room wall remodeling process we have also made some really utilitarian additions like this enclosed DIY pallet shelf pattern. You can use it as a perfect decorative DIY pallet wall art and various decorative items of home can be displayed very charmingly through this wooden shelf.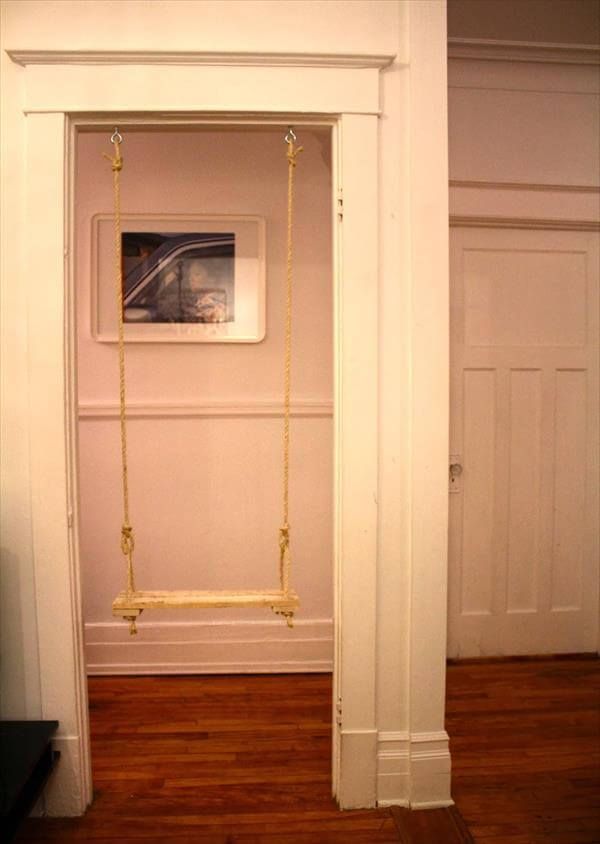 At the end of this DIY pallet makeover and renovation process we took some steps to add some entertaining factor through leftover pallet chunks and lumps. We took some really well looking pallet slats and molded them in to a swing shape by providing the heavy duty rope support. The ropes have further attached to roof shafts for clear and balanced hanging.
We have collected a large supply of pallet wood from the shipping pallet area, it was too much that we made also a wooden floor for our apartments. We have paid here nothing to the shipping companies, this was a totally no-cost DIY pallet project that can be easily copied at home.