We are starving to share with you an amazing idea of pallet hanging mason jar light fixture for kitchen . The idea encircles the useless and unworthy scrape material along with some lights to lighten up the kitchen in pure chic and rustic way. We have done a one of super easy DIY pallet projects which are free of complications and just straightforward in construction terms. We have brought to you a pallet wood hanging mason jar light fixture idea to brighten up the kitchen layout.
The idea for this DIY pallet pendant light lamp is much profitable and advantageous along with rustic decors and impressions. The things to be used in this project are much gettable that anyone can access them anytime in home. We have used some rustic pallet wood, mason jars and some lights with extension wires from the store to facilitate the kitchen with lights.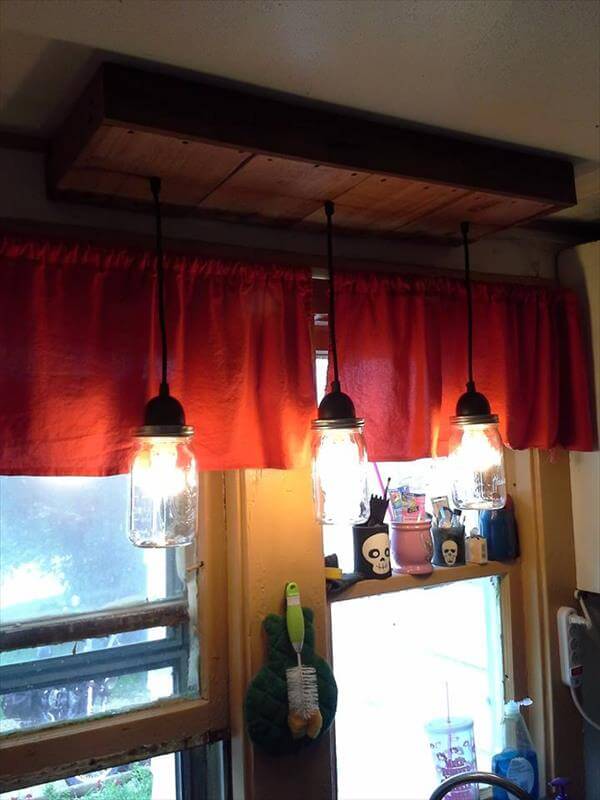 First we make rectangular shape of pallet a little bit thick to be hanged on the roof for lights to be fixed on it. Sand and stain the wooden for better appearance of wood grains and this will also make a amiable and cherished background to lights.
Any charming type of pendant light lamps can be used for this phenomenal light fixture plan, but we have used energy save light with very fetching and absorbing black holder to be fixed in the mason jars.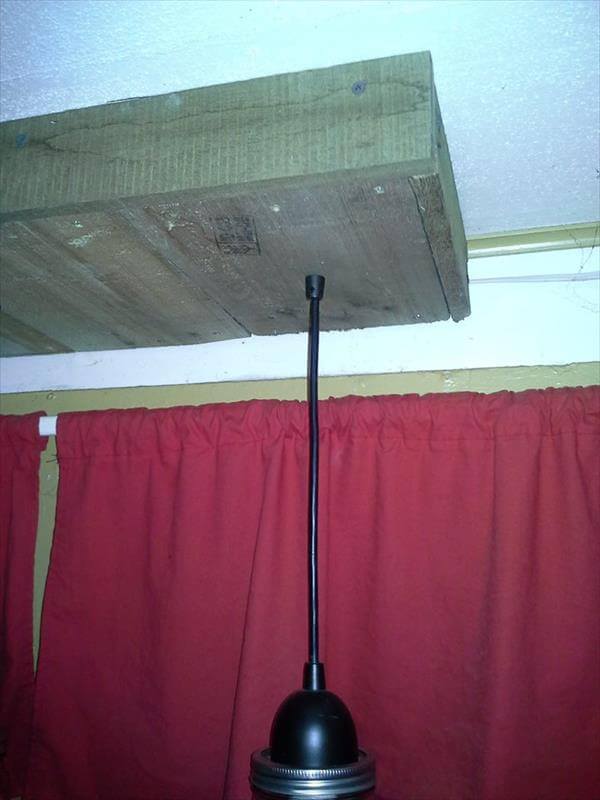 Make a hold in the mason jar lid to pass though the electrically functional back of the light bulb and then fix the holder to the light bulb over the lid. The back of the light bulb has been given a sufficient electrical wire length which is attached to the hanging pallet which has been made facilitated to provide electrical supply to the light bulbs.
Here is the knockout and handsome preview of our DIY pallet light fixture which rack up the kitchen in sophisticated manner. Mason jars not only provide a protective glass cage to the bulbs but are also very useful to dignify the light due ti their glassy shade. Accompany you kitchen with such a light weight and highly serviceable DIY pallet projects to add more coolness and functionality to it.