Here we are with some perfect garden symbols that will spice up any garden. We have some truly stunning DIY pallet projects will make remarkable compliments to any green landscape. Just look at these amazing DIY planter wheelbarrow ideas that will work honestly as centerpieces in your garden. More attractive thing about these planters is that they are moveable on wheels which we have also reclaimed from pallet wood. You can make them move to any position in home or at outdoor.
We have here a chic DIY horse and cart planter inspiration which is much aesthetic and arresting in layout and is just a dainty pallet art. Here comes another great planter motive through wooden barrow wheels which we have also give some creative move to be a spellbinding planter for outdoor. You can also such a planter arts for impressive and stunning looks of your garden or home porch, and you will enjoy all these on-cost if you get some supply of pallets which is highly thrifty and reachable wood.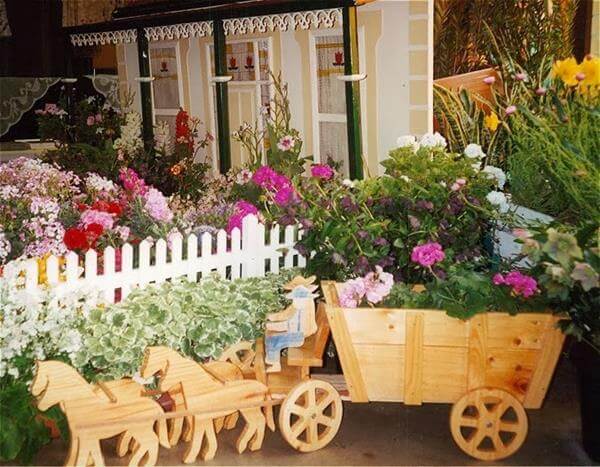 Rustic cart carries the potting soil and look much terrific with grown out flowers. This is just an amazing gift to make your garden day.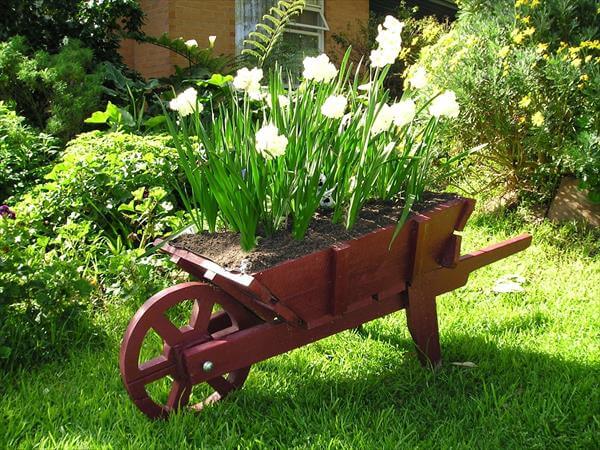 This is another great outcome to have a gracious pallet planters. We have made a pallet barrow wheel which not only served as a perfect weight puller but came with a nice and pretty cool manifestation of garden planter.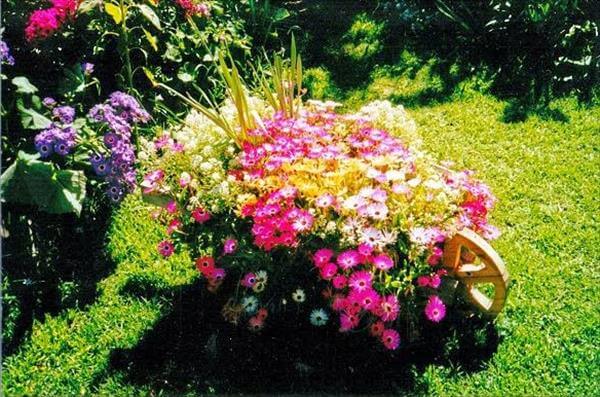 You can use that barrow wheel with or without stain to get it emerged in appearance whatever you like for it. Use this as a perfect accent to your garden and get remarkable and appreciated compliments.
Cart wheels has also been manufacture with nice reclaiming of pallet wood and are much dutiful to both of the DIY garden planters. Pallet wood is the magically thrifty wood and have gave us many true styles of DIY pallet vertical garden too.