People with narrow or minimal spaced residences can also feel the freshness of natural greenery without having a garden space. Yes, this is very possible with such a DIY pallet planter ideas that can be located at any dignified and prominent position of home space. This handmade pallet planter has been design just like a box by deconstructing and reconstructing the pallets. it has been made extra long to give a large potting space. Just shape up a box and fill it with a fertile quality potting soil and sow the seeds of your favorite herbs and flowers.
You can also use the original pallet boards to construct DIY pallet vertical planter and garden for you green and refreshing garden environments. More special thing about these planters is that they are moveable and you can enjoy them anywhere in home. This DIY pallet wood planter will really works for people living in short spaced compartments and flats to enjoy their favorite type of garden herbs, plants and flowers!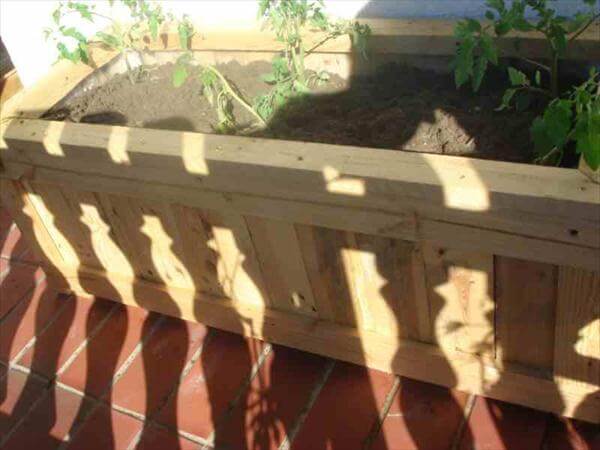 It is always easy to shape up a box out of pallets and you will have to do the same for this planter design. Deconstruct the pallets and use the separated boards with cut down sizes to plan this planter design.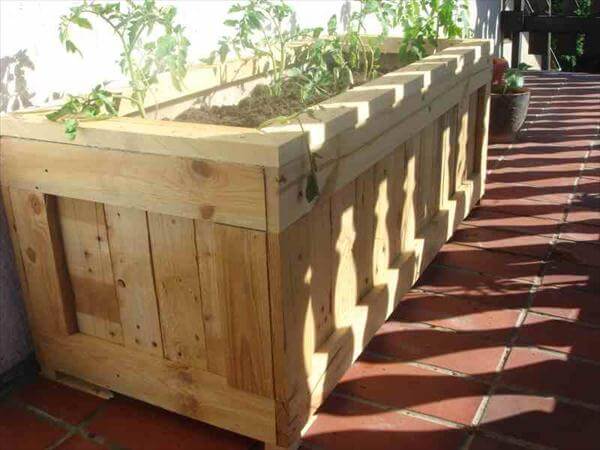 An x-large size has been given to this handmade pallet planter box to have more potting space. This DIY pallet garden really leads to some extraordinary exterior home improvements if you have a wise mind.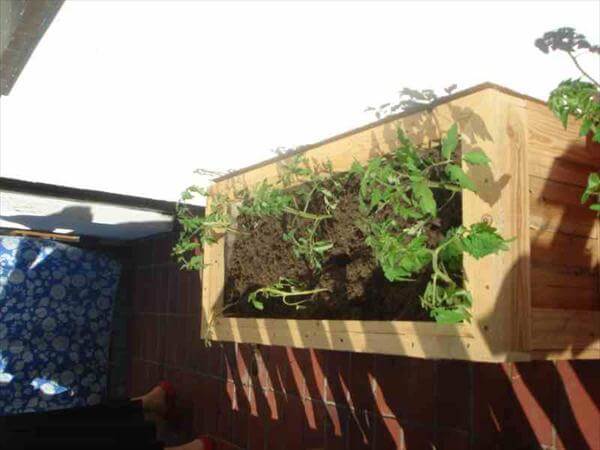 It would really accentuate the you balcony, terrace, front or back porch area, pool deck and of course your mini garden space. Wood has been gritted though hand rubbing with sandpaper and has just fine, smooth and bright appearance.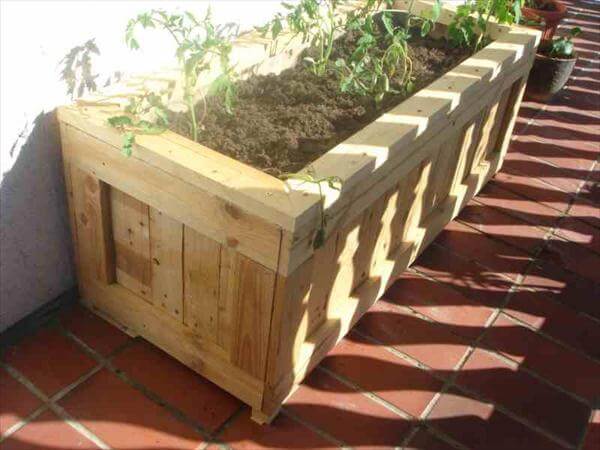 Grow your succulents, mint, parsley or any type of hard to find herb. You can also grow some kinds of spring flowers in it to get adorable natural decorative unit out of it.
This DIY pallet project goes really friendly to your wallet and will be a great housewarming gift too. it is best no-cost suggestion and idea for garden loving people and also a wise way to give another life to useless pallets.