We were staring at some wooden pallet stored in our garage and the summers were at door. A sudden flash back leaded us to a charming sofa which one of our closed friend recently make for home, it was chic enough to inspire and stimulate you a lot. When we recollect that beautiful appearance, we go with a firm intention to use our pallet wood to clone or duplicate that rustic and vintage DIY pallet sofa design. The design was in perfect outdoor alliance to enjoy outdoor and summer afternoons.
This colorful wooden sofa can be turned entirely into a DIY pallet daybed with a few twists in style. The construction has been executed with some vibrant and rapturous overlay colors the violet and turquoise. The sofa is purely handcrafted and salvaged out of pallet though DIY creative ideas of wooden recycling. If you make a two or more of such a pallet delights with a centered DIY pallet table then this idea comes up with another cozy suggestion to make a DIY pallet salon for patio.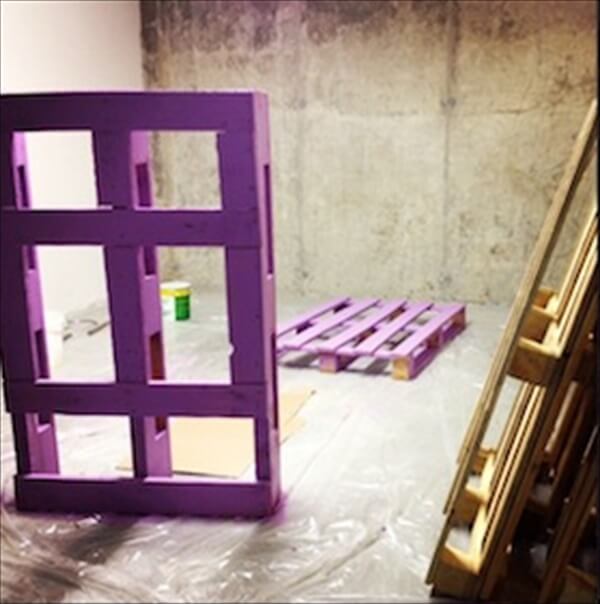 This a closed view of our working area where the pallets go for recovering and reconditioning to be renewed. we have given the pallet violet color in to make a sofa berth, it looks pretty cool and is rocking to be at outdoor. To avoid the paints from touching the floor a plastic sheet will do the best for this.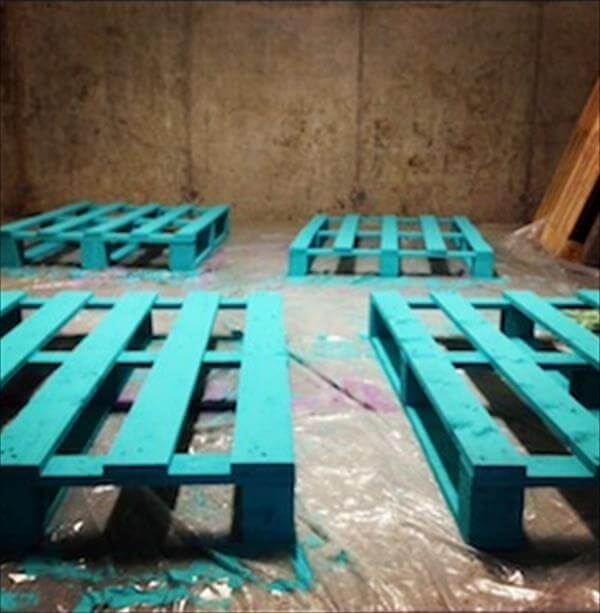 You can make your furniture spicy with any of the thousands of colors like we have done this clever shade in turquoise hue. This suggestion of paint can also hide the imperfections and ugly wooden knots and will give it a strengthen durability too.
After paint let the pallets dry for some time in sunshine, it can take 10 to 15 minutes or more depending on how many coats you have given and intensity of sunlight. After it make them bunk and you are ready to read your books on this lovely sofa or you can say it a daybed.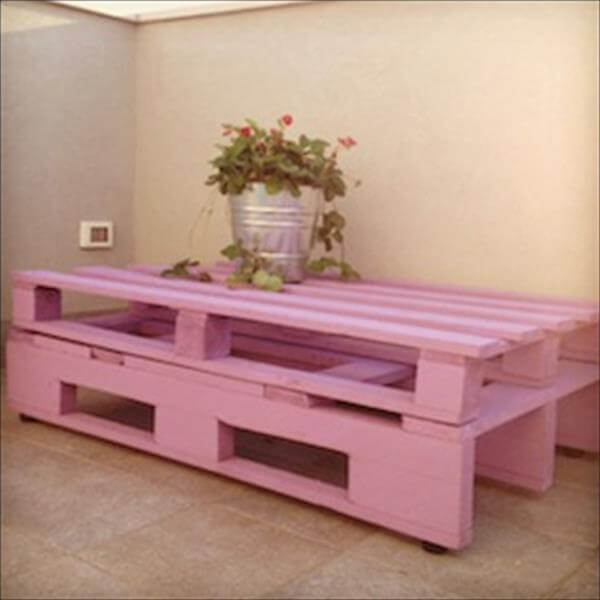 You can make it altered to behave like a stylish potting table at porch or garden, it will do very best in it. The makeover can be copied to have a garden DIY pallet bench too. There are various outcomes to make a trendy and suitable purpose out of it.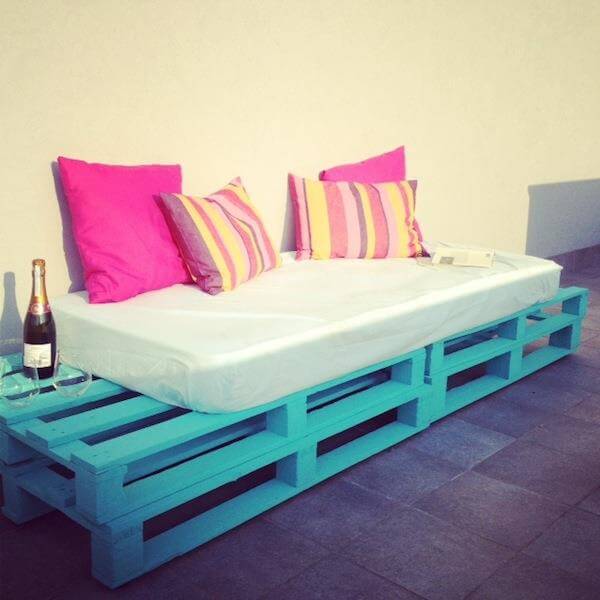 This is what we want to make out of  pallet reclaiming. It is looking very vibrant and pleasing in this wisely fixed and assigned layout position. The pallets can be increased or decreased to scale it up and down according to the space and area you have.