Pallet wood is taking a great hold on DIY projects. People linked to arts and crafts really think the pallets special and an amazing free source of wood to let their hands be tried in carpentry an wooden crafting. Pallet wood ideas have so been enlarged and increased that one can personalize his entire dwelling using the DIY pallet furniture products. Here we have with a very special pick of 10 DIY creative pallet ideas and wooden projects that can bring any living space or interior into prominences and heartwarming wooden beauty.
In this mind blowing trip of pallet furniture you will enjoy the rustic trays for your dining table to organize the decorative stuff and cutlery and you will also be made well conscious about the terrific use of pallet in making tables for home. Let the pallets be your rustic wall decors, two examples are the rustic wooden family rule chart and a pallet wall clock with quartz clock system. Go for the quick constructions pallet kitchen organizers and also the wall coat racks that also play a vital role in making an environment of home sophisticated and uncluttered!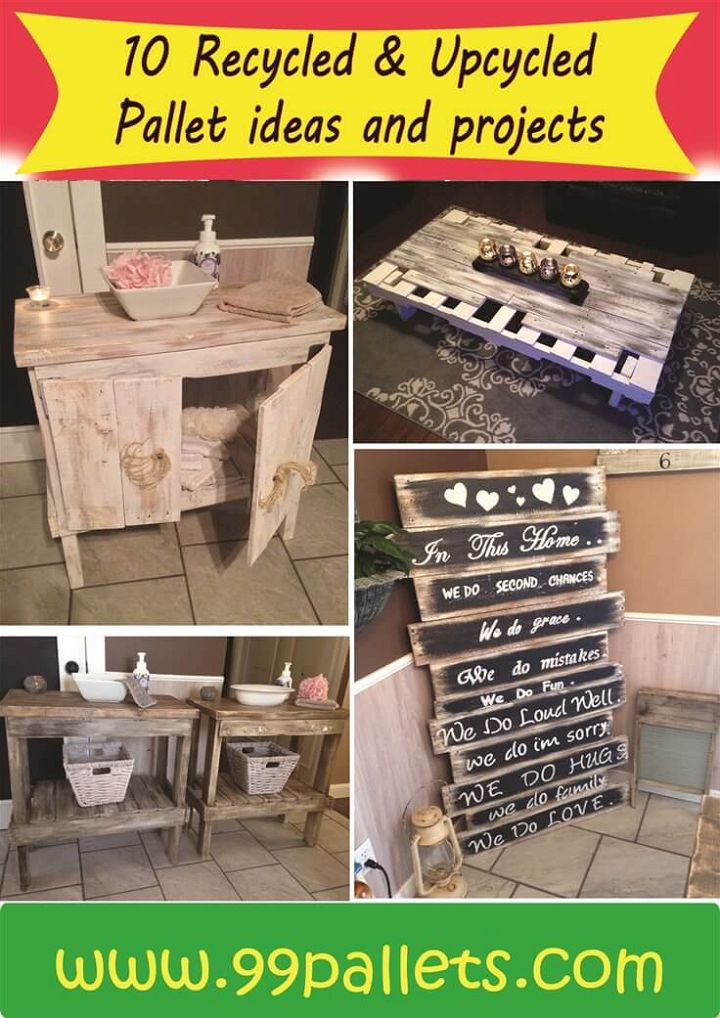 Antique Pallet Tray:
After doing some fab and a little bigger pallet projects, you may have some leftover pallet scrap or remains, that can be restyled easily in such an cool and easy projects.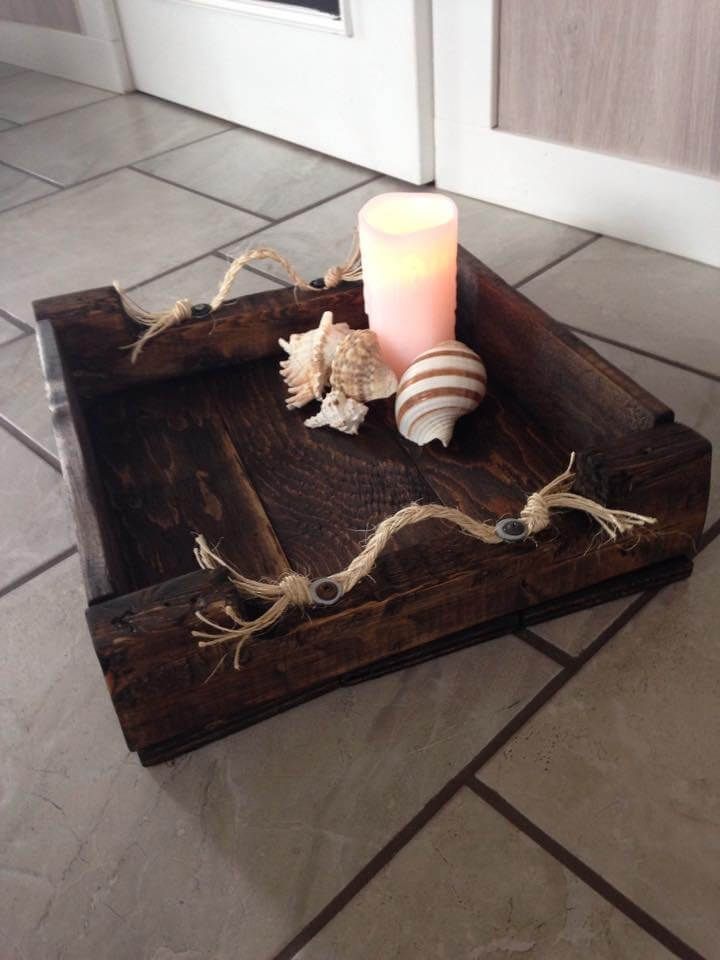 DIY: Vintage Pallet Chalk Board:
Join some of leftover pallet planks and boards and let your wall feel more worth with this accent rustic piece of chalk board. Very inspiring!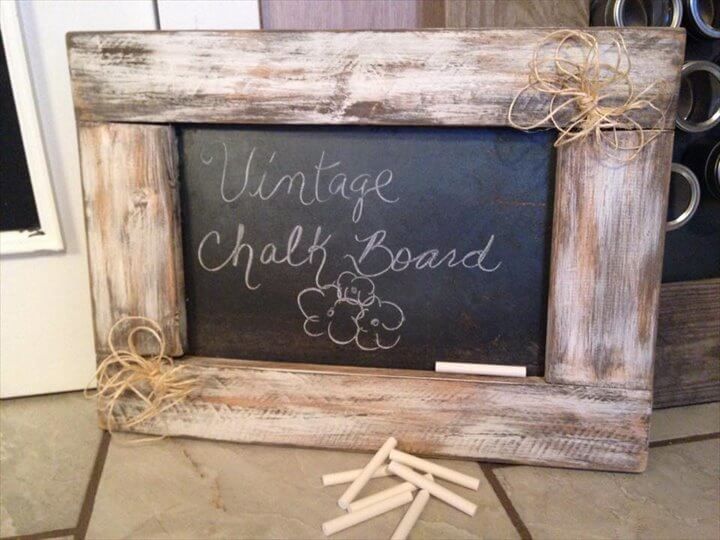 White Low Pallet Coffee Table:
Pallet wood is just sure to fulfill your custom desires of tables, check this low pallet coffee table, is not it perfect for your patio and mid century inspired living room?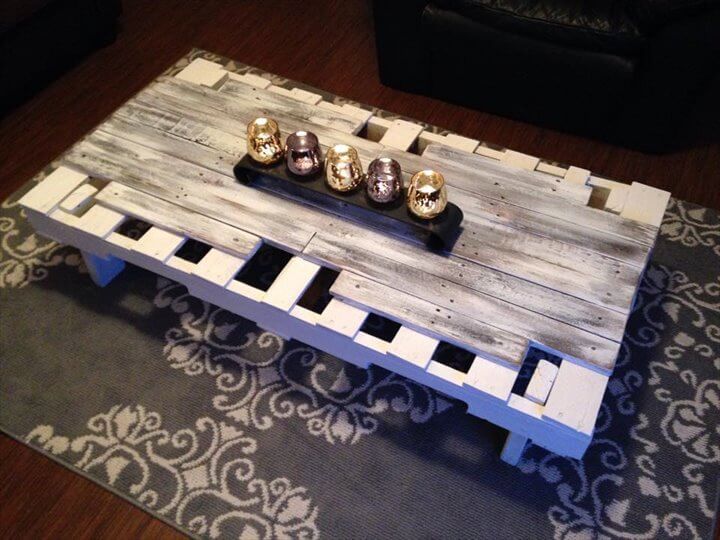 Reused Pallets Bathroom Cabinet:
Touch of rustic pallet wood may also be very fetching and beautiful for your interiors, enjoy this rustic pallet cabinet for towel or toilet paper storage in your modern bathroom interiors.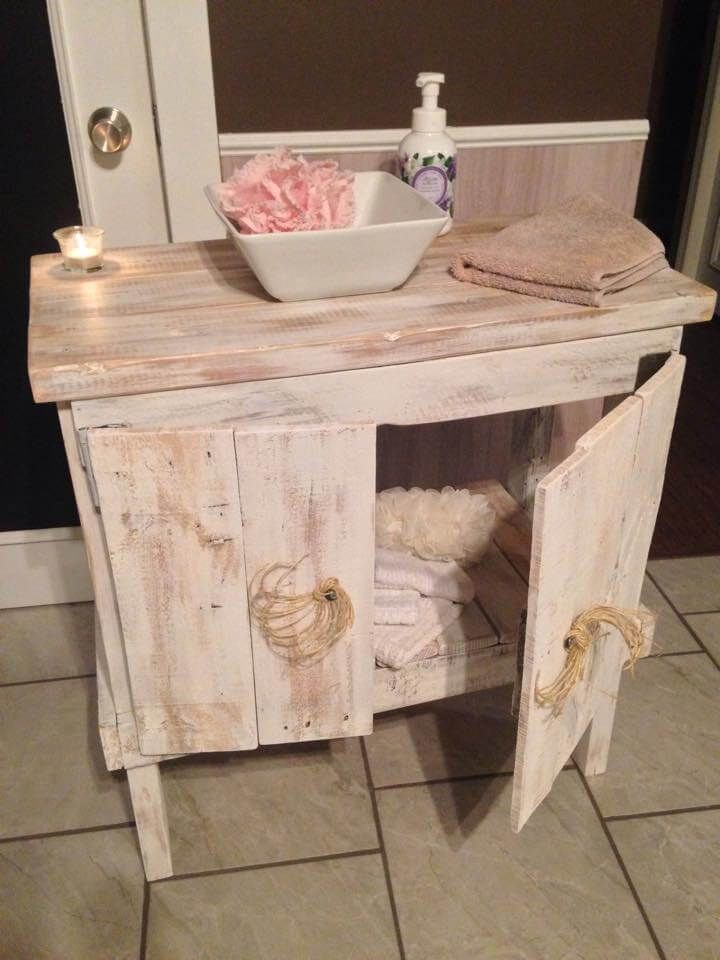 Pallet Bathroom Tables with Baskets:
Table are pieces of furniture that are mostly required to any space in home. You can start collecting the pallets if your need them at lower rates with lifetime stability.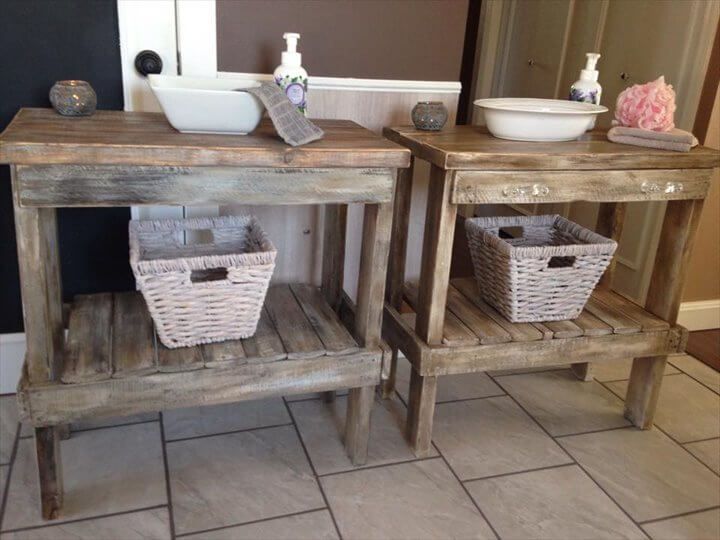 Pallet Tray with Rope Handles:
Wooden trays often used to organize the cutlery, spices jars and event the decorations on your dining table, with your own creative effort, you can simply make them using old pallets!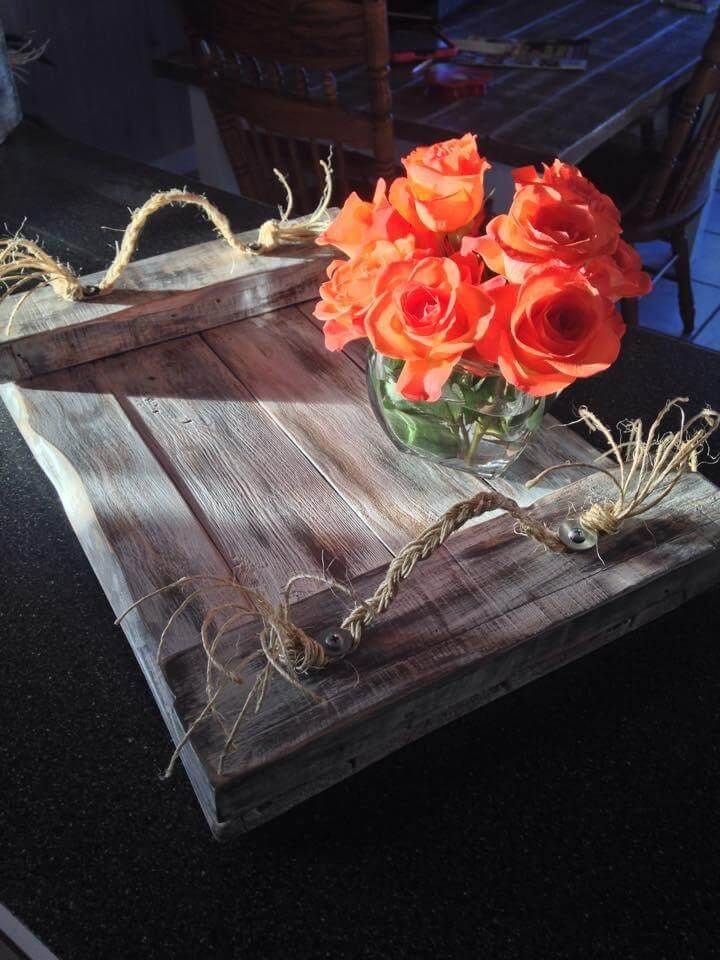 Rustic Pallet Family Rule Chart:
Deconstructed pallets give that longer rectangular wooden boards that really come in handy to be installed into amazing wall art and you can even write your own words, quotes and sayings to be hanged on home wall as family rule chart or notice boards.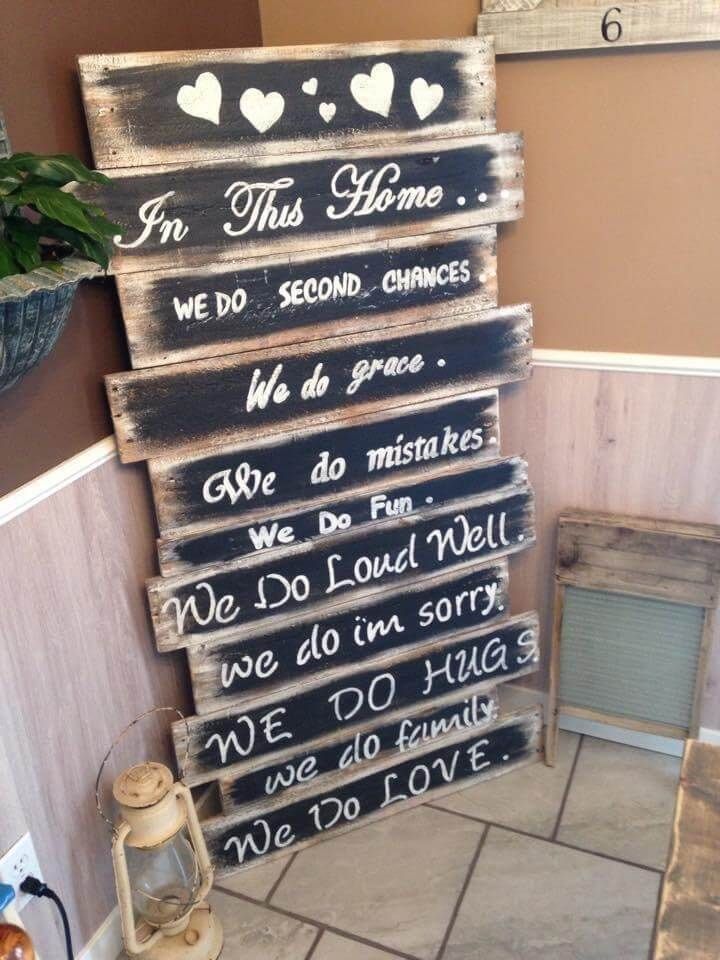 Easy-to-Build Pallet Coat Rack:
By just fixing up some metallic hooks on any rustic board of pallets, earn the beautiful jewelry organizers, coat racks and key-chain organizers for your entryway, hallway and bedroom.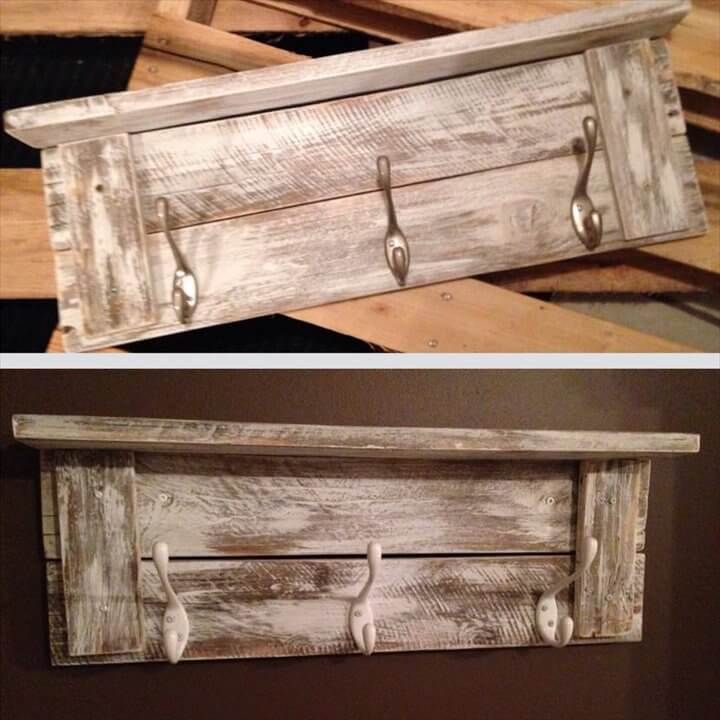 Distressed Pallet Clock:
For a traditional touch to your home walls, you can also build the rustic wood DIY pallet wall clock for your interior wall accent.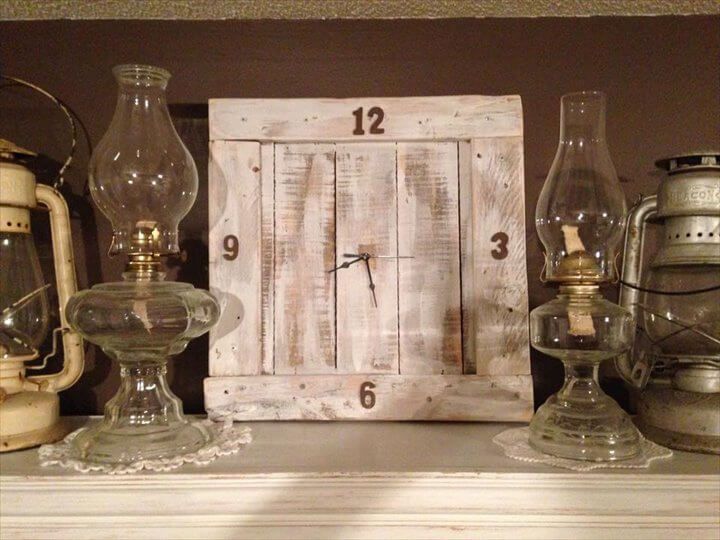 DIY: Pallet Organizer – Kitchen Caddy:
Using some hardware you can also give a functional change to these wooden pallet boards, this organizer setup will sure take extra care of your home gears, spices jars and other tools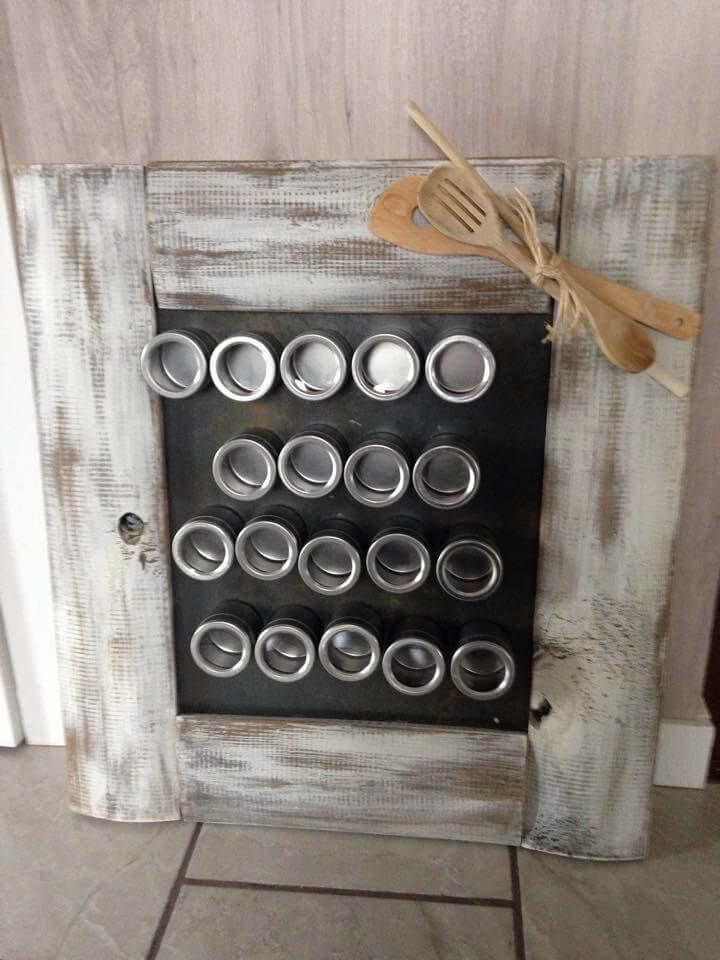 After taking this trip of some swank and extra brilliant uses of pallet wood, simple start brainstorming on some new more uses of pallets that are free for everyone to try his hands in carpentry! 15 Upcycled Pallet Ideas and Projects