A home mostly is organized to accommodate the sitting requirements like in living room or at patio. Some time these sitting plans of home may be pricey a lot as they can surely make you out of budget if you're a person with very average income. If you are wise and creative enough in your thinking then you can bypass these sitting furniture needs with pallet wood, an always free of cost source of wood. We are speaking about a beautiful idea of pallet wood recycling here in which some rustic pallet skids have nicely been modified and refinished to give a super cool two seater bench.
Take a look on this very affordable DIY pallet patio and porch sofa, nicely crafted to give a comfy back and bent armrests to make your feel like a boss while being seated on it. It has been just sanded till the bright tone of wood and has been left unfinished without any additional topcoat of stain or paint. But you can vary the hue and alter the deign of this amazing DIY pallet bench according to your own specifications and requirements!!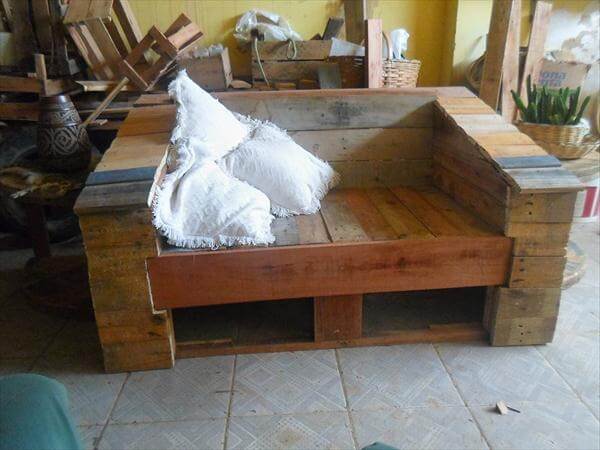 This DIY pallet project will really be special for outdoor lovers are for people interested in outdoor fun and daydreaming. Nicely planned to give a comfortable feel and has also some pockets underside the berth section to secure your shoes inside.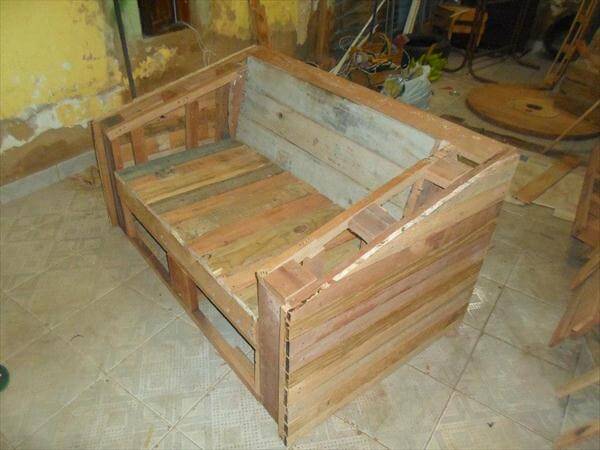 To plan you targeted design you will need some specific sizes of individual pallet boards so you have to disassembled the pallet boards first to estimate the required sizes. Use proper tools like spy bar, pry bar, hand hammer or use pallet breaker tool to get the pallets skids separated it no time.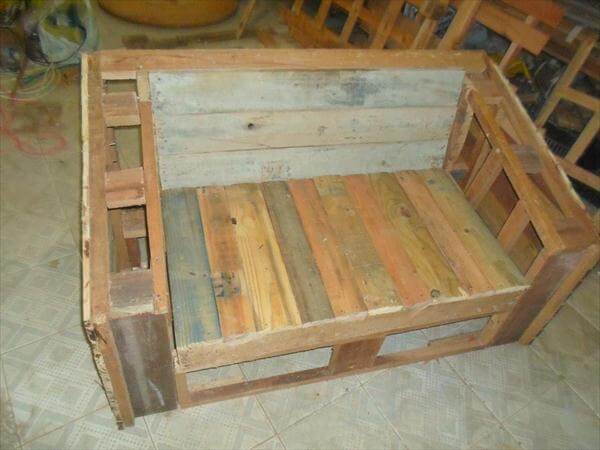 Plan your specific dimensions and integrate the wood according to measurements just like done in this specified bench design. First build the raw skeleton then go for nice filling of it using accordingly cut down sizes of separated wood boards.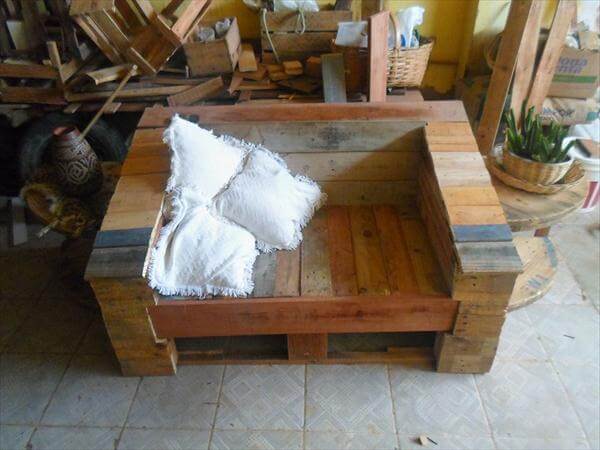 Armrests have been filled by chopping the pallets into a mini sizes and gives a bent view that held really precious to eyes. This retro styled DIY recycled pallet furniture will really give a warm look to your home or any area where it has to be placed!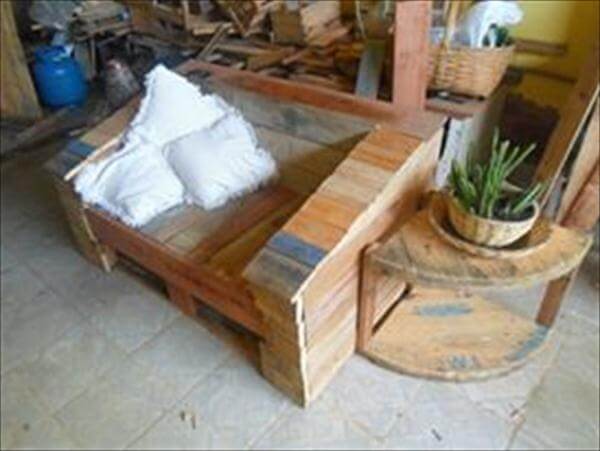 Using the useless wire spool a nice DIY side table has also been planned to entertain the seated people on this rustic styled patio or porch bench.
Just throw some pillow to add comfort to this rustic elegance of furniture. Make it cushioned or put a piece of mattress to get a super comfy style of this rustic yet sturdy bench.
Give it a topcoat of paint, stain or varnish to have more terrific appeal of it by making the wood grains stand out. You can also apply some sealant like polyurethane for a semi gloss finish.