Every day we are coming with new and more creative pallet ideas that add more information to genius recycling of pallets! For proper functioning of any living space or area, we just need first the right kind of furniture for it and pallets are a great way to get almost all kinds of sturdy wooden furniture for free! This time we are going to surprise you with this DIY pallet patio sofa set, can be decided also as a garden party lounge just for an exciting sitting experience with friends!
Here the major formula to install this sturdy wooden sitting plan, is the easy stacking of pallets, no need to add lot of nails or to spend hours on boring cuttings! The super fast, inexpensive and easy way to gain the luxury sitting sofa set! 2 bigger cushioned seats that install the sectional sitting plan, 2 single chairs and a central coffee table are the total assets of this pallet furniture set!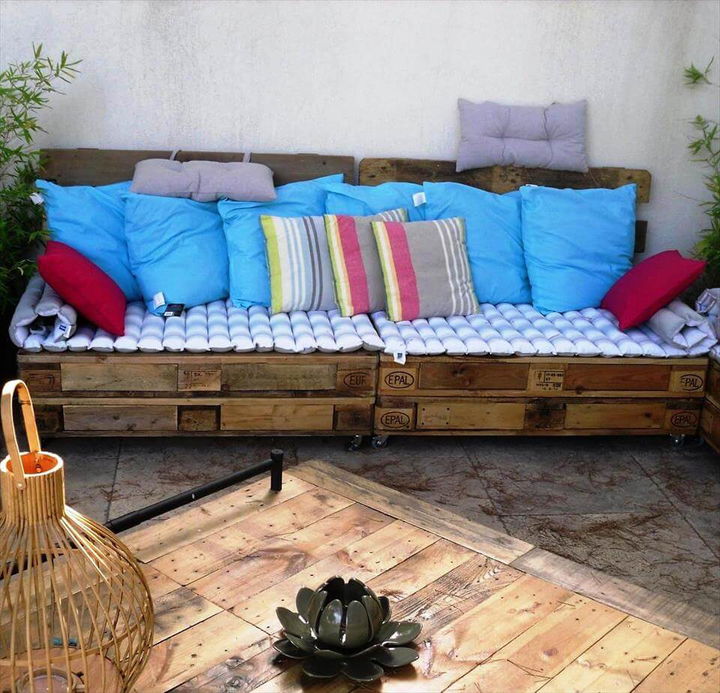 You will also like these wonderful and unique 104 Designs :
DIY Pallet Sofa Ideas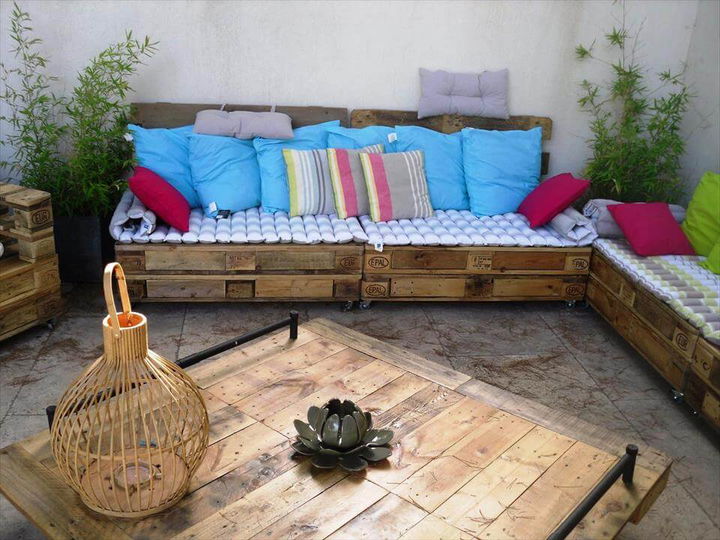 Get the necessary sitting furniture out of pallets and organize overlooked patios of home with exceptional sitting plans like done in this case!
A paved patio has been done with pallets for part time parties, formal sitting purposes and also for conversations with friends!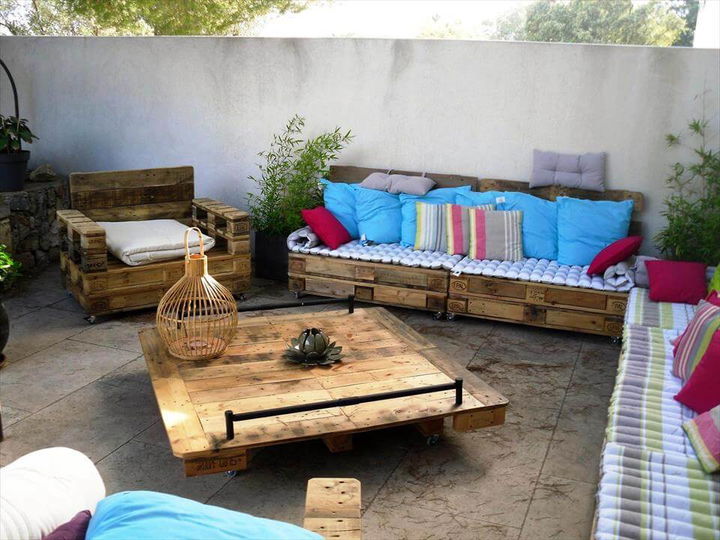 A complete sitting furniture set has been built by taking complete pallet skids in use, have beautifully been stacked for instant frames for sofa sets as you can see!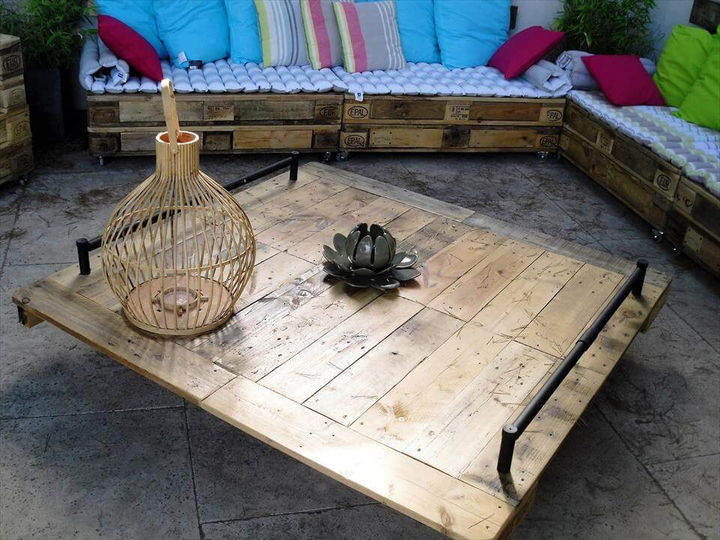 Central coffee table has been built separately and comes with accent metal handles on both sides made of reclaimed old metal pipes, this has also been done for a precious industrial look of coffee table!
Openings in stacked pallets have been covered nicely for a solid wooden look and you can also put drawers in them if you need some storage space there at your patio!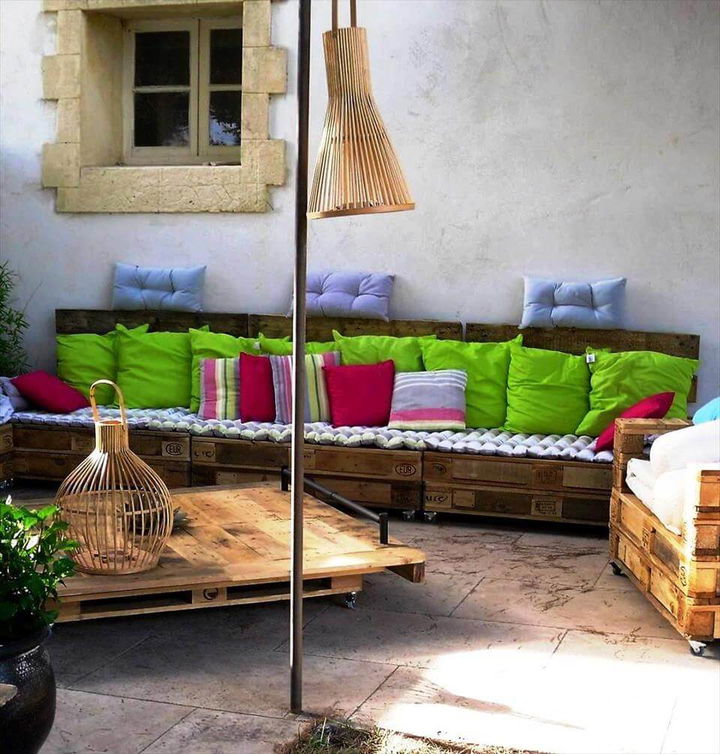 Here entire this entire sitting set has been elevated on wheels so you can change the positions of the seats to gain a well suiting sitting plan according to your patio space and area!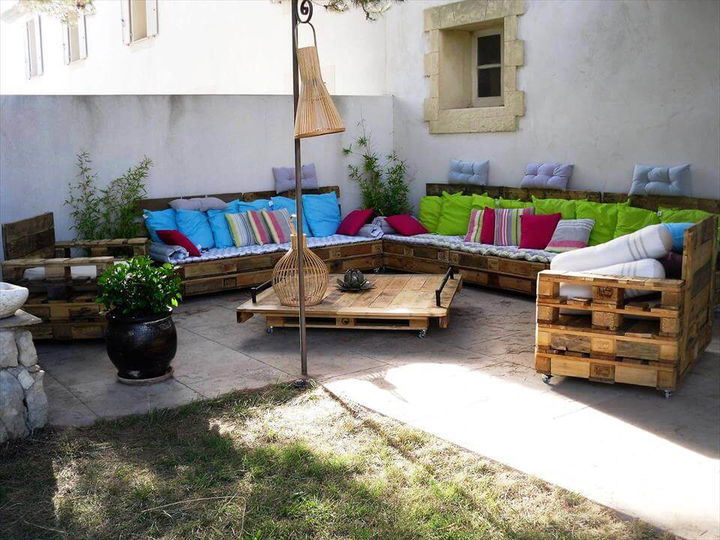 Here you can have a complete look of entire sitting set! A bigger sectional cushioned sofa, 2 single chairs and a central square shape coffee table built for free from pallets!
Made by: Garbage bin from pallets