This time we are with a highly economical plan and pallet sofa to glorify your outdoor like home deck, porch area, poolside deck, terrace and also the green garden space. We are just here to share a plan to gain a beauteous appeal of cushioned sofa to make your outdoor organized and inviting for sitting. Take a look at this DIY reclaimed pallet outdoor sectional sofa, very easy-to-build and long lasting structure that you will surely love to live with. Pallet boards have been installed to provide the raw frame of sofa which has been cushioned with foam later after to give the valued siting comfort.
For visual attractiveness use of printed fabric has been made to hide the foam which you can vary according to choice. To give a "wow" factor to this appeal of sofa some half moon pieces of wood have been used for a decorative edging and skirted base of the sofa that reveal the inspiring look of sofa for sure!!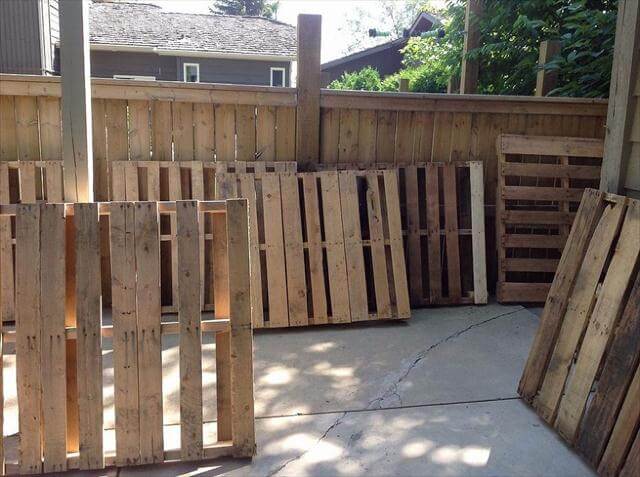 Visit the dumping grounds, shipping areas, local dumpsters, junky yards, surrounding trash heaps and also the nurseries to have a definite supply of pallet wood. These pallets have also been collected from a dependable source at  no-cost!!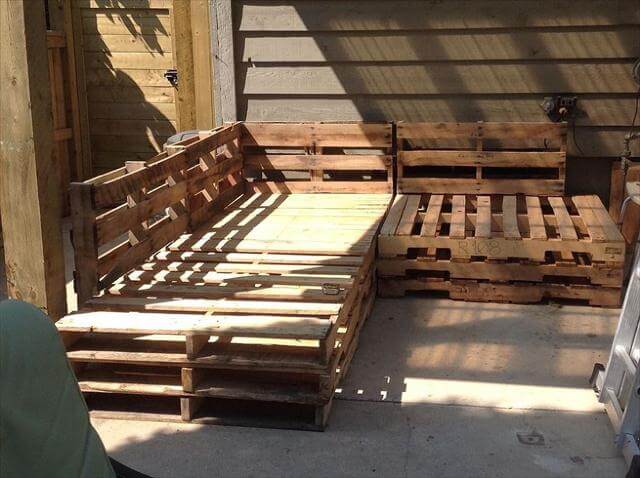 Some raw pallet boards and skids have been cleaned to gain a nice gunk free appeal and have been installed to give a raw frame of sectional sitting plan. You may target any required area of your poolside deck, terrace or garden space to be organized for a comfy type of sitting.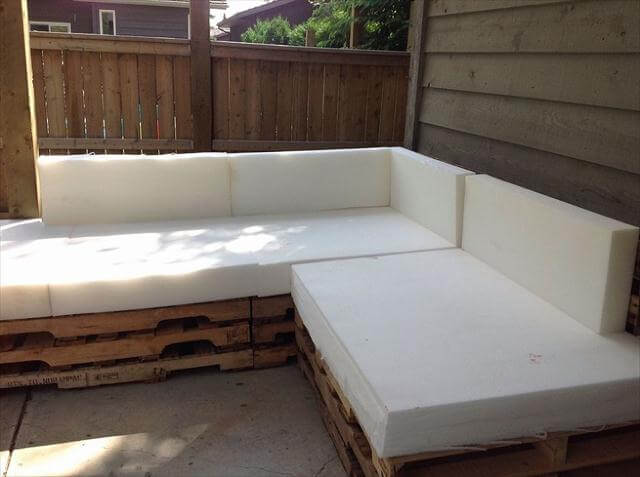 Foam has been selected for throughout upholstering of the sofa like that of berth sections and backrest positions. You may select any foam with high density to get your seating plan padded and cushioned.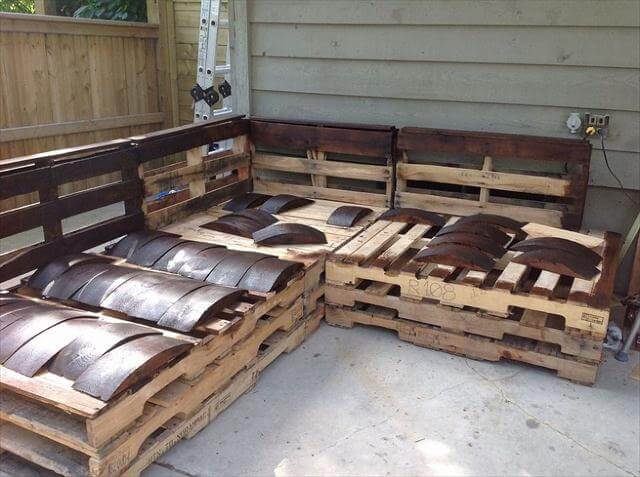 To give an amusing look to sofa with an unconventional twist, the half moon wooden pieces have been used for decorative edging and base skirting. Tone of these decorative wooden pieces also differs with the pallets that is another factor for an mesmerizing contrast of sofa.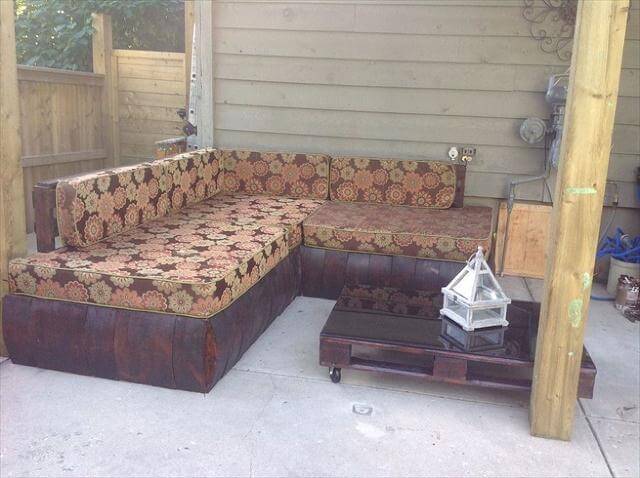 Using wood glue and nails the entire base has been skirted with that half moon wooden pieces that brings the entire design into a prominence. Printed fabric has been used to give a vivid and bold cover to the sofa design. This is how you can live the luxury on a budget with pallet wood.
You can also built the outdoor sitting furniture, complete set of pallet patio furniture, poolside lounging chairs, summer night dining furniture and also great outdoor fun and part furniture with sofa with so cute looks and lasting sturdiness. We given all ideas here about these outdoor furniture schemes, do check them too to have get yourself more inspired of pallet wood mastery and artistry.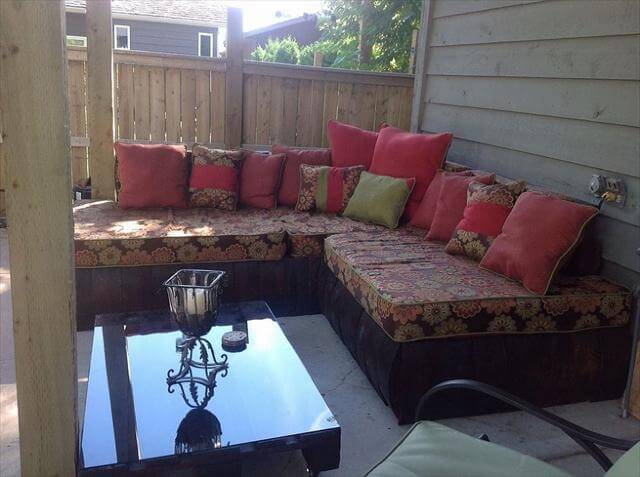 Just put some mid side and central coffee table to this handmade sectional sitting unit and turn your exterior portion into a focal point.
This pallet outdoor sofa also give us the right path to make the pallet serviceable again as they are not only to throw in dumpsters, by using your brainpower you can do a lot more with it to improve your home for better performance and functionality!!