Various crumbled structure home domestic furniture can be restored with help of pallet wood. To reclaim the useless material and stuff is always a great thought and is also very beneficial to boost up your creative thinking as well. Here you will see also a fertile example of wooden creativity. This charming piece of DIY pallet coffee table with reclaimed legs has been made using a board of pallets and reclaimed old table legs got from scrapped away material of home. The entire board has beautifully been adjusted on short but twisted legs to get a subtle manifestation of table.
Table can work properly for both living room and any of garden, porch and terrace sitting furniture. You can also renew old benches frames and collapsed doors and windows to get amazing styles of DIY refurbished pallet furniture on a budget. This project is really very simple to do and you only need a board of pallets for entire construction work. The finishing plans are always optional as you can make it painted, stained or can given a glass top finish.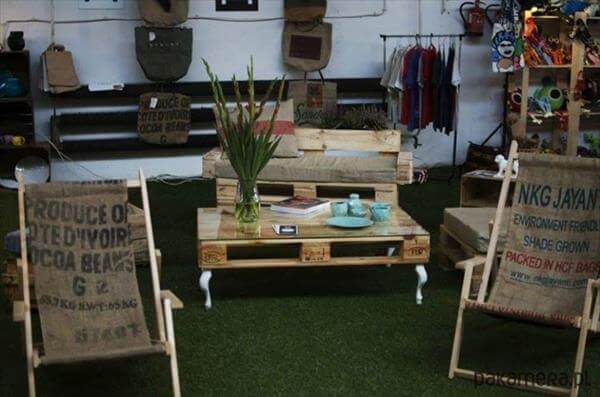 You can also construct the table legs using industrial metal scrap like of flexible metal rods, metal angle iron lengths and also the iron pipes. We have also some snazzy and industrial types of DIY pallet tables here which have such type of metallic legs.