Table is the fundamental component of furniture and often counted in one of the worthy wooden items which have a great service in home. We see tables everywhere in home playing different roles and purposes to run the routine in proper and functional way. The most favorite and utilitarian type of table is the coffee table without which every sitting plan looks like unfinished and in-completed.
By analyzing the worth and utility value we recovered this DIY pallet coffee table out of pallet wood to upgrade the home serving and entertaining criteria. Just keep it going to avail the pallet wood, a beneficial and profitable source wood, to gain the trendy pallet furniture layouts and standards on a budget. The makeover is just simple like a ABC and is complications free. Clone this rustic table inspiration at home to overcome the most occurring serving need of home without spending a bit of your money.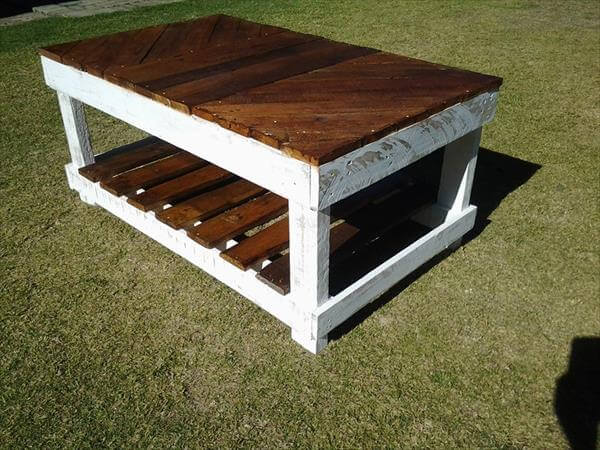 The whole frame for the table has been painted white with water base chalk solution with hand-rubbing. The pallets after getting stripped to individual one planks have been sanded down till the wooden glow and have also been stained in dark brown shade.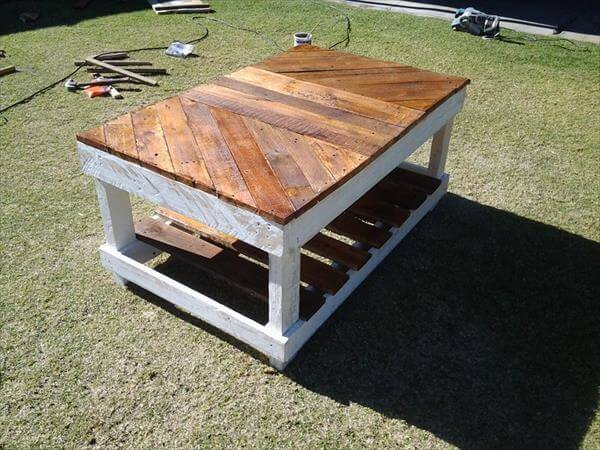 We have given it an appreciated and adore chevron style which looks very amusing on the top. This plan has been completed with planks of equal size and thinks with sharp edge cuts. If you go for a varnish or sealant this would made the wood long lived and lasting.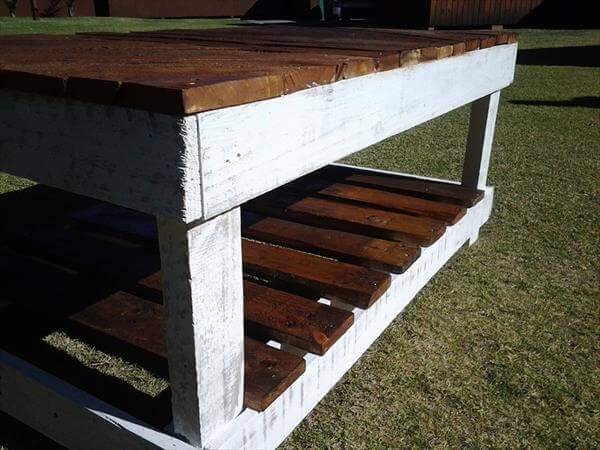 The table is much cherished and is a double bunk dainty table. Under DIY pallet shelf can be a reason to cause a great storage of your household items which are needed a storing space and to be mannered. This would be a perfect addition to home living room and seating room by acting as a antique and vintage centerpiece for any of sitting plan.