Pallets are everywhere around your home. You can search them at dumping grounds, scrap piles and also in junky yards. After the shipping duty these pallets just get retired and just thrown to rot away. But you can collect them to give a second chance to make them useful again just like this DIY pallet dining table which leads to any highly swank use of pallets. This table is really good to plan your dining meals as you can accommodate about 6-8 people around it for dinner.
Wood and metal treatment is always appreciable and likeable. Pallets boards come in geometrical mostly in rectangular shapes with some pockets and openings on both sides. You can make genius uses of these opening to have adorable storage options. This wooden pallet Table would be highly acceptable to any of shabby chic, urban chic and cottage living styles make great compliments to each of them.
Material and Equipment:
Pallet Wood
Sandpaper or Electrical Sanders
Paint Brush
A Piece of Cloth
Industrial Table Legs with Casters
Nails and Screws
Varnish
Stain or Paint (optional)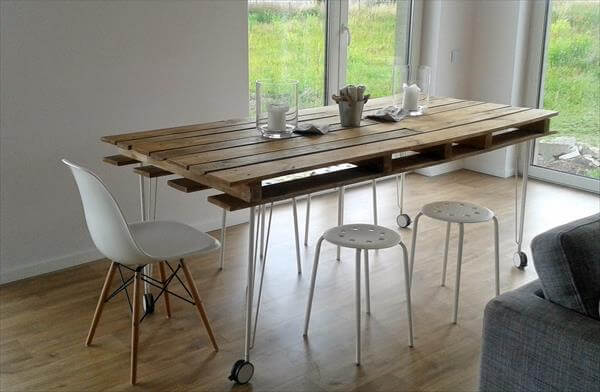 Just make your pallets clean and bug free. Check the tag on pallets to enure the conditions under which it has been treated for a period of time. Avoid those chemically treated pallets and don't use them in interiors of home.
Sand the pallets to hide the ugly look that may be due to gunk layer or due to unpleasing splinters. Sanding would be great application to remove both gunk and splinter and your will find a bright yet rustic wood tone of wood.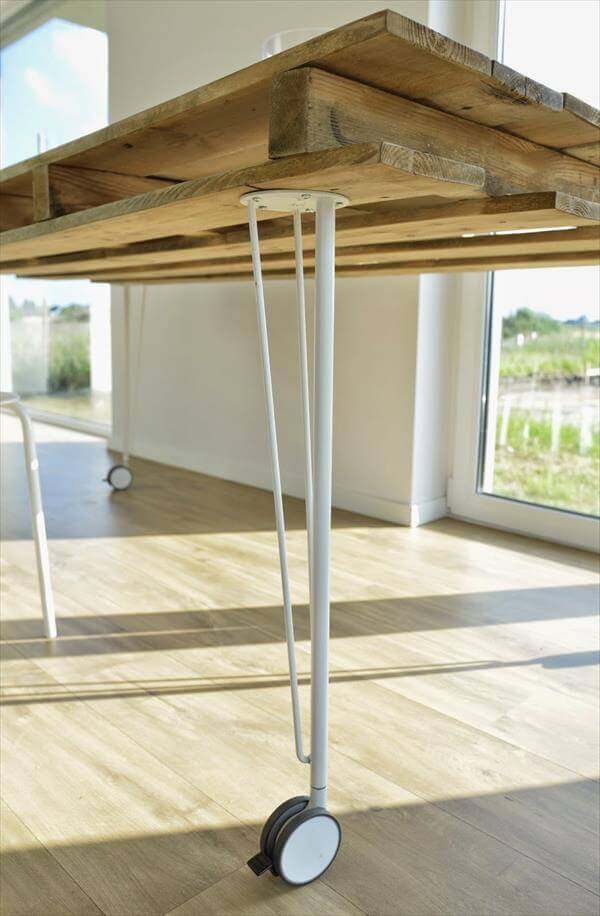 Heavy pallet top of the table beautiful been made stand on heavy duty and elegant industrial legs have casters at the ends. You can even the lock the casters to not to move further.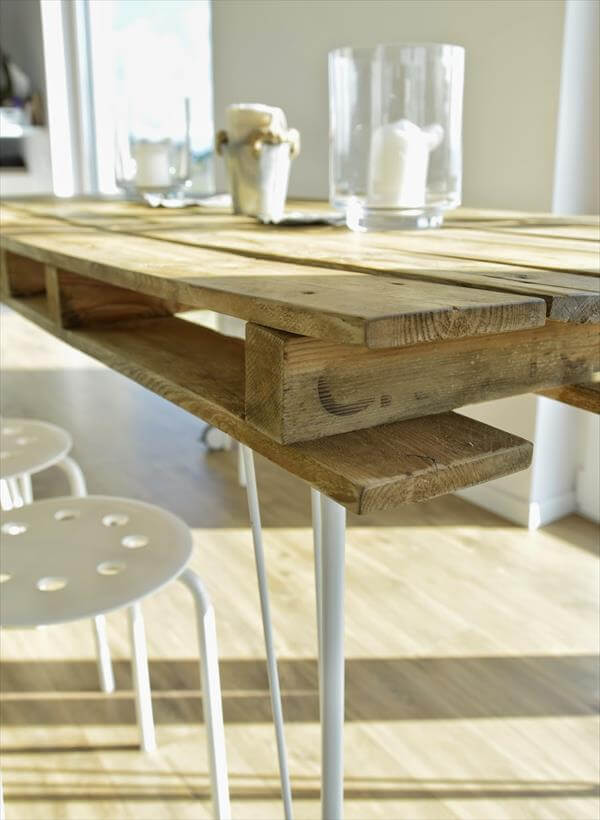 This DIY pallet table has been given a top coat with varnish for a graceful and protective finish but you can even select the paint or stain to have more mesmerizing appeal to hold the attention of the viewers. But this rustic blank tone will be outstanding to give any living space a vintage or mid century inspired touch.