Compared to decades ago, home designs have changed. With over 40 percent of homes more than 50 years old, many homeowners have rushed to update their homes with some of the more modern amenities. However, older styles like ranch home styles have also begun to come back into popularity. According to a recent Google report, ranch home styles were the most popular home style searched between April 2018 and April 2019. However, it's not the first time that ranch home styles have peaked in popularity. The sprawling layouts, single-storied access, and lower cost can particularly appeal to first-time homebuyers. However, if you're not on the market for a new home but still want to incorporate the feel of the popular ranch style into your home's interior, here are a few easy changes you could make.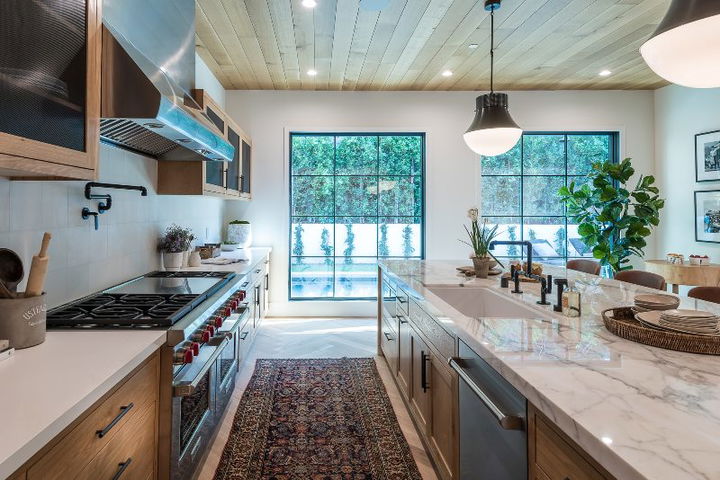 Narrow Down The Style Of Ranch Home You Want To Imitate
Before transforming your interior into a ranch-style oasis, you need to decide on the kind of ranch-style home you want to recreate. For instance, California ranch-style homes typically have an L or U-shaped layout. Most of them also have vaulted ceilings. On the other hand, craftsman-style homes heavily feature overhanging beams and hardwood floors. Deciding on the ranch style you envision for your home's interior design is the best way to narrow down the details you want to include in your interior design plans. Are exposed beams a must-have? Thinking this through carefully helps you select an interior design style that works with your home's current layout.
Go For Exposed Beams To Add Architectural Interest
Most barn-style ranch homes have exposed wooden details, including ceiling beams. A quick look at the ranch-style properties cataloged on http://texasland.com/
 shows many of them contain wooden paneling, oak-colored cabinets, and rustic details. While you can also add in exposed wooden elements by swapping your door for a barn-style door, an easy and budget-friendly way to redecorate is to add faux wooden beams to your ceiling. All you need is a few pallets and nails to create a pallet wall or beam in the living room. Lastly, don't feel pressured to match every wooden beam or stained wooden feature. In fact, that is one of the 
nine interior design rules to break
, according to design experts – matching everything.
Add Farmhouse Details To Your Kitchen
Farmhouse style is a key component of most ranch-style homes. The right combination of modern interior design and speckles of rural/informal components can help you create the perfect country ranch-style oasis – in the middle of your city home. To add farmhouse details to your home, your kitchen is a great place to start.
Swapping your sink for a farmhouse sink can be easily done yourself, and applies to most countertops, including granite. The farmhouse style also focuses on neutral colors as the backdrop against the wooden details. This does not mean the home lacks dimensions or details, however. Repaint your kitchen walls to calmer tones like soft beiges or grays, but keep it interesting by adding wooden paneling or beadboards. Another idea is to switch up your dining table by creating a DIY pallet tabletop.
It is easy to see why ranch-style homes are so popular with today's homeowners. The perfect harmony between informal and formal living and the open plan living that it contains can easily evoke images of a home filled with relaxation, love, and family. And while one option would be to buy a ranch-style home, a simpler (and cheaper) way to bring the ranch to your home is to add smaller changes to your interior design, such as wood paneling, faux wooden beams, and farmhouse details. Steadily adding small details means you can keep going until you find the perfect blend between your family and the ranch home style of the 1950s.