Do you live in or near the desert? If that is the case, then you probably know that it comes with a bunch of benefits. The air quality is high, the sunlight provides you with an unlimited supply of vitamin D, and the weather is always warm. But the desert life does have its drawbacks. For instance, it brings about its own very unique pest control issues.
While deserts might look like they are devoid of life, they are home to many pests that cannot be found in any other climate, such as scorpions and certain species of spiders. Obviously, all of them have the potential to enter your house uninvited. Fortunately, there are many easy ways to prevent that from happening! Do you want to know what they are? If that is the case, then keep on reading!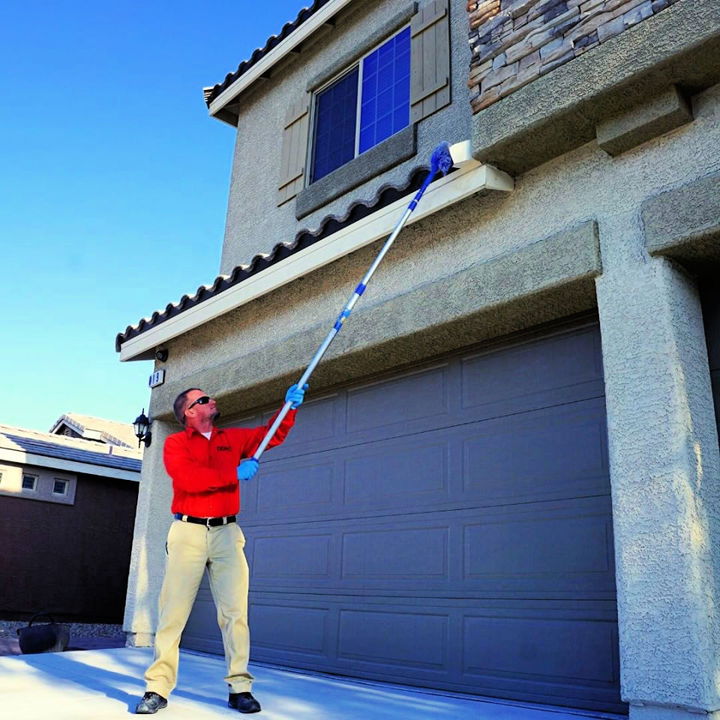 1) Seal Your House
To keep scorpions out of their houses, many Arizona residents decide to seal all obvious gaps that they can find around the house. If you want to do the same thing, you should check out your doors and window frames, as well as gaps in or around ceiling insulation and wall penetrations such as downlights and cables.
When it comes to doors, your garage door should be your top priority. The gaps under garage doors tend to be quite long and big. Consequently, they can serve as an entry point for all kinds of desert pests, no matter their size.
If there is a gap under your garage door, solving the issue by yourself is always a viable option. But if you do not have time for that, you can always contact a company specializing in garage door service and let professionals take care of the problem for you.
2) Take Out the Trash
Stink bugs are attracted to warmth. Because of that, they are considered to be a common pest of the desert. Just like humans, they need three things to survive – food, water, and shelter. So, if you want to prevent them from getting into your house, your best bet is to cut them off from as many of these resources as you possibly can.
Most importantly, it would be best if you remembered to take out the trash before it builds up and made sure that the trash containers are clean and dry. If a container is already full, ensure that it gets emptied out as soon as possible. Forgetting to do any of these things is bound to attract stink bugs and other trash-loving pests.
3) Keep a Bird Feeder
You are probably well-aware of the fact that birds like to feed on bugs and insects. So why not use it to your advantage? Purchase a bird feeder and invite birds into your yard! The more birds decide to pay you a visit, the fewer insects you will have to deal with.
But before you do that, make sure that you are doing everything right. Otherwise, you might end up making simple mistakes. While some of them can drive the birds away, others may actually put their lives at risk.
First of all, do not buy the cheapest birdseed. It tends to be loaded with inexpensive fillers such as cracked corn, milo, oats, or wheat. Second of all, do not feed wild birds bread and other baked goods. They are like junk food and do not provide adequate nutrition for adult birds and growing hatchlings of any species.
4) Start Raising Chickens
Did you know that chickens can be the best and most sustainable pest control available? They love grasshoppers and are excellent at defending a homestead from scorpions, termites, and flies. Consequently, keeping them in your backyard will ensure that your home stays mostly bug-free. Additionally, they make for adorable pets and will provide your family with a regular supply of eggs!
However, keep in mind that there are many poultry breeds out there. Before making a purchase, make sure to familiarize yourself with a particular breed's size and needs. If you do not do that, you might end up buying chickens that are way too big for your backyard and way too time-consuming to raise.
5) Mow the Lawn
Remember to keep your lawn properly maintained! Long, unkempt grass attracts snakes, pests, and weeds. After all, many bugs eat grass and feed their larvae with its roots, while snakes love hiding out in tall grassy areas.
You might also want to look into buying a pest repellent. Many brands produce repellents that are safe to use for organic farming. Such repellents are perfectly safe for both the environment and your family members.
Consider using diatomaceous earth as well! It is a fine powder that insects, scorpions, slugs, and snails really hate. Why is that the case? Once they start walking on it, it feels like they are walking on broken glass. So, to keep your lawn pest-free, all you need to do is sprinkle the powder in the areas where the pests congregate!
Say Goodbye To Desert Pests!
All in all, keeping desert pests away from your house is easier than you think! In some cases, taking good care of your lawn and taking out the trash on a regular basis is more than enough. Remember, pests love messy areas. If your house is cluttered and dirty, it is like an invitation to all kinds of different bugs and spiders.
Bear in mind that if your house is already infested, such precautions will not do much at this point. If the situation is really bad, contact a pest control professional. Once you do that, you will be able to tackle the problem quickly and efficiently. It will prevent things from getting even worse and save you a lot of trouble!