When it comes to decorating your apartment, there are a lot of factors that need to be taken into consideration. It can be pretty challenging to make a small space feel truly homey, while also trying to fit all of your furniture and decorations at the same time. Add the countless restrictions that come with rental apartments to the plate, and it becomes nearly impossible to come up with design and decor ideas for your apartment.
It's essential for you to know what your rental limitations are while deciding on which elements to focus on and that will go well with your home's aesthetic design. Here are some great apartment decor and design ideas to help inspire you.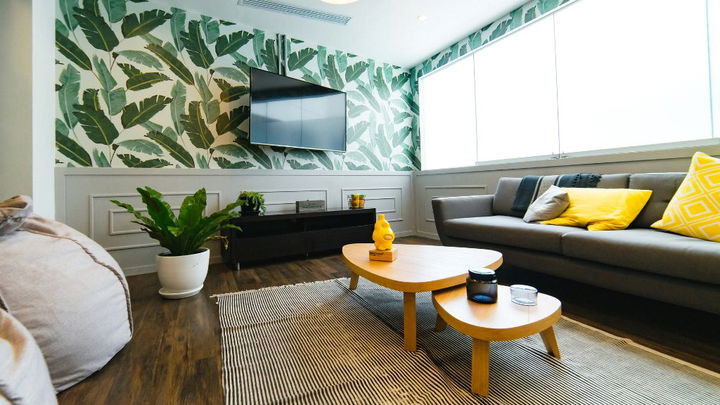 1. Get Floating Shelves Installed
Install floating shelves on your living room walls to showcase a collection of decorative objects, mementos, collectibles, or books. Floating shelves are always in style, and are easily customizable to fit your personality, and match your apartment's interior. Plus, the simple design makes for a perfect minimalist addition to your apartment, that is, if you're into a minimalistic design. Whether you choose wooden shelves to complement a rustic design or metallic ones for a more modern look, floating shelves will always draw attention, regardless of the simplicity of their design.
2. Use Mirrors
A great trick to interior design is to use mirrors in various places throughout your apartment. Mirrors are known for making a small space seem large. You can hang a mirror in the bathroom, or in your bedroom to make these rooms look and feel more spacious. You can also put mirrors in a narrow hallway to give the illusion of an elongated space.
Use mirrors with decorative frames to make a statement. While many consider that large pieces of art and decor bring elegance to a room, nothing shows sophistication more than a beautifully designed mirror hung on a wall. Furthermore, they can significantly improve the lighting of the room by reflecting natural light and making the room brighter.
3. Maximize Your Kitchen Space
Most apartments have excessively small kitchen spaces, making it pretty challenging to function in, let alone decorate. However, with the right techniques, and pieces of decor, you can make the most out of tiny kitchen space while also making it look fabulous. You probably don't have enough space in your kitchen to add an additional island. If this is the case, you can always opt for a rolling kitchen cart to serve as extra counter space that also adds a touch of style.
Replace the upper cabinets with open shelves to make it easier to access items that are stored there. Since you won't have a lot of room for decorative pieces, use your dishes to make a statement. Get some colorful glassware to add a visual aesthetic without adding to the volume of items already in the kitchen. In this case, function and design go hand-in-hand.
4. Faux Built-in Closet
Many older apartments come equipped with beautiful built-in closets, perfect for storing everyday necessities while showcasing a modern decor. In case your apartment doesn't have a built-in closet installed, you can create your own version. Add a storage unit or bookshelf that reaches the ceiling. Use molding around the faux closet to further reinforce the built-in look. However, make sure to check with your landlord and the rental regulations before you use moldings in your apartment.
5. Wall Art
Create a gallery wall in your living room to give an artistic vibe to your apartment. Your living room will be one of the most commonly used and visited spaces, so it is worth investing in good decor if you want to make a good impression.
Create this gallery of artwork around the TV set installed on the wall of your living room. Make sure to place a piece of furniture beneath the TV to make it look grounded. Even if you don't have a lot of space to hang art, put up just one or two items to bring a little depth to the room. It doesn't matter if you put up photos, paintings, puzzles or digital art on your wall, any sort of art will be able to fill your apartment with color and personality.
6. Layer Rugs
If you're stuck with whatever floor finish from the contract that you signed, then utilizing carpets to hide any unpleasant floors is a good solution. There are many restrictions concerning renovations and remodels for rental properties. You can find out more from propnex.com, and make sure to abide by the regulations when decorating your apartment. Additionally, instead of carpeting your floors completely, you can use extra large area rugs or layered rugs that complement your apartment's interior.
Layering rugs will work best in a room where there's not a lot of furniture. Color coordinating the rugs to each other, and other decors in the room is essential for a successful rug layering. If you're looking for a minimalist look, use solid-toned rugs instead of ones with patterns.
7. Reading Nook
If you're a book lover, it has probably been your long-standing dream to have a reading nook where you can curl up and enjoy a good book. Well, it's not that difficult to make this dream come true. Many apartments come with a built-in windowsill seat, and with just a few tweaks, you can transform this space into a cozy reading corner. Add a thin mattress, measured to fit the length and width of the windowsill, throw in some pillows and cushions, and you've got yourself a nice reading spot.
To make this space more aesthetically pleasing, you can add some heavy curtains, wall decor, and fairy lights. If you have some money to spare, you could convert the windowsill into a small bookshelf.
8. Glass TableTop
If you want a touch of creativity, and an added aesthetic visual, opting for a glass tabletop table is the best decision you'll make. A glass tabletop combined with transparent chairs will make a small dining space look infinitely more spacious. Add a candle centerpiece to the glass top, and you'll have a luxuriously elegant dining space. If you want to add an additional feature to this design, adjust the lighting surrounding the dining space so that it complements and accents the transparent furniture.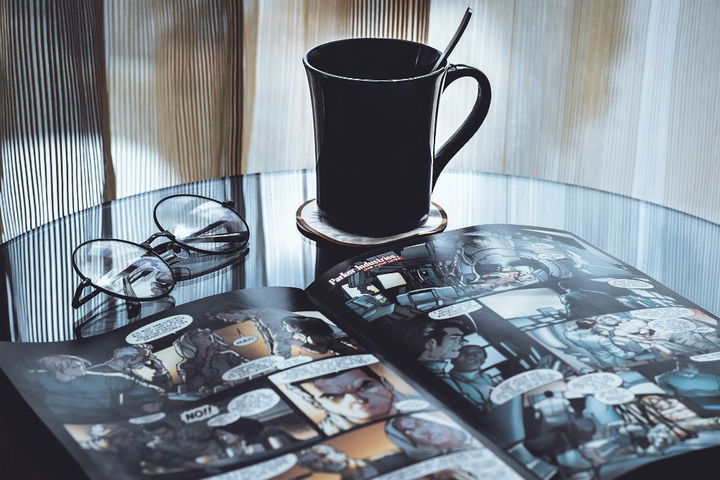 Designing your apartment can seem like a fun task until you actually get around to doing it. However, it doesn't have to be so difficult as long as you're following the correct techniques to maximize your space while also adding a bit of style to the place. Make sure you adhere to the rental restrictions of your apartment when you design the interior or exterior. A home doesn't feel like a home until it's decorated with love and affection.