Saying farewell to a beloved colleague is a bittersweet experience. While you want to wish them all the best in their future and celebrate their successful career, their absence in the workplace will be noticeable. Finding the best gift to mark this noteworthy occasion can be challenging.
If your colleague is someone who loves spending time building things and puttering around their yard, you're in luck. Selecting a gift that appeals to their preferred hobby and passion is simple — especially now that they'll have so much free time.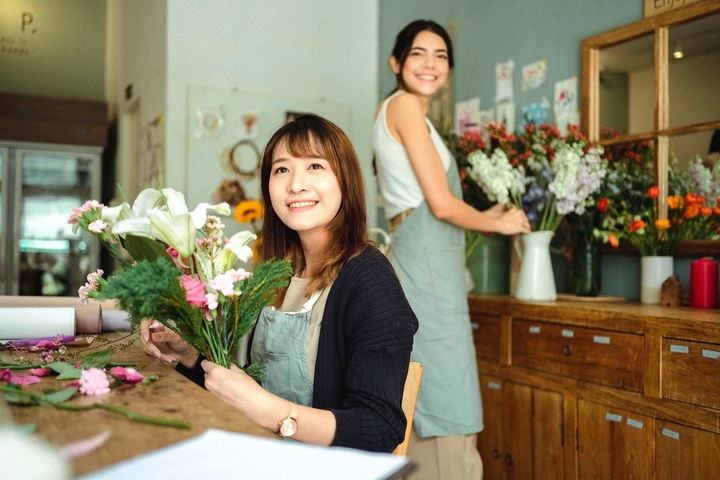 Here are some of the best gifts to send a colleague to congratulate them on their retirement – and to keep them busy in the days ahead.
Floral Arrangements or Indoor Plants
Flower arrangements and bouquets are a time-honored tradition for gift giving, especially for retirement. This versatile gift option works whether you consider your colleague a professional acquaintance or a cherished friend. You can scale this gift option to suit the relationship and your budget.
Blooms like daisies and sunflowers represent new beginnings and longevity when choosing flowers for retirement. These wildflower options are also easy to get from a locally sourced or sustainable florist. Mums and daffodils are also great options for retirement, as they symbolize lasting companionship. Opt for shades of yellow to represent gratitude and friendship.
When sending retirement flowers for a friend, minimize your carbon footprint by purchasing ethically sourced flowers from independent farmers or local shops. Purchasing flowers that are in season will also mitigate the negative environmental impact.
If cut flowers aren't suitable for the retiree in your life, opt for a potted plant or small tree instead for a gift they can watch flourish and grow over time. Indoor plants allow retirees to keep cultivating throughout the winter, helping them celebrate their passion for the outdoors year-round. Purchase something they can tend to and propagate for an heirloom gift they can pass on to family members and friends.
A Curated Gift Basket
Putting together a gift basket is a great way to say "congratulations" to your colleague who's retiring — especially given as a group gift. There are several themes you can put together for a gift basket that will bring the retiree lasting joy. One option is to put together a "favorite things" gift basket that includes different treats and interest pieces that the retiree enjoys.
If your colleague is into gardening, you could include a nice set of ergonomic gardening tools and accessories like knee pads, gardening gloves, and a cooling neck guard to provide comfort in the summer sun. You can even pack the various components in a portable garden tool bag or stool. For a personal touch in a group gift, have everyone bring in seeds or bulbs from their own gardens to contribute to the present.
Alternatively, you can put together a gift basket with everything they need to relax and pamper themselves, like handmade soaps, lotion, and a nail brush. You could even include a cocktail kit or an assortment of herbal teas to start their retirement off on a restful note.
A Sustainable Gardening Package
As mentioned previously, gardening is a favorite pastime for many retirees. It sometimes comes as a shock to many non-gardeners that not all gardening is good for the environment. Taking an eco-conscious approach by avoiding pesticides and growing native plants is a positive step toward sustainable gardening, but there's more to do.
Invest in a rainwater harvesting setup as a significant retirement gift for your colleague, or as a gift from a group. A rainwater harvester is a simple barrel or tote that adheres to a gutter spout to collect run-off for repurposing. This sustainable gardening practice will help cut back on water consumption and is also beneficial as it mitigates the sometimes harmful additives in treated water.
Another gift that goes well with a rainwater harvester is a home compost setup. You can purchase an outdoor compost bin that allows users to create their own soil blends or a small, odor-proof countertop device. Present these items together, and your colleague will be ready to head into retirement with renewed vigor.
A Subscription Box
Subscription boxes are a fantastic retirement gift, regardless of the retiree's interests. You can get subscription boxes for everything from coffee and chocolate to books and fitness gear.
As many retirees love gardening, you can get a subscription box designed for the seasoned gardener. The Bloomin' Bin offers a selection of seeds, focusing on a different plant every month. You can choose from flowers, vegetables, herbs, microgreens, or a combination of seeds. They also offer add-ons, including seed trays, garden decor and more. The Seed Bank Box takes a similar approach, offering organic, rare, and non-GMO seed collections.
Alternatively, you could get a monthly DIY project subscription box that walks the retiree through building pallet furniture, making art, and even building models — whatever suits their interests.
Pallet Furniture
Pallet furniture is a creative way to upcycle unused materials to create something new and wonderful. If the retiree is someone who plans on spending lots of time outdoors, you can put together furniture that makes their outdoor living space more enjoyable.
One of the best pallet furniture gift options is a pallet picnic table. This easy-to-assemble project looks great in a garden or backyard. You can also make pallet planters for the retiring gardener for a quaint, rustic look that sets the tone for rest and relaxation.
Retirement Gift Etiquette
When buying a retirement gift, it's essential to keep gift-giving etiquette in mind. The gift should be appropriate for the occasion and your relationship with the individual. If you know the person well and consider them a friend, feel free to make it more personal and costly. If this is a colleague who's more of an acquaintance, keep it simple and professional.
Whenever possible, support local businesses and companies that give back to the community. Remember to write a note explaining the meaning and thought behind the gift, and your hopes that they will enjoy the time they have to dedicate to their golden years.