The demand for pallet wood has risen in recent years thanks to the increasing popularity of DIY projects involving pallet wood. While you may decide on your project beforehand and know what you want to build with the pallet, the first obstacle you have to pass is figuring out where to actually find these pallets.
Before you start going store to store asking every shipping manager for their extra pallets, there are a few things you should know about wood pallets.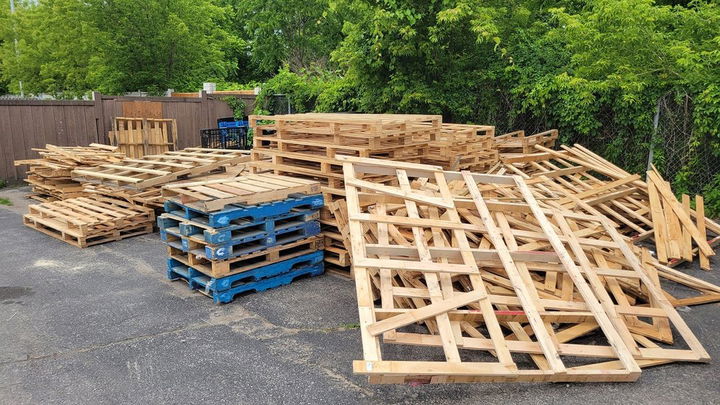 Knowing The Different Styles of Pallets
While you may think that a pallet is a pallet and that's all there is to it, you'd be wrong! There are a handful of different styles of pallets. To name a few, you've got reversible two-way entry, perimeter base four-way entry, or 1200×800 Euro pallets to choose from. The different styles of pallets could have an effect on your project depending on what you're building or creating.
Understanding The Markings
Once you've located a wood pallet, you'll want to search the wood for any sort of marking or stamp that could indicate the method of treatment used on the pallet. If it's marking-free, it means that it was used for domestic shipping purposes and is most likely safe for you to use indoors (or outdoors) on any project.
Pallets that were used internationally will have an IPPC (International Plant Protection Convention) marking, which includes a country code and company registration number, as well as a treatment code. The treatment code is what you want to pay attention to. The four most common treatment codes you might see are HT—Heat Treatment, MB—Methyl Bromide, DB—Debarked, and KD—Kiln Dried. If a pallet has an HT, MB, or DB marking (or a combination of them), it's safe for you to use. If it's marked as MB though,  that means it's been treated with a toxic pesticide or chemical and you'll want to avoid using those pallets for any sort of project.
So where can you find wood pallets?
Any store that receives any sort of product shipment (so basically all of them) will likely receive those shipments on pallets. While that may seem like it means that you've got your pick of pallets, that's not entirely true. When choosing where to look first, you're likely going to have more luck with smaller businesses or specialized stores. Large companies or corporations will usually already have a disposal process in place or requirements for sending pallets back to the shipping companies so your request to take a pallet or two homes is more likely to be denied. Here are a few specific places where you can look to either buy or snag a few free pallets.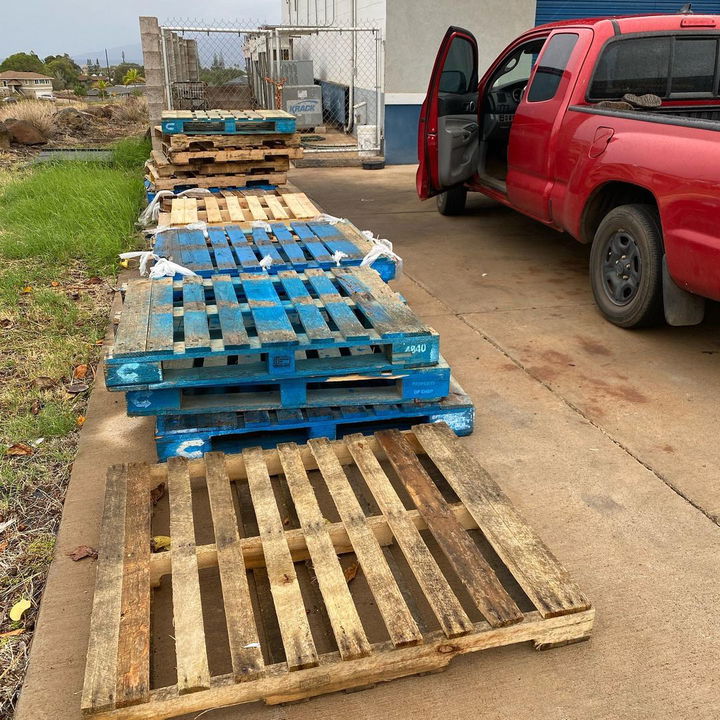 Buying Directly From The Source
The scavenging and hunting for a pallet is typically part of the upcycle process when making any sort of wood pallet craft but it doesn't have to be. If you don't want to put in the effort of hunting for a used pallet, there are manufacturers that you can buy directly from. Of course, this means that the cost of your project will likely go way up if you're buying a new pallet rather than recycling an old one, but it can give you peace of mind if you want to be certain of how the wood has been treated or what chemicals it's been exposed to.
Feed Supply or Pet Store
A pet supply store or feed and tack shop is a great option when looking for free pallets. Their pallets are typically made of softwoods so it's easy for you to work, but they're still plenty sturdy so they won't compromise a project if you were using the pallet for a bed frame or something that needs to be super solid.
Pet supply stores are also a good option because you can ask for a pallet that carried nontoxic animal supplies or food and feel confident that the wood is safe for you to bring into your home.
Lumber Yards or Hardware Store
Is it really that surprising that a lumber yard is going to have wood that's available for you? Lumber itself is often transported on pallets so it's likely that a lumberyard or hardware supply store is going to have a few extra pallets lying around that they'd be willing to part with. Plus, the pallets likely only transported other wood so you know they're safe for you to use.
Garden Center or Landscaping Companies
Plants, sod, stones, shrubs or other landscaping materials are typically shipped on hardwood pallets. The hardwood is needed to support the weight of the shipment, meaning it'll hold up well for a project like a chair, bed frame, bookshelf, or anything else that holds a lot of weight.
One thing to know when looking for pallets from a garden center is to avoid any sort of colored pallet. Colored or painted pallets mean the pallet transported fertilizers or some sort of other toxic product.
Craft Breweries, Bars, or Liquor Stores
Alcohol or other beverages are yet another product that is commonly shipped on pallets, and where the business would likely have no use for keeping the pallets for themselves. Since the products are heavy, a brewery or bar is likely going to have hardwood pallets that you could break down for flooring, for example.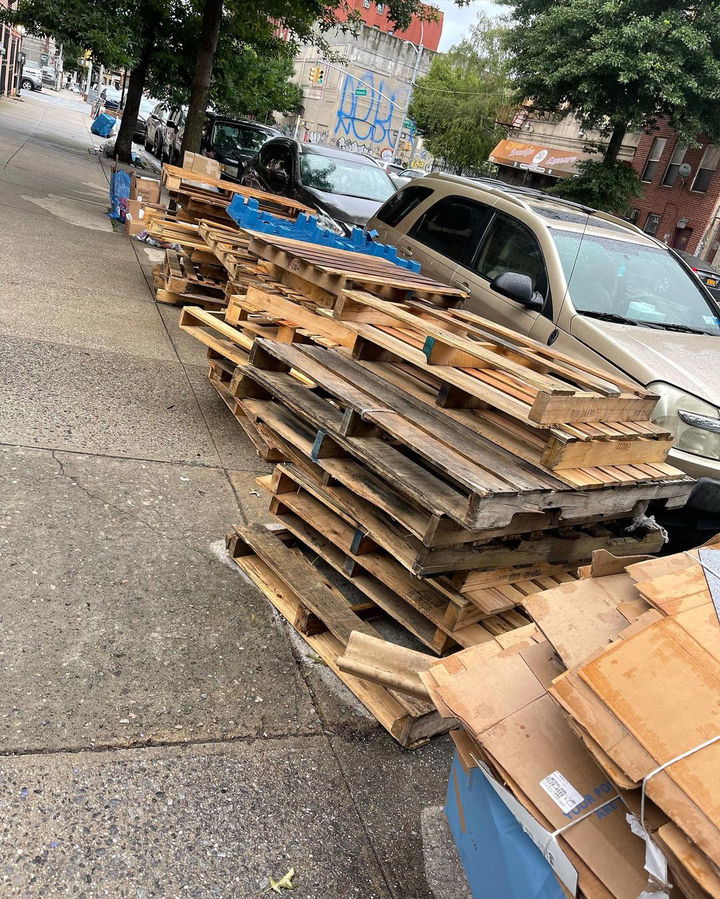 Craigslist or Facebook Marketplace
If you're having trouble finding stores that have pallets available to give away, you can also try scouring sites like Craigslist or second-hand selling groups online like Facebook Marketplace. You might come across someone giving away pallets for free, or at least listing pallet wood at a discounted price.
Always Ask Before Taking A Pallet
Remember that even if a pallet is standing up against a garbage bin in a back alley behind a store, we're still not in the business of stealing. It takes a few extra minutes of your time to run into the business and ask if you're allowed to take the pallet. You can even phrase it as an offering to dispose of their pallet or free up storage space at no cost to the store owner.