Headboard is a great part of bedroom to elaborate the whole bed. It s necessary part of bed which attaches to its head in order to make it signified. Headboards are also very worthy for the things in personal needs like mobile phones and medicine. They vary largely in design and size and have a very chic role to embellish the bed wholly. To make it more amusing various creative things can be done to its layout.
The most cheapest and durable home furniture come from the pallet wood recycling that's the mean reason to get this headboard from the pallet wood. We have gone for this beauteous DIY pallet headboard in king size dimensions at home and also have attached lights this time. This will be spicier and will be beautifying to whole bed in distinguished and prominent way. Various pattern and ornamental decor plans can be done with this DIY pallet furniture for bed.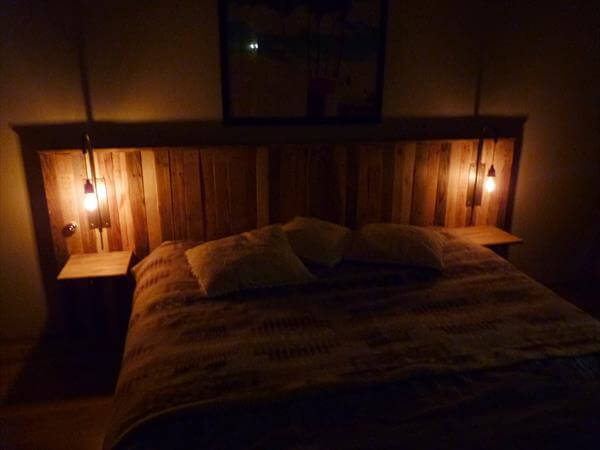 This would be a great addition to your bed, the lights prevails and outstanding and overwhelming atmosphere. It can perform many other tasks just being a simple headboard. The large wooden background to bed can be modified in with colors and attractive patterns.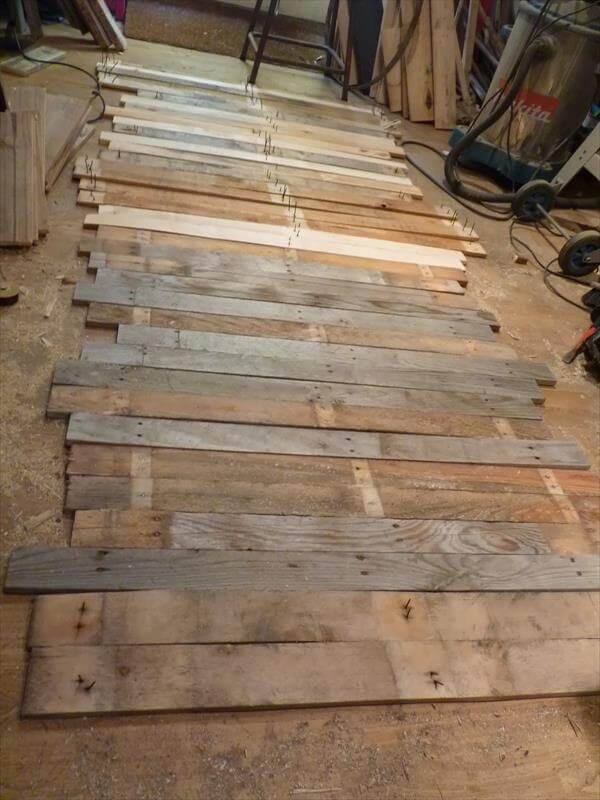 Arrange the pallets on the floor and start the stripping one by one by removing the nails at the junction. Use some tools to do this task, it will save much of your time and muscle strength and also the wood from wasting. It may be disturbing but you can handle it with patience.
After a better way gritting and sanding until the pallets don't become to look brand new and shiny, stacked them to attain a bigger size like that of king size dimensions of DIY pallet headboard. The planks you will use should be equal in length and thickness for precision in targeted appearance.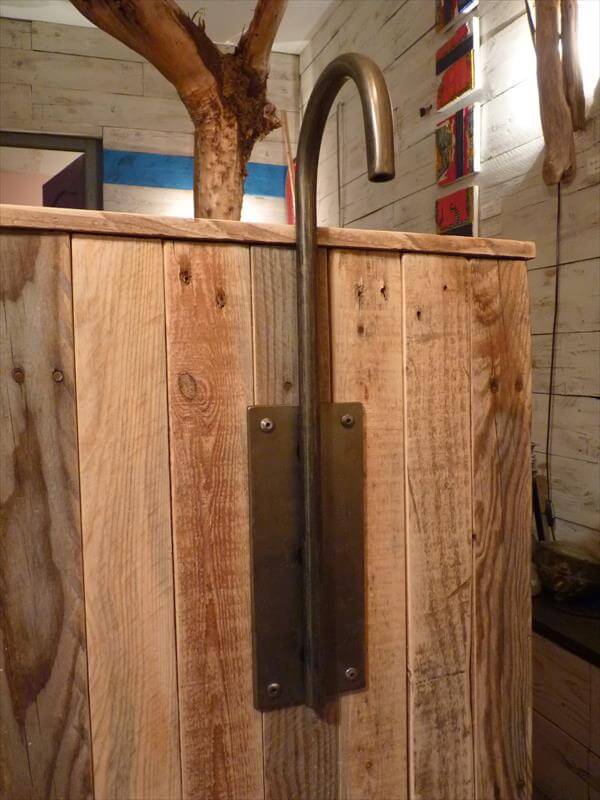 Now fix the hook like pipe with "X" headed screws to make it firm and gripped. Such a pipes can easily be obtained from hardware store, you  can also search for these pipes in home scrap and dump and wasted material.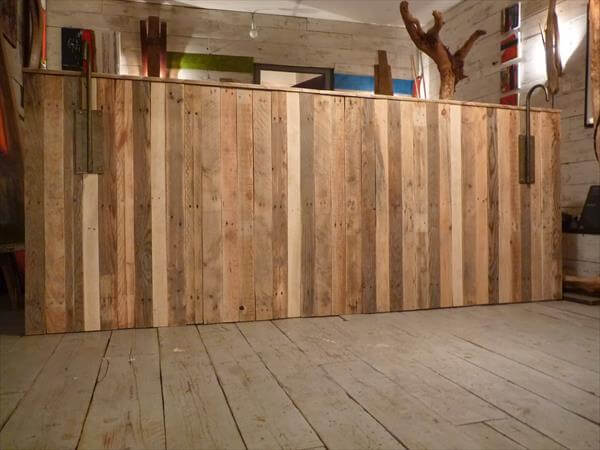 The equal cutting of pallets will make it perfect in shape which can stand alone with a dominant grace. You can make a plan to make it painted or varnished for more coolness and chic factor in it. Remove the loosely bound nails if you see any where.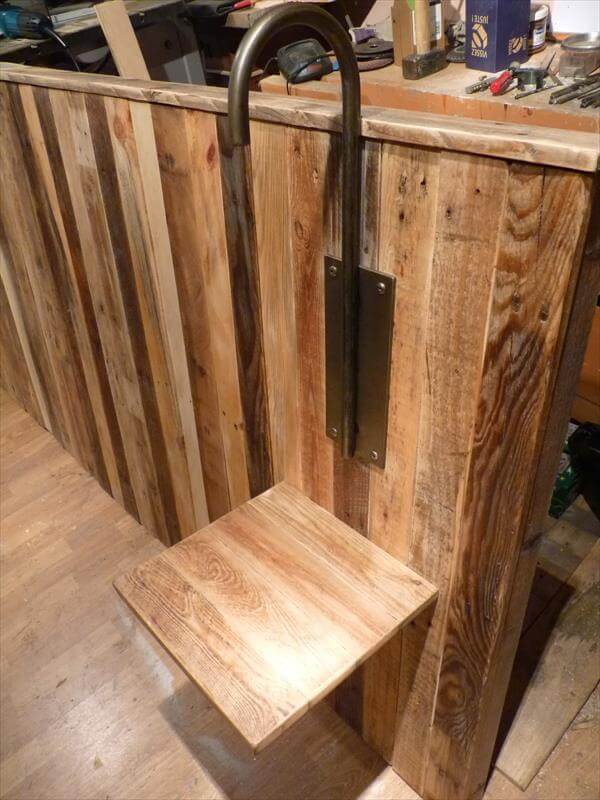 Two little shelves not merely makes it alluring and glorified but also make it featured to support personal items and accessory like mobile phone, alarm clock and a glass of water while relishing the lovely sleep. These little shelves have been made adhered with glue to handle some weight.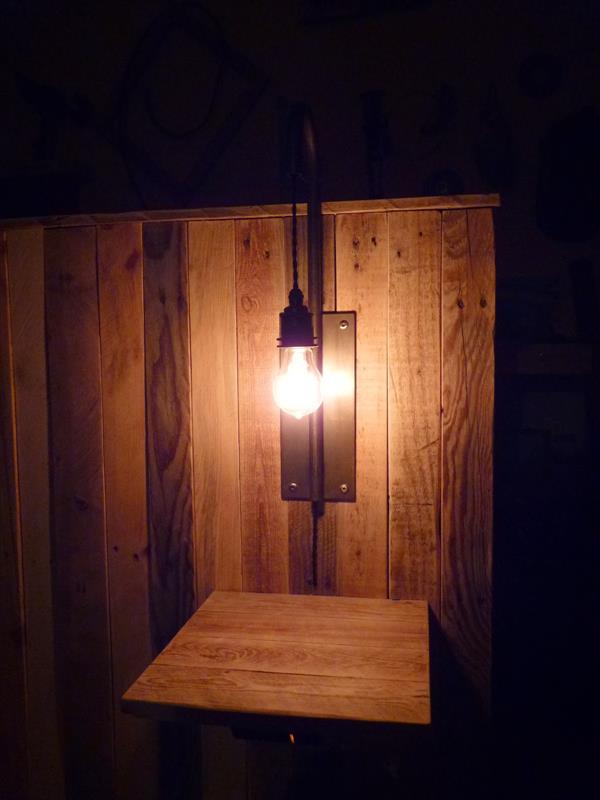 Now its time to add most amazing and unique feature to it which makes it distinguished and extraordinary, we have attached two light bulbs which have the electric supply though wire coming out from the twisted pipes. The works great at night and look more overwhelming and eye-catching.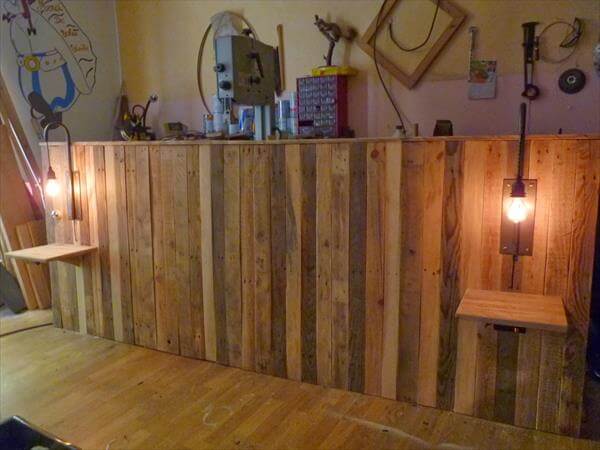 Now fix it to the head of the bead to have a lovely new feel of your bed. While making it attached the deck of the bed will also be secured to be ornamented decoratively.The deck will provide a sufficient and valid space to spice up the whole bedroom with so many ways of modern knickknacks.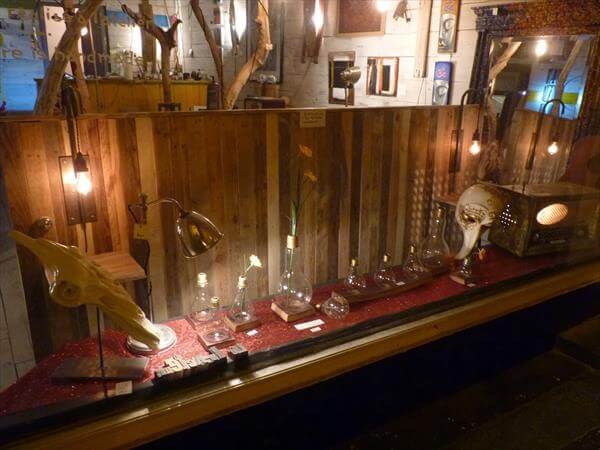 Just take an example of the garnishing plan to execute a remarkable and devastating finish. This inspiration may be formative at an extent but you can go with your own desires and selected choices. The all up to date glass decorative material you are seeing are the old and fused bulbs which have been spruced up with some flowers.
This is the final overview of our a whole day effort, it looks very nice and charming, a perfect head to a bed. We just like the wooden touch that's why we have not gone to that of paint and a theme color shade to it. It is looking smashing and crushing with just a varnish coat to it.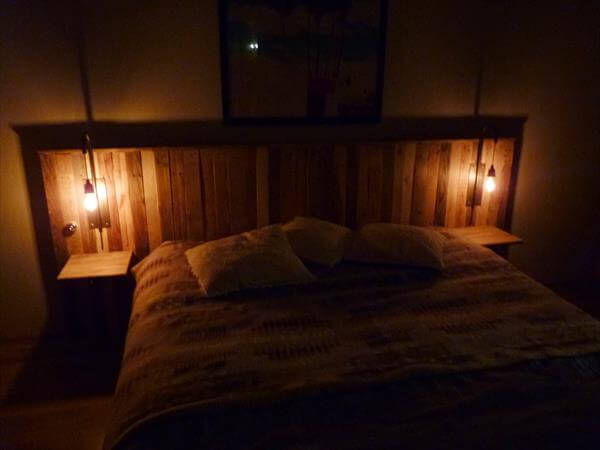 Turn the light off of the room and see the magic which we have  done with our own hands to beautify our bedroom. Make proper arrangement of wires attached  and make the lighting clear and well defined that would be the  real beauty to it.