Benches are a great piece of furniture that provide a relished seating to multiple people and family members at the same time. The home lawns, parks and rushed areas can be seen having sophisticated types of benches. You will find various types of benches in the surroundings some of which have arms and back rests and some are armless and backless to be seated from any side. We have created this handsome and absorbing type DIY pallet two seater bench to gain purity of nature at outdoor.
We have constructed this appreciated piece of pallet wood furniture after previous afternoon. The construction does not involve any random expenditure and goes smoothly on a very profitable and cost effective plan which may be free of cost to you. The DIY two seater bench has an angled back rest position for serene style of sitting and have an innovative creativity to be recovered from pallet reclaiming. Enjoy this phenomenal and utilitarian home seating luxury on a very light weigh budget.
Patio, terrace, front porch, outdoor or indoor any type of sitting can be charmingly served though this handcrafted wooden piece. We have gone for to assemble it all with nailing and screws, the metal angle brackets can also make it looking perfect in durability terms.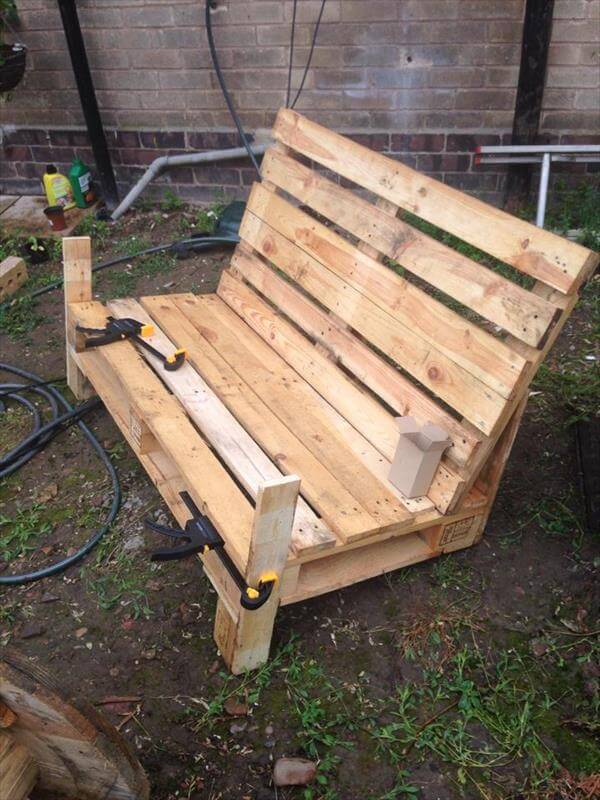 Here you can feed your mind with any bit of construction detail. This bench design has been raised to desired with just front legs and looks very beautifying. The angled back without arm gives it a perfect accordance and ambiance to that of DIY pallet lounging chair.