Outcomes and possibilities about home furniture out of pallet wood are just never ending. We mostly spend whole of our day at outdoor in summers, so we need to take some steps to get beauteous furniture for outdoor fun and entertainment. This time we have reclaimed DIY pallet dining furniture for outdoor dinners at summer nights. We have formed a DIY pallet dining table and 4 surrounding dining chairs to get a complete dining set.
We found some heat treated pallets from some respectable dealers of our town and spent the whole leisure time in this crafting project. Pallet wood which we have selected has a heat treated tag which makes it safe for interior use. We have raised the DIY pallet wood for dining table in bunch of chic colors to get a unique piece of art which came up with much visually attractiveness. You can with any furniture trend by wise and yielding recycling of pallet wood which always goes very friendly to your wallet.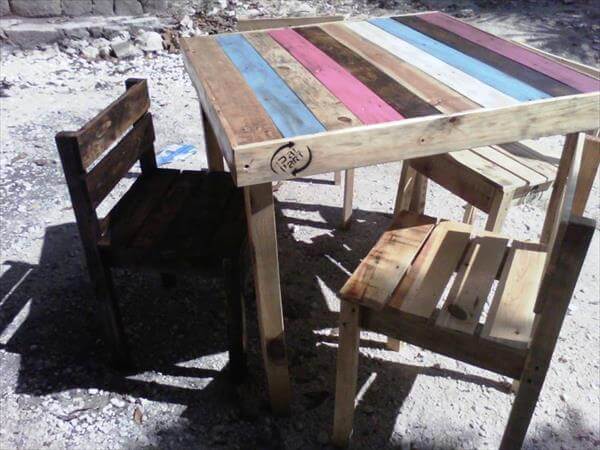 Whole of the DIY pallet furniture we got can go for further customizations there are many optional alterations that can be done to raise it on personal desires the most favorite one is the painting of it.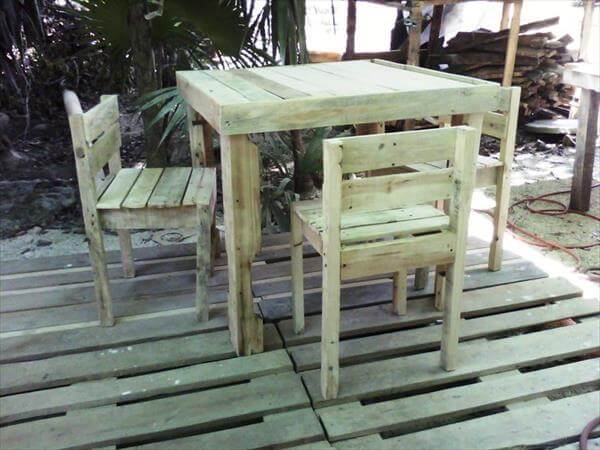 This dining arrangement with surrounded DIY pallet chairs can be held to anywhere at outdoor but the garden, terrace and home deck will be the most recommended options for this purpose.
This setup of pallet wood will also rock for morning breakfast of kids and for coffee taking purposes.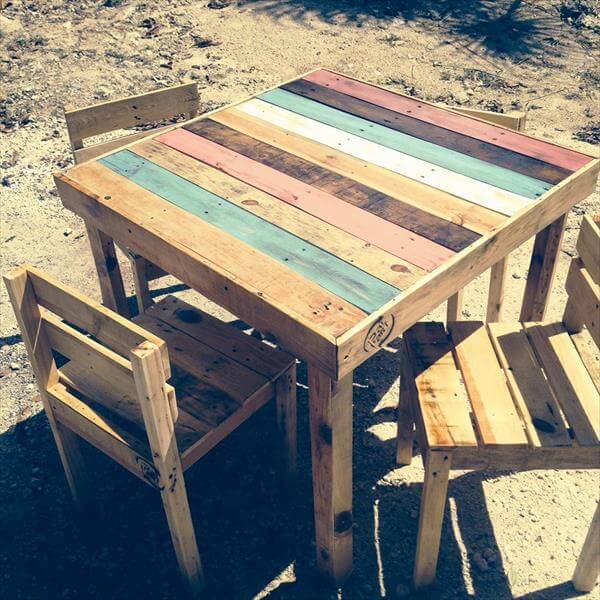 All the furniture components of this dining set are hand built and have been raised in lasting sturdiness which is just unbeatable due to reclaiming of hardwood pallets.
If your too feeling inspired and has also some free time to some of crafting work then don't wait to make a copy of this one of most chic and cheapest DIY pallet ideas that add a great functional character to home.