Pallet creations and project are unstoppable, we see a very new and unique trend of pallet wood at every morning. Here we are also to share with you a very nice DIY pallet sofas and table which we have raised in ultimate elegance. We have handcrafted a whole set of DIY pallet patio furniture  out of pallet wood containing two big one sofa designs and a center coffee table. We did this crafting phenomenon to organize fascinating sitting furniture on our terrace.
As we all know very well that there are always some unexpected ways for money to go in home, so it becomes very difficult to purchase the industrial designs of furniture. We did this DIY pallet sofa to earn very sturdy and elegant piece of furniture on very wallet friendly budget. We have selected the high density foam mattress to combine both elegance and comfort and it came up a very nice behavior of patio sitting furniture.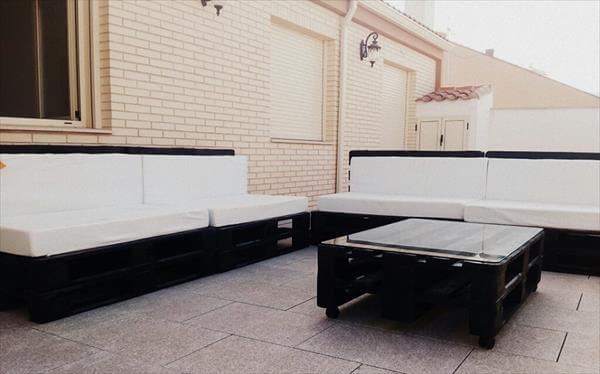 You can arrange this sitting setup at home front porch, at terrace and also in your garden to relish the outdoor in comfortable and serene sitting mood. You just need to give very few creative twists to the pallet boards with cutting a little bit, and you will find the rustic sofa out of the pallets.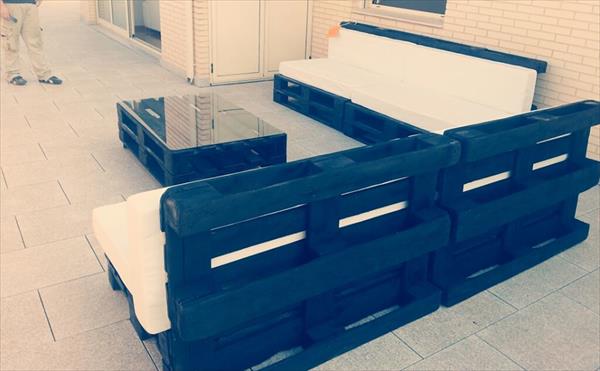 We have used the 2 main pallet board in bunk shape to give a raised sitting berth and aligned some pallet skids vertically just behind it get the backrest position of our sofa design.
We stained the pallets dark with minwax stain to get a mid century inspired theme and then added a white mattress on each handmade model. Mattress is the only ingredient of this pallet wood recipe for which we have paid, otherwise the whole project is free of cost.
We have provided a chic DIY pallet coffee table at the center of this patio sitting which the real conversation starter there. This coffee table centerpiece has been upgraded in charm with shiny glass top finish.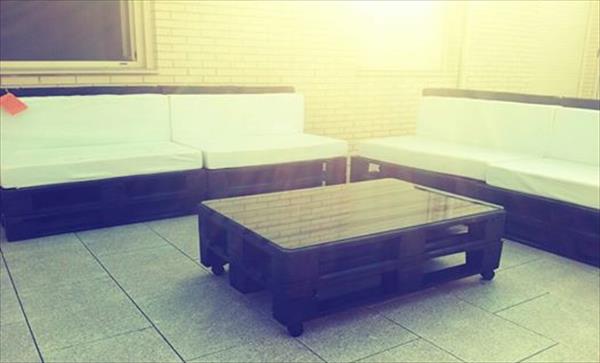 If this luxury recycled pallet furniture has made you inspired and motivated then go for a great pallet wood dive in the surroundings to gain a sufficient supply of pallet boards, otherwise get them from DIY store on a much less price.