Here we will throw some light on some creative uses of ordinary things of home especially that of wood medium. We mostly come across the pallets and old big cable spools, both live no longer in home or in use after the duty and mostly destined to dumping grounds and trash heaps. However, both these types of useless wood can be treated together for highly creative and utilitarian designs of furniture. This is very possible for sure and you can take this example of DIY pallet and wire spool bench to get yourself obsessed of wooden creativity.
Wheels of wire spool have been creative cut to shapes to serve as powerful and elegant legs while the other portions like backrest and berth portion has totally been made with salvaged pallets found at the landfill area. The cut out sizes of cable spool wheels have been reclaimed to perform as armrests that really add a "wow" factor to the entire design. This adorable design of DIY pallet sofa or bench is just perfect to serve for sitting at home porch, garden, at terrace and can also be got inside of your living room.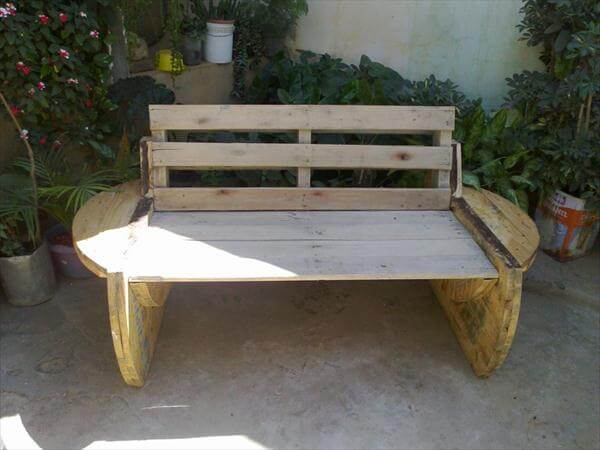 A cut out size of a pallet board has been fixed vertically upward to give the amazing backrest. Few pallet boards have been separated apart to build up the birth section from individual wooden boards.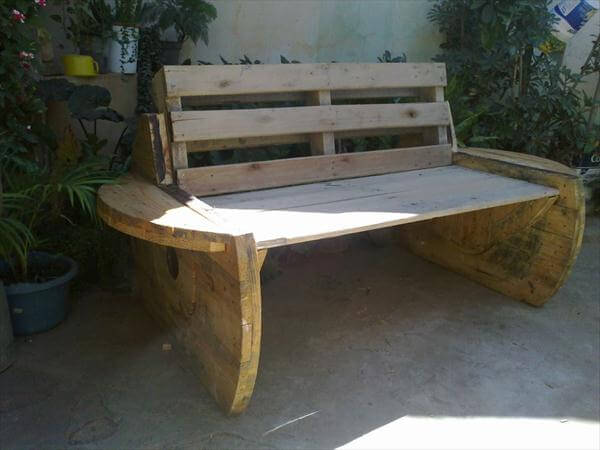 To remove the gunk and ugly signs of aging, wood has been gritted and sanded down. Here is what your genius mind can do, simple pile of useless wood has been turned into an amazing and visually stimulating layout of DIY pallet bench to provide super comfortable sitting at anywhere in home.
Wire spool has also creatively been patched with the bench frame and provides the overwhelming flat legs and armrests with perfect arched style. Enjoy this vintage or antique appeal of wood or make this DIY pallet patio sofa painted or stained for more amusing and stunning looks!!!