You genius and creative imaginations can really add comfort in your life as with help of them you can modify an object to some other nice, different, functional shapes. You can go for great fun with old wood of home and reclaim it in numerous ways for furniture, home decors and for improving different accent portions of your lovely dwelling. Intelligently using some pallets and cable spools that come as a great wood waste, this DIY pallet and cable spool patio furniture set has been build that can entertain a whole family.
You can organized this amazingly build DIY pallet furniture at inside or outside of your home to have great conversation along with comfortable sitting and eating. This adorable furniture set contains two heavy duty DIY pallet chairs, a nice two seated pallet and spool sofa, and a central pallet coffee table to support your food and beverage items. This is what you can do with your inner creative person and pallet wood is just best and free of cost target to have crafting fun at home!!
Wheels of cable spools can be fitted to nicely accent portions of your furniture like at armrests, back positions and legs just like done in case of given chair and sofa design. Do try this amazing DIY pallet project to have some great time with your inner craftsman.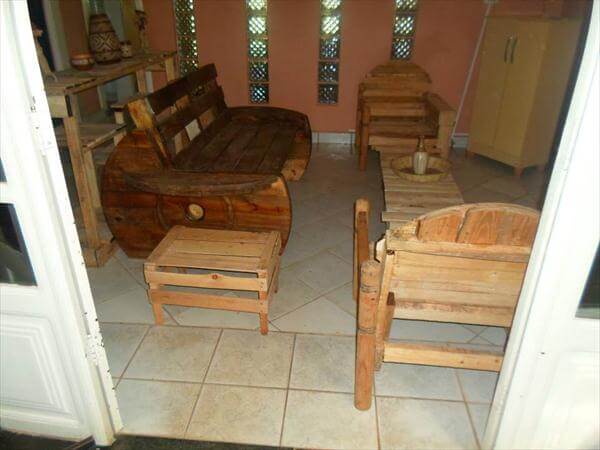 Entire theme of furniture is just best to give a vintage or mid century inspired touch to your cozy interiors. Make your garden or back porch area more entertaining and captivating by organizing this handmade furniture set there.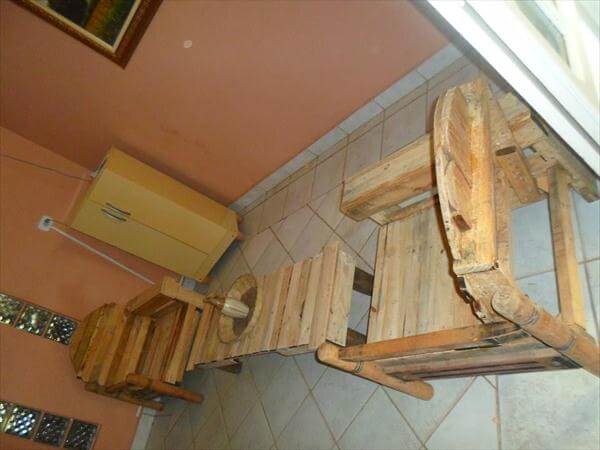 Pallets, cable spools, wooden dowels and other types of home wood are treated together creatively to put out these dominant designs of chair, table and sofa. Just feel the depth of wooden creativity here to get your self inspired and interested in pallet wood recycling.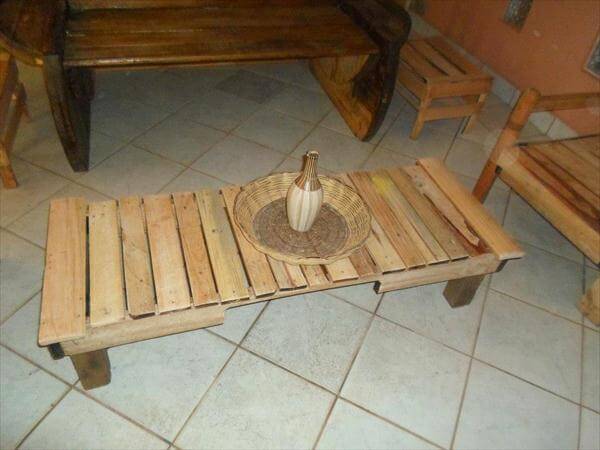 This is grand DIY pallet coffee table design that is the most entertaining element of this entire furniture set and will hold your items of decors and food nicely to give a decent look and style to your sitting.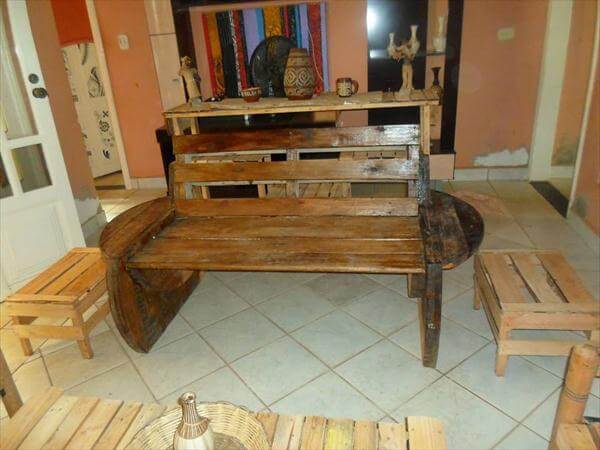 This grand DIY pallet sofa is the super functional element of this purely handmade furniture set and can accommodate 2-3 people easily for sitting. Wide armrest will surely come in handy to hold your beverage and coffee mugs in order to get your hands free to use in conversation!!
This is really a wise plan to reclaim the pallets and cable spool for extraordinary serviceable and fetching styles of furniture, really awesome!! wise way to go for wise people!!!!