How would you like to take your winter morning coffee? A garden or open outdoor space will work best to sooth your nerves too while taking the sips of your coffee. However, lack of appropriate furniture for this entertaining experience can remove the fun factor. If you are a much low in budget and don't want to miss this kind of outdoor charms and fun then enjoy this lovely design of DIY pallet Adirondack chairs with table which are totally made of pallets and you will get it free of any kind of cost.
These amazing and extremely white designs of Adirondack chair have been give a support of DIY pallet coffee table which is also made of pallets. This coffee table will also perform very well as a footrest for a completed relaxing position. This is really a big hit in entire collection of DIY pallet furniture ideas and makes you feel really great and relaxing.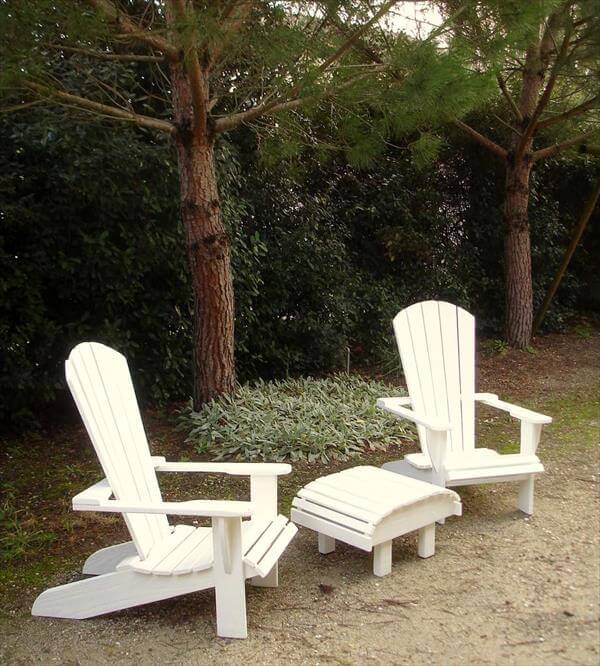 Feel like a boss by sitting on this gracious chairs, raised in very fetching and presentable design that can bind anyone under its spell.
This adirondack design of the chair represent the perfectly the outdoor and will be great source to get your body relaxed and finely seated.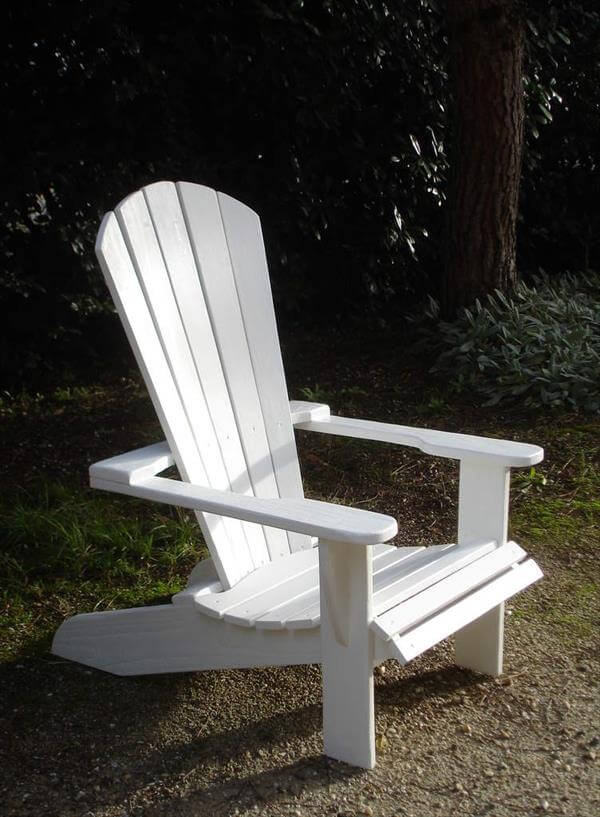 Thick side lengths of the pallets have been used to provide the rear legs which are the real support to the backrest. Now what we can about the design it is just mind blowing and stunning!!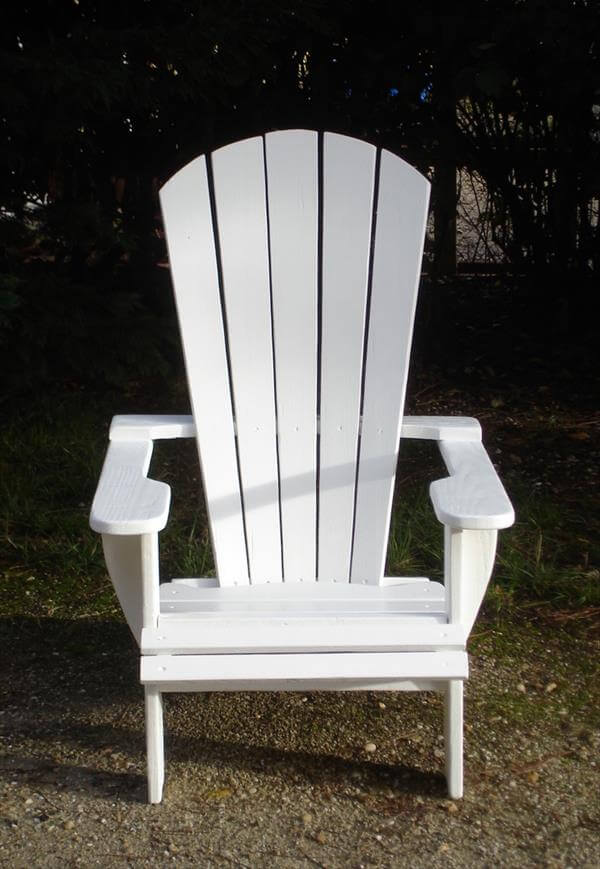 Pass the wood through a process of hand gritting and sanding before you take it into construction. This will make it easily painted and also make the surface smooth to splinter free for safe touch.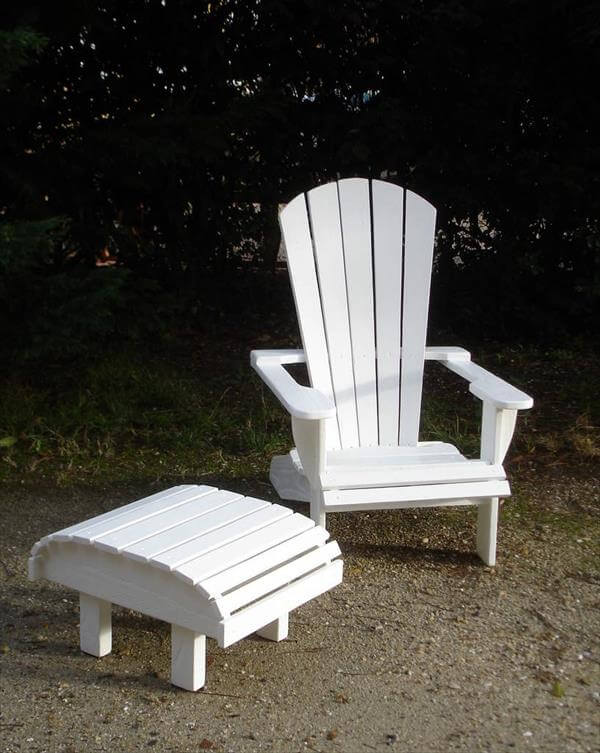 If you desire to unfold your legs to get a complete relaxing position then you can make use of this DIY pallet footrest to support you legs which has been built with very precious and bent top.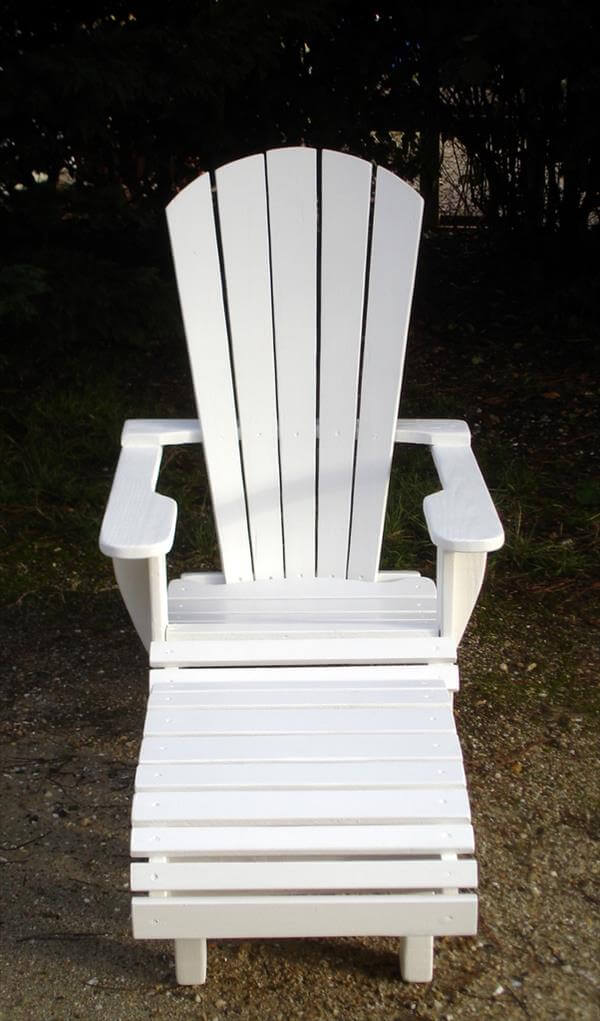 From where this chair gets a royal look? Yes, it is its arched back rest which is the accent component of this entire design. The foot rest can also be planned as a coffee table to support your favorite items of food and beverage.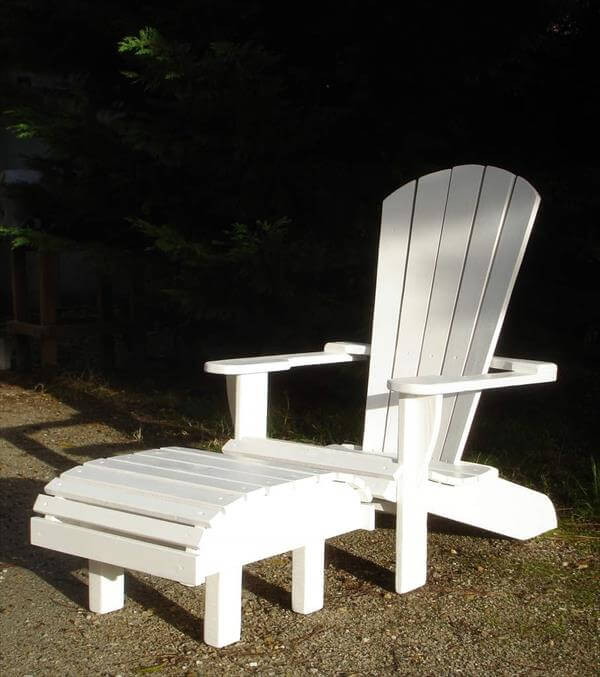 White paint has been used to suggest a shabby chic color them to this adorable kind of DIY pallet patio furniture. It is just perfect for your garden and other green outdoor spaces of your home.
You can also check the details for pallet pool side sitting plans, pallet outdoor loungers, pallet benches and DIY pallet sofas to make your  living style more comfortable on a budget.