Sitting is an action of body to get calmed and to sooth the nerves after tiredness. It is a habitual task of our everyday life that we sit on chairs and benches in different mood and different inner sensations of emotions like love, happiness or it a may be a disturbing or hurting condition too. We have contrived the two sitting items for any where sitting in home, one is the DIY pallet chair and other is the DIY pallet bench. Both these two are in accordance of patio and sunny outdoor of you home for instant and comfortable closeness of nature.
Both of the DIY furniture projects have exclusive tallness for suitable and comfortable sitting on any of them. If you have mind set and motive toward this handy furniture then be attached to the helpful pallet wood which is very instant in providing endured and durable furniture on extremely effective and wallet friendly budget. We care for you and save your money from overflow because we are fully aware to the hard effort and struggle of you that you have put in to earn it.
Pallet Bench:
This was the targeted model for our sitting DIY bench with bottom leg support architect and also suitable for placing things that you think convenient and in accordance. It was fun and the experience to find this nice and lovely shape of bench of pallet. It took only half an hour to regain this funky bench design from wood reclaiming DIY furniture project at home. The design can suit every patio like terrace, lobby or garden. To sit in home porch or in hallway this handcrafted wooden object will be the first preference.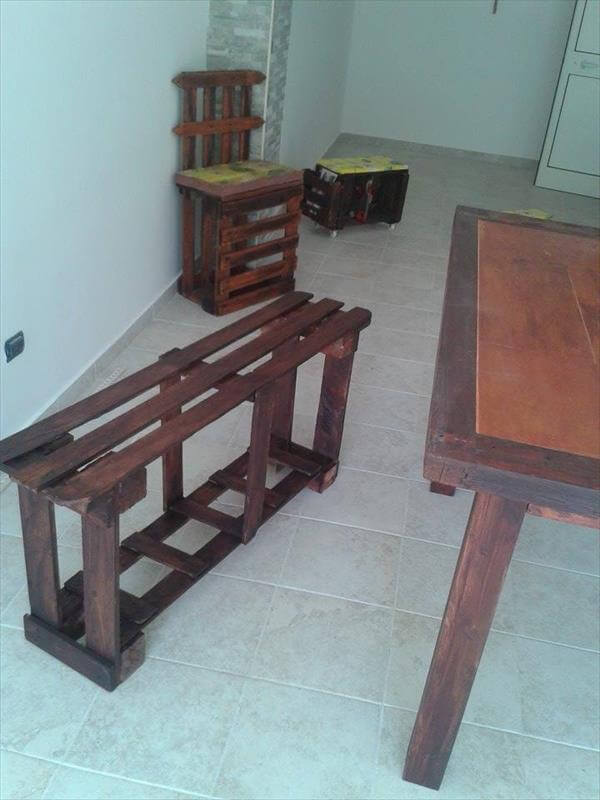 The whole model has been reestablished in beauteous wooden surface through sanding, varnishing and stain coating to overtake the durability and endurance issues as well as the cool and chic wooden impact to it.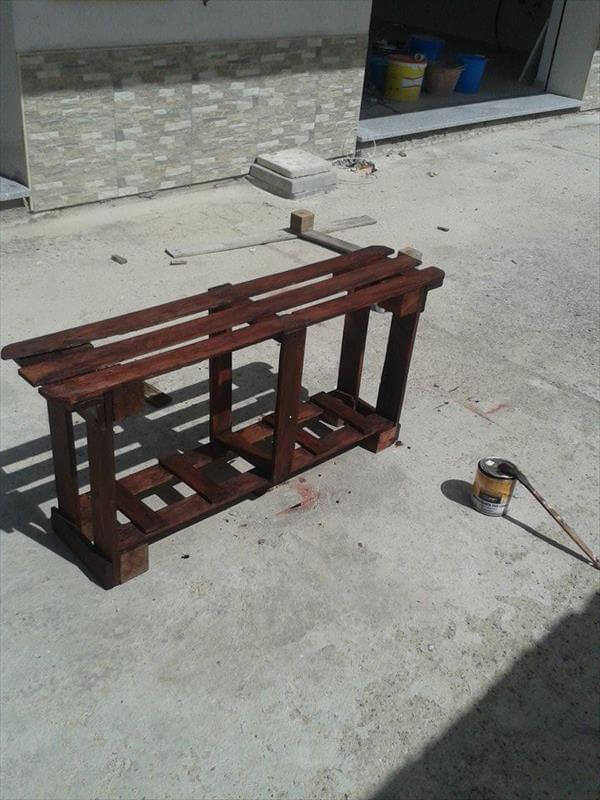 We left the model in sunshine just after getting it covered in personalized stain color to dry well for best gripping. The joints and all locations which needed the assembly have been glued and nailed carefully.
Pallet Chair:
This the desired model of DIY pallet chair we were expecting, with a certain raised up height to attain peak in fashion and style of sitting. You can scale it down or up in home makeover with pallet wood and any go for any other changed dimension of legs, back and berth. The hand stripped planks from one pallet were sufficient to make this rustic and distressed chair appearance. The wood started to shine and glow when we went for hand sanding and varnishing to it. The stain cover the ugly patches and cover the wood imperfection and changed the wooden mode in to perfection and fashion.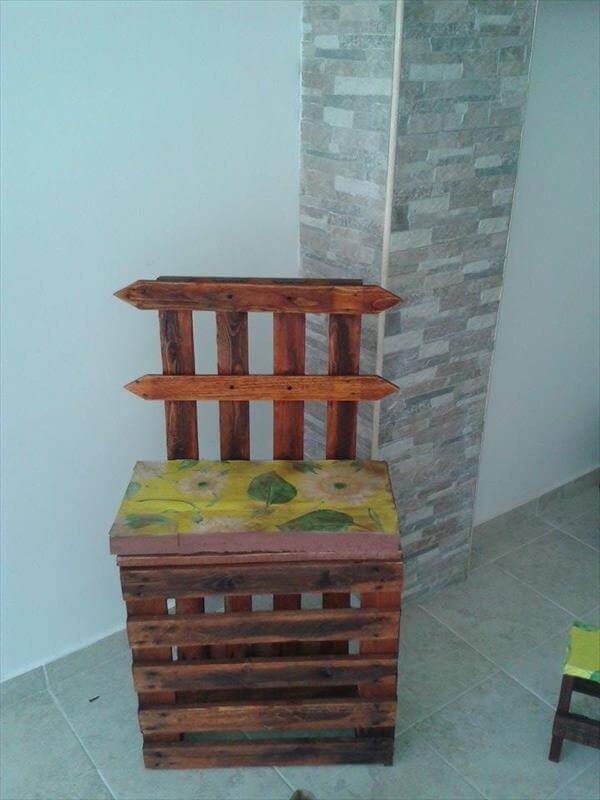 This home prepared DIY chair design can be dragged to any point or location throughout your home and dwelling to give you a comfortable sitting with boss like style.