Be the first one out of your friends and neighbors to copy this latest hack of pallet wood ideas which are all new and ever unique! These pallet ideas are all here to show you the compatibility of pallets to be a part of your modern living environments! Ideas will explore all the details about the eye-catching wooden impacts done with pallets to raise the aesthetic appeal of your cozy interior more! Say bye to rusticity of pallets and use the pallets to improve your modern interior environments with great elegance! Just take a look at these eye-popping DIY pallet furniture and decor ideas, each leads to a creative pallet project you have never seen before!
Get helped by your inner creative person and install the latest featured beds out of pallets that provides plenty of storage of options along with having a stylish design, checkout the given sample bed made of pallets, raised on wheels and comes with nightstand at both sides! Make incredible use of pallets to install the ever functional and user-oriented indoor bars as shown below, a little mix of glass gives the amazing modern air to all assets of this indoor bar!

Earn low cost and modern XL dining tables that come with glass top and pallet-made base, improve your bathrooms also with pallets the listed pallet wall hanging bathroom vanity ideas are latest ones in this case! Get also marvelously creative suggestions here about building sectional seats and sofa, the study coffee tables, amazing media walls and also awesome media consoles with pallets for free!
Modern Red Painted Pallet Dining Table with Glass Top: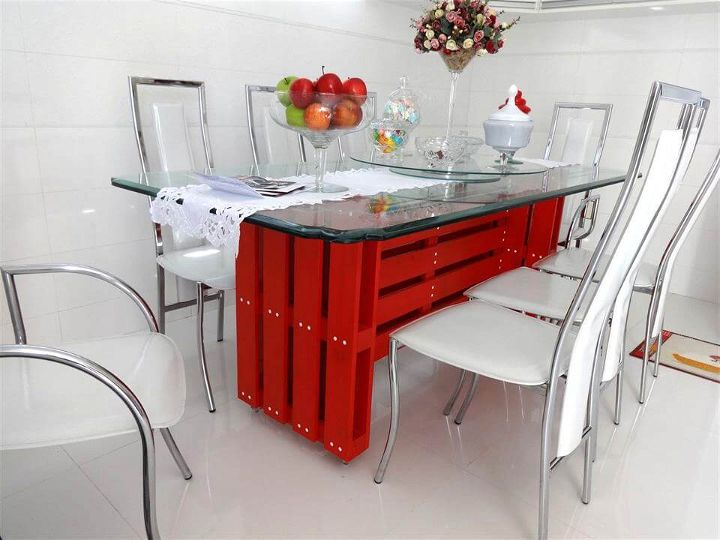 Whole red painted pallet boards with accent white dots over the rusty nail holes, have been raised on wheels for glam modern base of the dining table, then final thicker glass top sits on this pallet made base for a gorgeous 8 people dining table!
Pallet Media Wall + Criss Cross Media Console: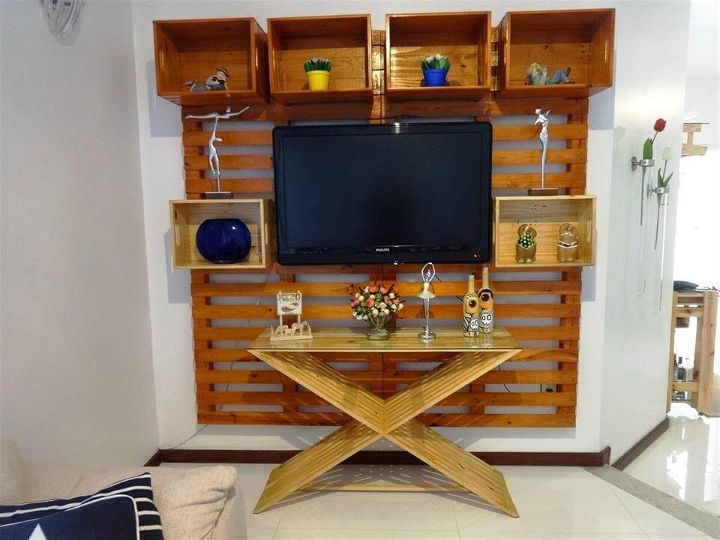 Here first of all a larger pallet-made frame with spacing among the planks, have been mounted over the wall which then holds well a number of wooden crates as storage compartments! The accent criss cross console has been built separately with custom slatted gatherings of pallets and comes with glass top also!
Wall Hanging Pallet Bathroom Vanity with Storage: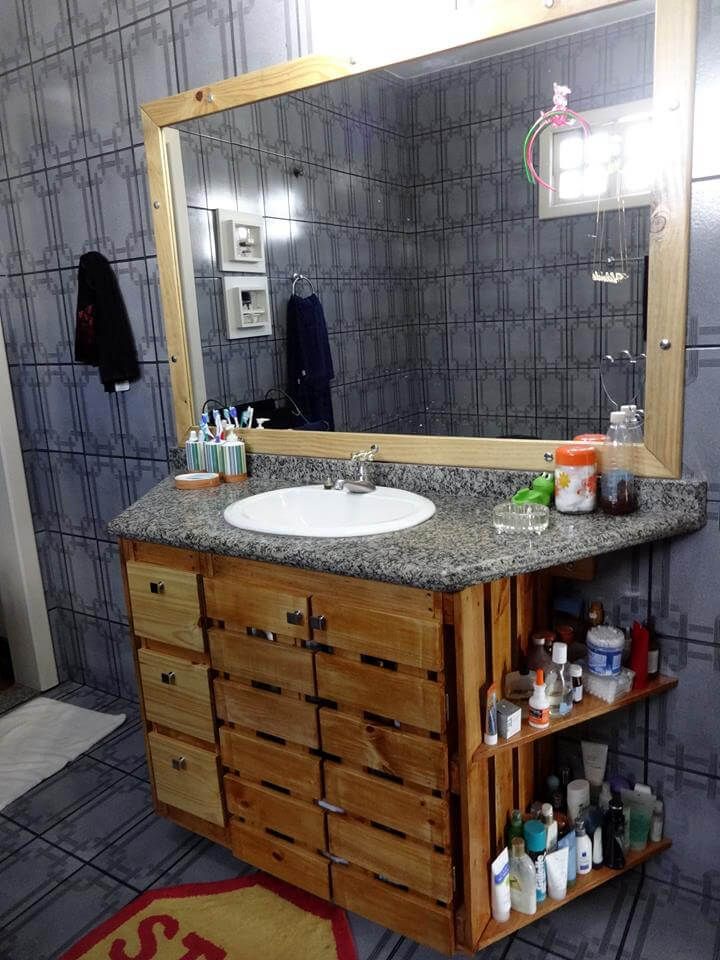 Here this fab pallet wood vanity done with pallets, offers storage shelves or pockets in sides also along with having a 3 built in drawers and a front sub-cabinet covered with hinged doors!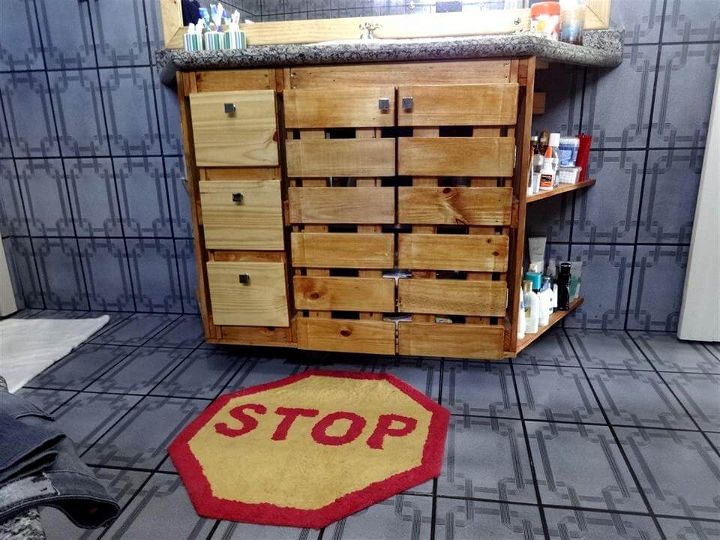 Through this mind-blowing addition of pallet wood vanity, a fab wooden touch has been give to entire bathroom ambiance, the challenging part would be its installation to wall area, it will come in handy if you go with wisely selected latest hardware hanging systems!
Wall Mounted Pallet Bathroom Vanity + Towel Rack: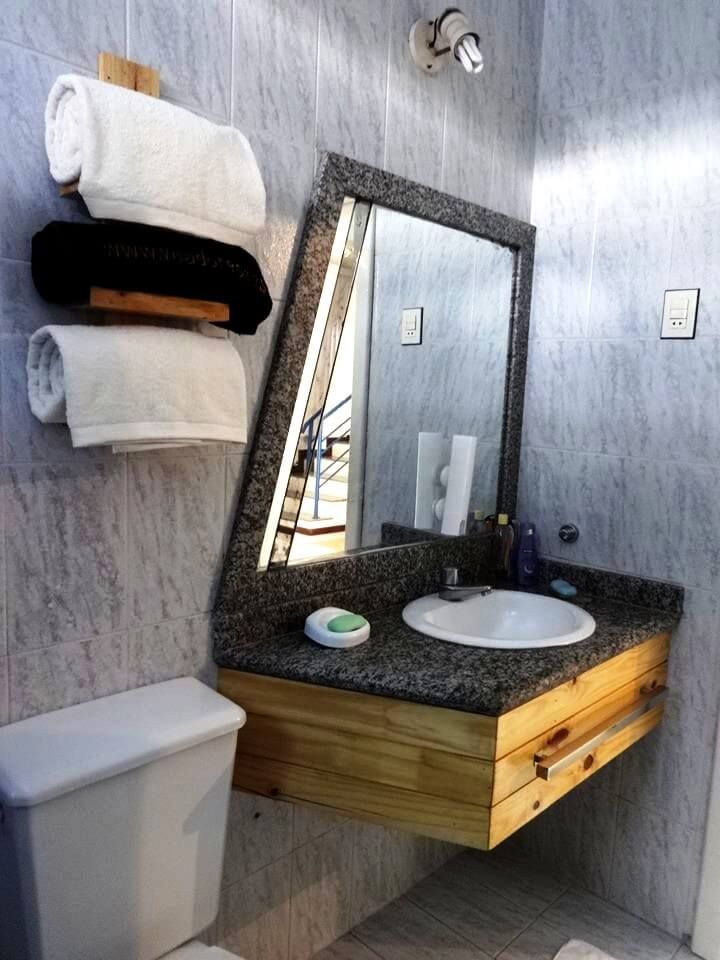 Here is a mini pallet wood vanity done along the wall area, comes with beveled edges for a raised aesthetic appeal and also offers a built-in drawers to store the respective material!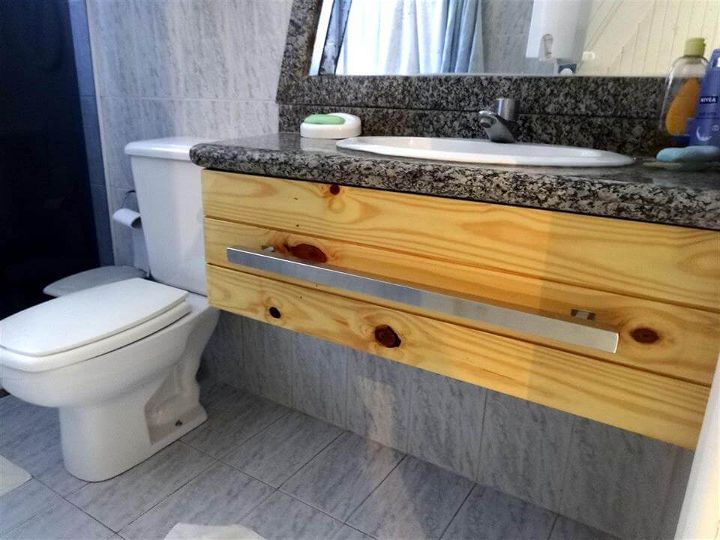 There is a large steel handle fixed to drawer jazzing it up with accent metal touch, also makes the drawers super easy to pull out!
Pallet Beverage Bottle Rack + Pallet Bar – Pallet Indoor Bar: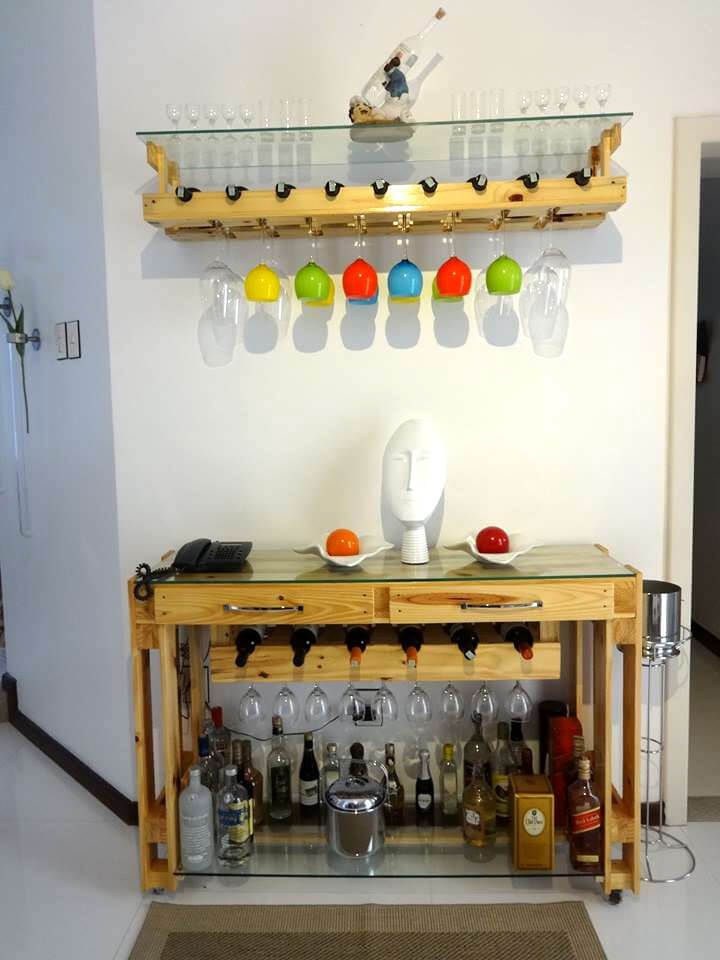 Here all the fancy assets of an indoor bar has been installed using pallets, an elegant pallet bar table and a wall hanging beverage bottle rack!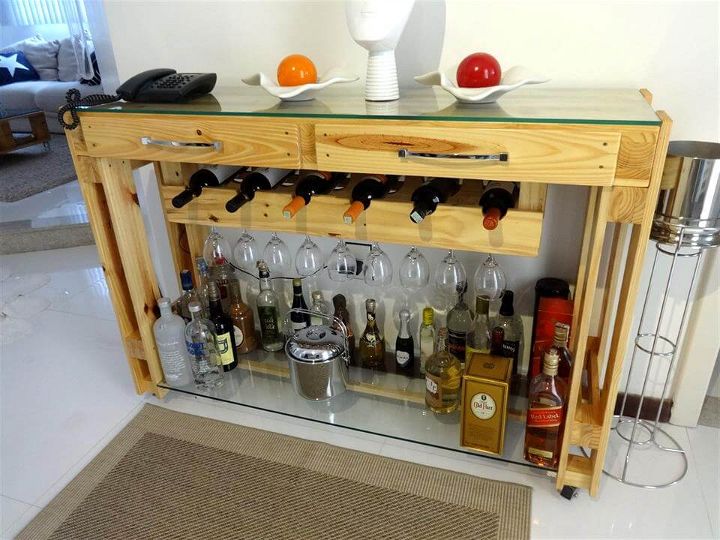 The bar table comes with accent glass top and also with glass made lower shelf, decided to store the liquor here!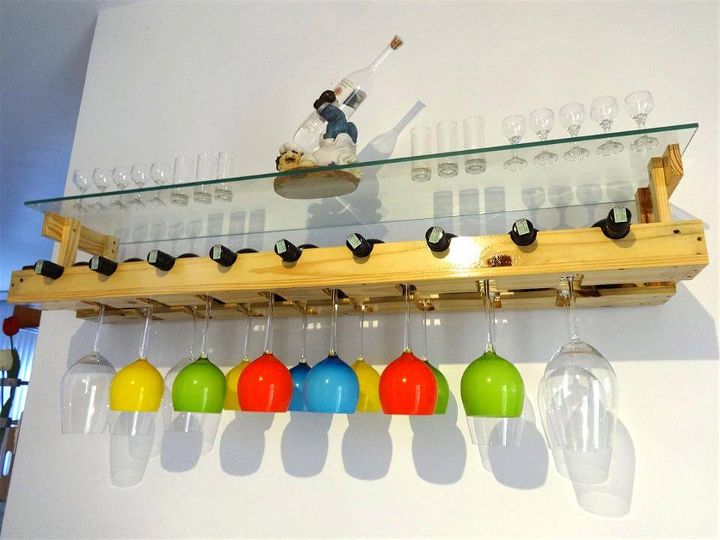 The wall hanging beverage bottle and glass rack is also having a top level made of glass that provides the necessary elegance for a modern look of it!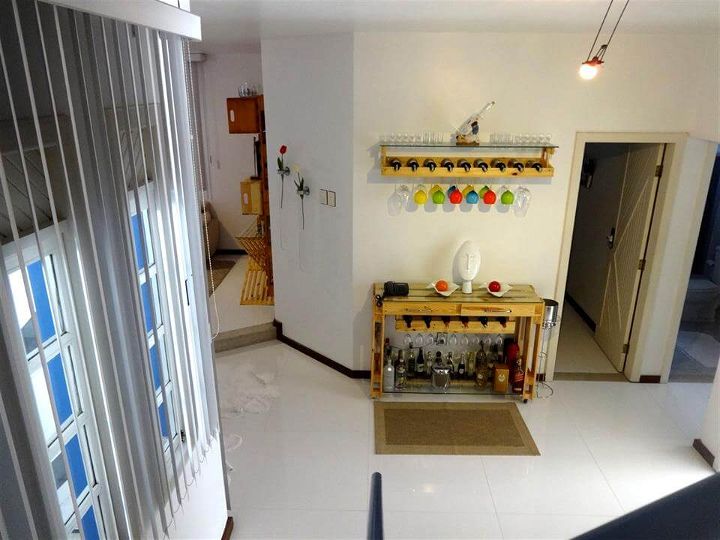 This is going to be a so helpful suggestions for beverage lovers, the bar table also provides a built in beverage rack to store the extra liquor with care!
Homemade Pallet Rolling Bed with 2 Nightstands: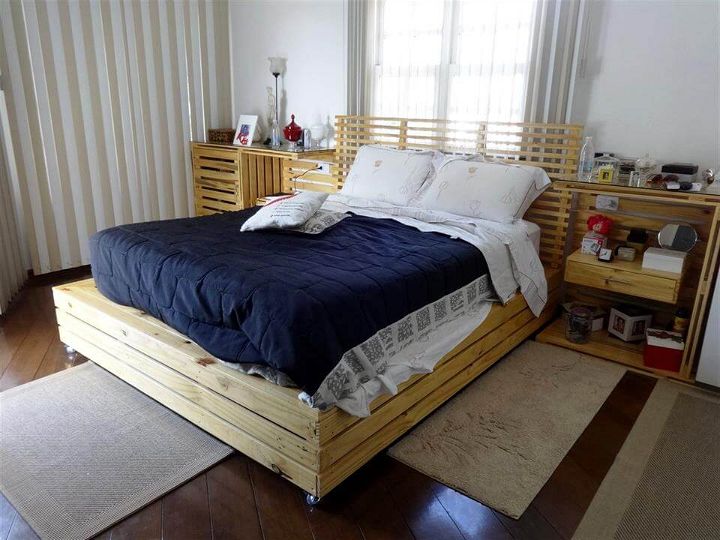 This is here a fully featured wooden pallet bed, stands on rolls so is all easy to move regardless of its bulky wooden mass! Provides also two nightstands at both sides!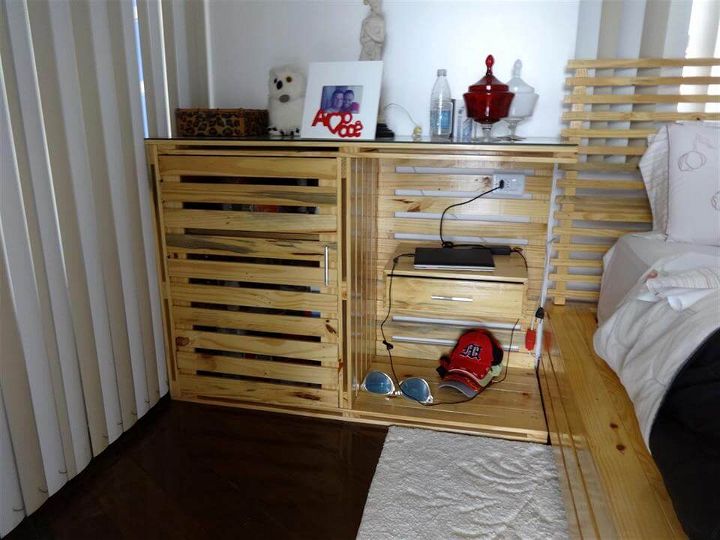 The left hand corner not only comes with a nightstand but also with a mobile charging station and also with an extra cabinet to store the night supporting material and other concerns!
Pallet Coffee Table with Glass Top and Silicon Casters: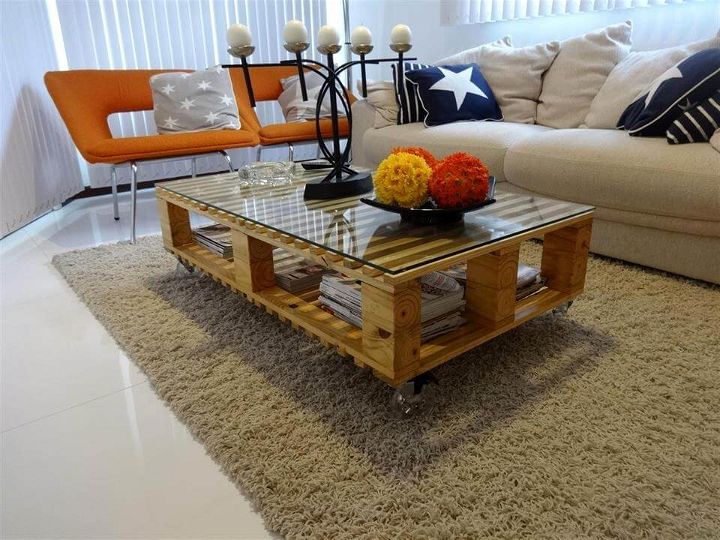 All you need is to consume two pallet boards for this awesome pallet coffee table creations, here bottoms of both pallets have been joined to gain also the magazine rack! It has been finished not only a glass top but also with hardware rolls!
Yellow Painted Pallet Bed on Wheels: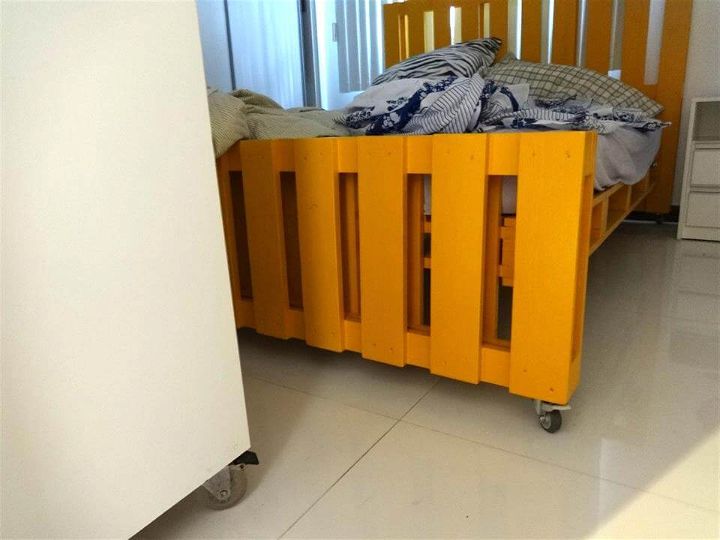 Once again here the whole pallet painted in yellow color, has been put together with custom alignments for a robust output of a wooden bed as you can see here!
Chic White Pallet Cushioned Pallet L-Sofa on Wheels: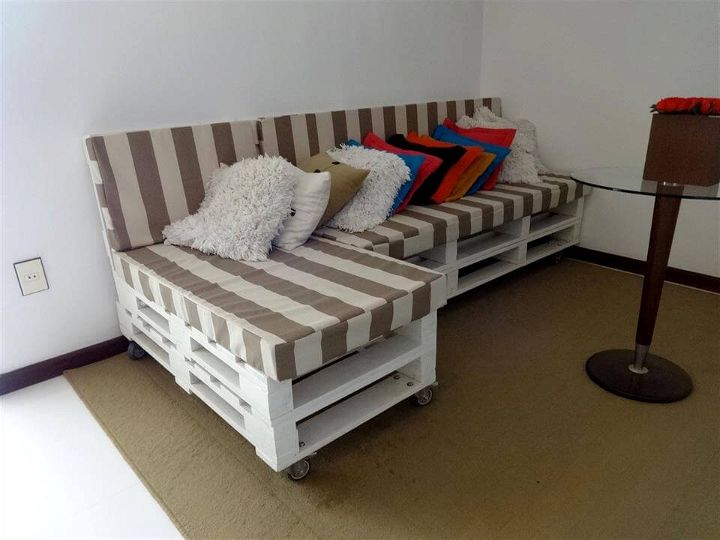 Here the pallets have simply and quickly been installed for this amazing L-sofa, moves smoothly due to added rolls to bottom side and is a big pleasure to sit on due to highly dense foam cushion!
Made by: Di Pallet