Pallets are considered much more than the packaging material from last few years! Free availability of pallets is the main reason behind that they are in plenty of creative hands that are responsible for everyday new pallet projects! Recycling of pallets has been so raised and flourished that one can take help from them to make up the home furniture deficiencies, can plan them for custom home renovation project and can even go handmade with them for boosting decors of home! To show that pallets are much more than just the shipping skids, we have brought here these 20+ DIY pallet ideas that make you get with the latest tricks of trade to craft the pallets in plenty of genius ways according to growing needs of your home!
Here these tons of beautiful pallet furniture ideas shows you how to enhance the character of your living spaces by making custom furniture mostly the sitting furniture like the sofa sets, chairs, benches and also different kinds of swings with pallets! Tweak you hands also a little bit on pallets to boost comfort of life, build custom fancy beds out of them by going with simple stacking of them, so beautiful examples have been shown below! Raise the entertaining character of your home, built awesome different dining sets, install occasional sitting plans and also build custom furniture out of pallets to meet your developing needs!
There can be number of more unique ways to rebuilt pallets for some functional objects, this will all depend on your genius imaginations, a little roundup of these ideas is sure to inspire the creative person in you!
Pallet Entertainment Center: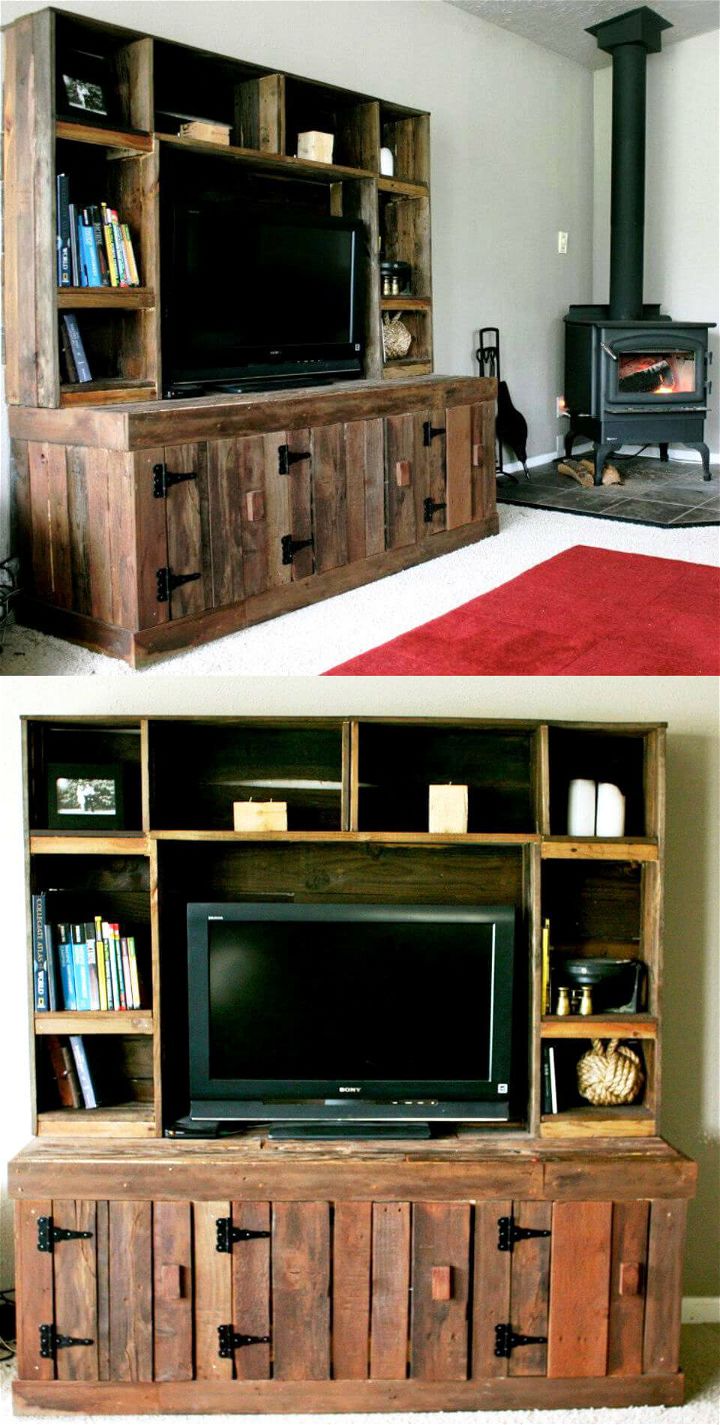 Beautiful pallet entertainment center, sub-cabinets and plenty of storage compartments are included in the design, holds the display screen in the center! A great pallet creation for media and entertainment lovers!
Rustic Art Style Pallet Wall Hanging Bar with Lights: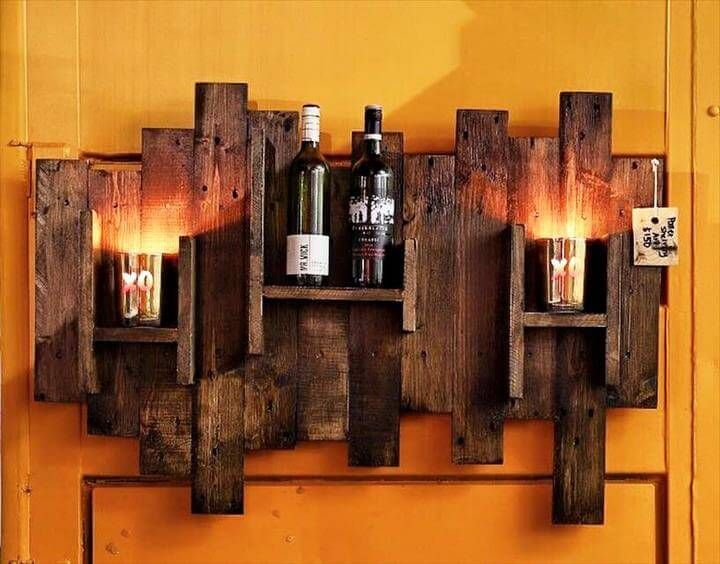 Here different sizes of pallet slats have been put together to gain an art style wall mounted wooden board which has been added later with additional wooden holding so serves as a wall hanging wooden bar now, side compartments holds beautiful lights!
Beefy Wide Pallet Cushioned Outdoor Chair: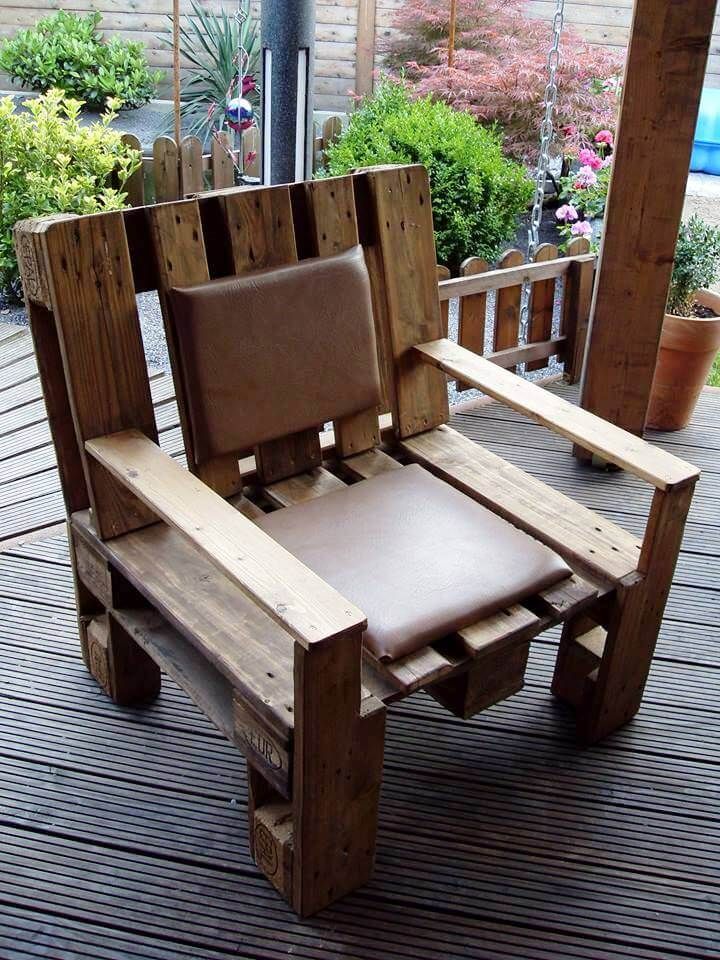 Here pallets have been restructured for this wide wooden chair, would be a graceful addition to any particular outdoor or green space for a comfortable sitting experience!
Scorched Pallet Arched Bathroom Mirror Shelf: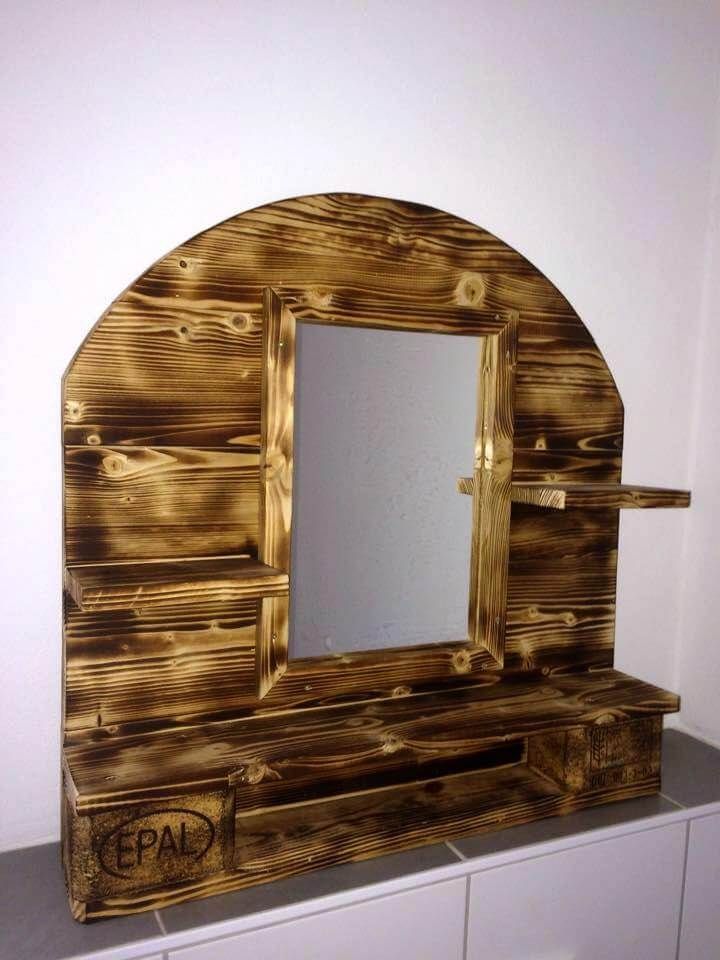 Scorched fancy wooden bathroom wall mirror, beautifully designed with EPAL pallets and comes with popped shelves and overall arched shape while holding a mirror in the center, is sure to give a damn beautiful antique touch to your bathroom ambiance!
Pallet L-Sofa Set for Garden: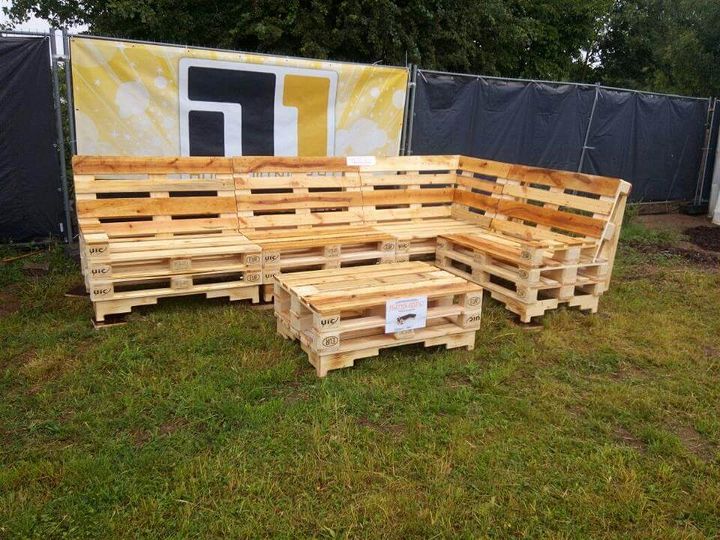 Here stacking of pallets has been done L-shape up to layers and then by installing angled backrests and custom art style feet to these stockpiled pallets, a fancy L-shape sofa frame has been installed that can be cushioned layer! A stunning wooden coffee table has also been made by going with simple arrangements of uncut pallets!
Distressed White Stacked Pallet Platform Bed: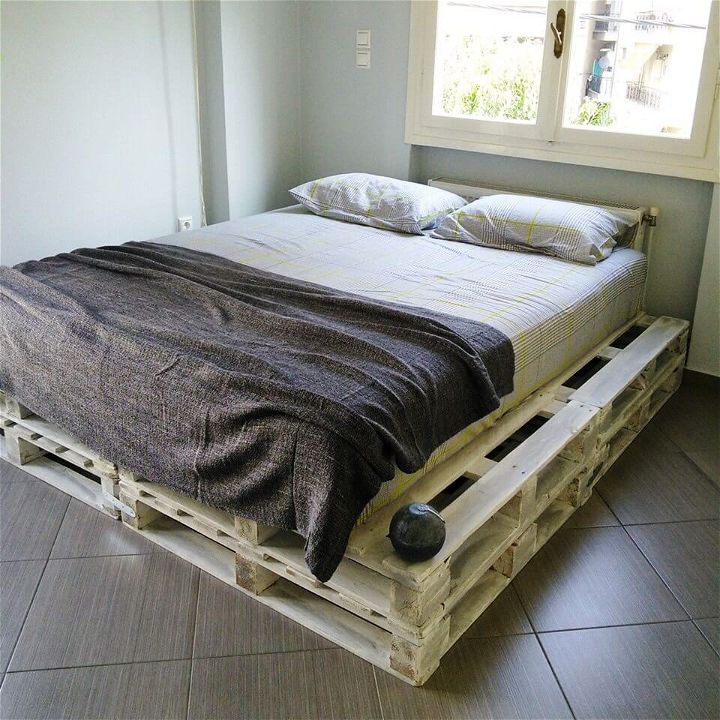 Beautiful pallet platform bed, two layers of pallets builds the entire frame of it, here integrated or piled up pallets have been given a distressed white look!
Pallet Hallway Console + Wall Hooks: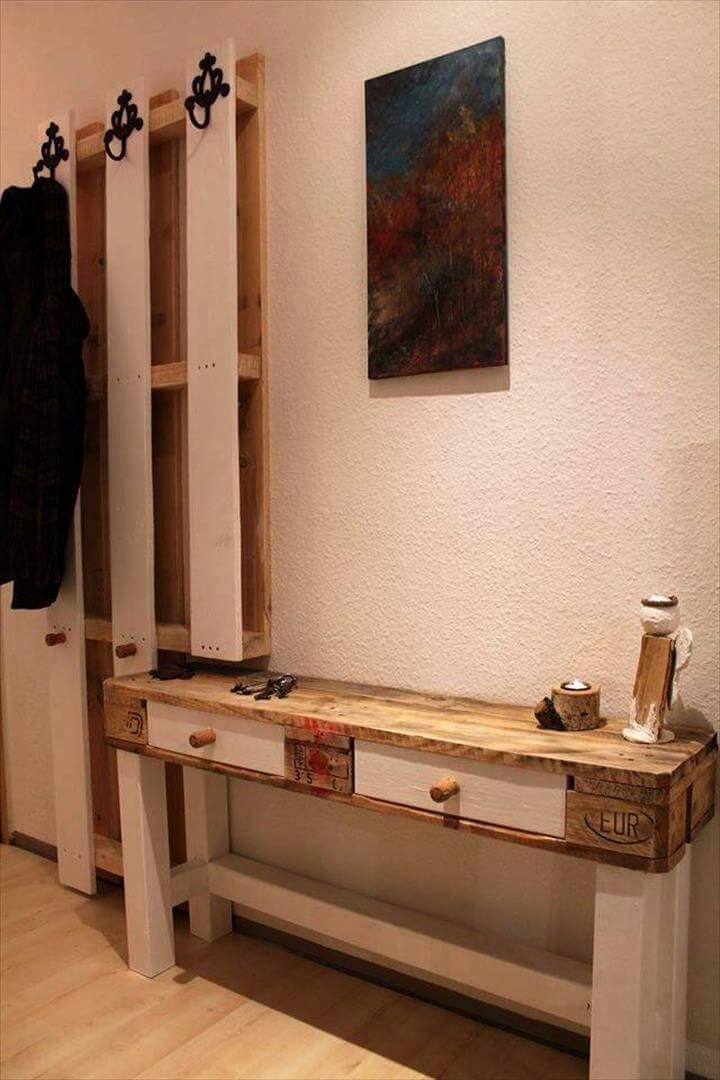 Fancy up your hallway with pallets and also with bigger functional statements, just clone this pallet idea of a building a hallway console along with custom wall hooks!
Pallet Garden/Porch Swing: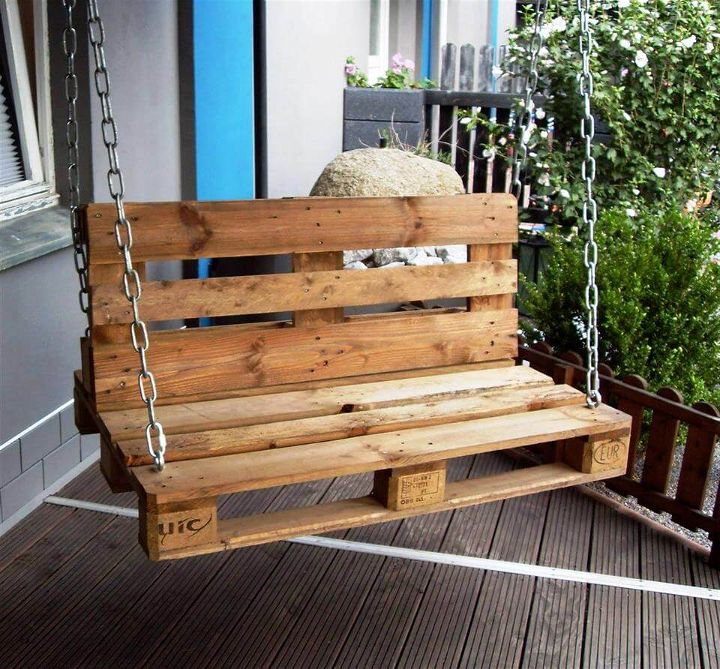 Install beautiful wooden swings with pallets, here a half cut pallet has been fixed on a complete uncut pallet boards for an L-shaped wooden seat which has then been hanged to an aloft support through metal chairs for a beautiful wooden swing!
Colorful Pallet L-Shape Couch: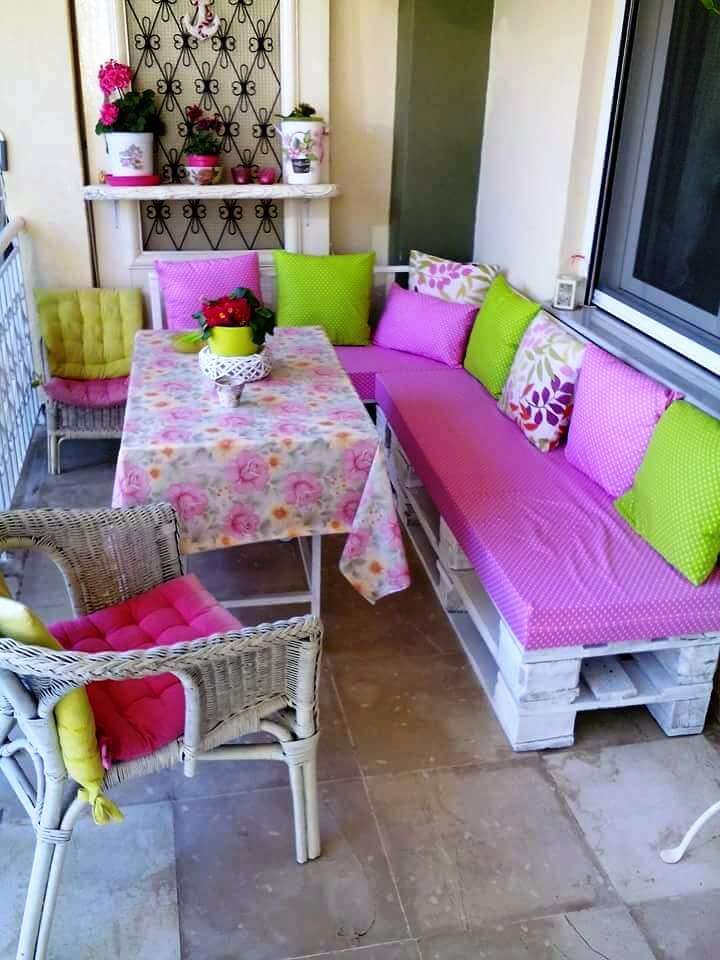 Enhance the interior sitting space of home by making low-cost sitting plans out of pallets, this large L-shape wooden pallet lounge is white you can build in couple of minutes by going with simple arrangements of pallets!
Pallet Corner Sofa Set: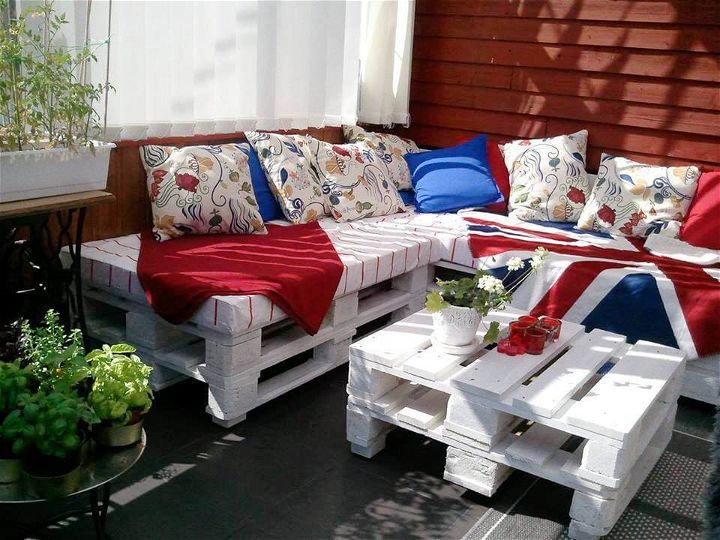 Pallets can be treated as prefabricated units or panels while installing patio, garden or terrace sofa sets out of them, something we can call super easy to do is to build sofa sets out of pallets, just stack pallets and it is done!
Rustic Pallet Bench and Table Set: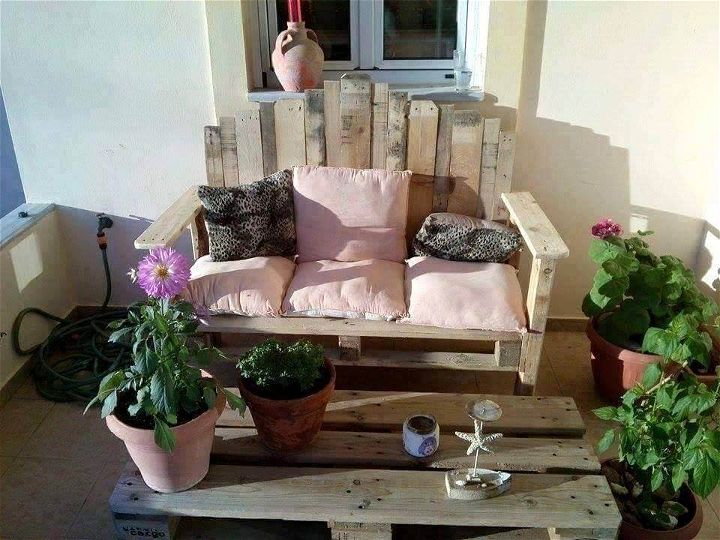 Here one pallet board has been raised custom legs and has been given an fancy stepped style backrest, this gives a beautiful wooden bench and 1 pallet has made stand on wheels and comes in front of bench for sophisticated sitting set!
Pallet Outdoor Cooler with Star Accent Cut Out: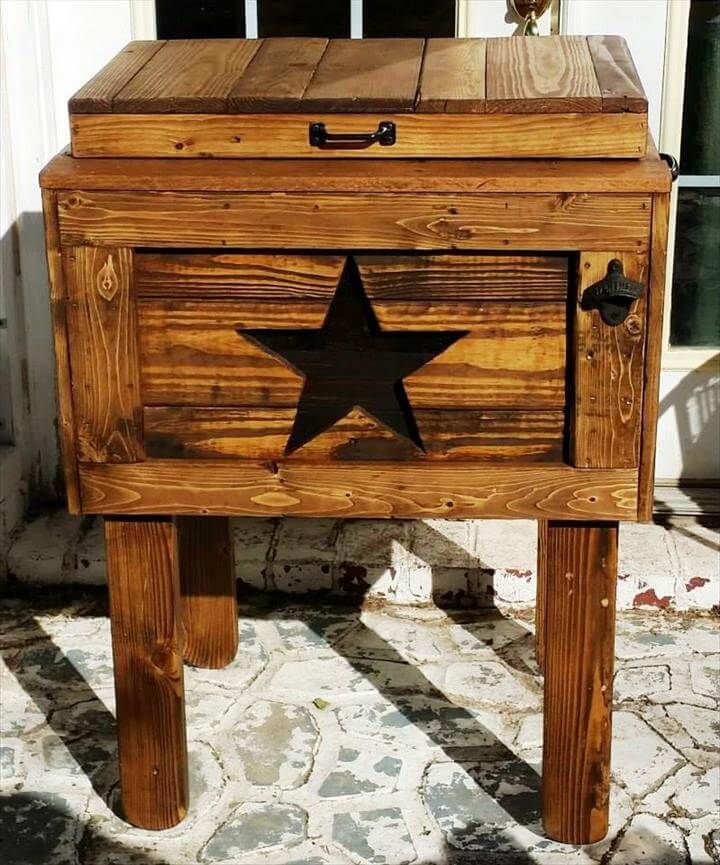 Here is a solution to keep your liquor and beverage cold longer at outdoor, just get this fantastic wooden cooler, made from pallets and given other features to suit one's needs!
Pallet Occasional Outdoor Sofa Set: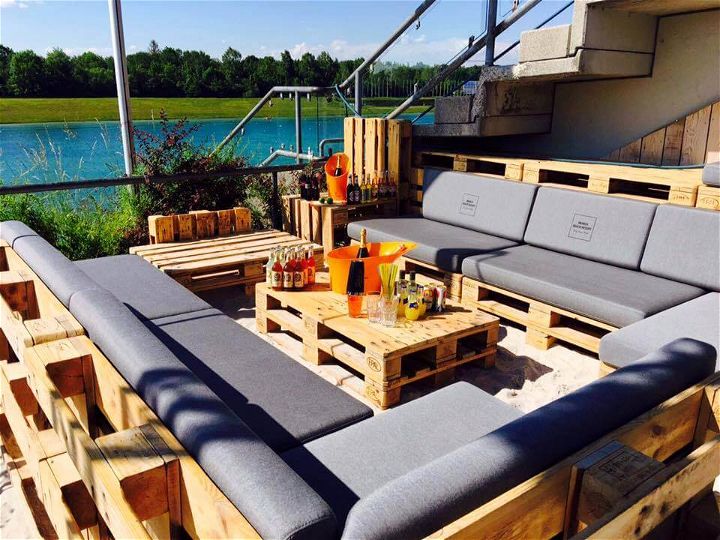 If have decided your newly renovated deck or any particular outdoor location for occasional gatherings of people or also for guest entertainments and here is a pallet-made low-cost large sitting plan to organize that particular area for entertaining sitting there! All made of unmodified pallet boards!
Chic White Pallet Room Divider: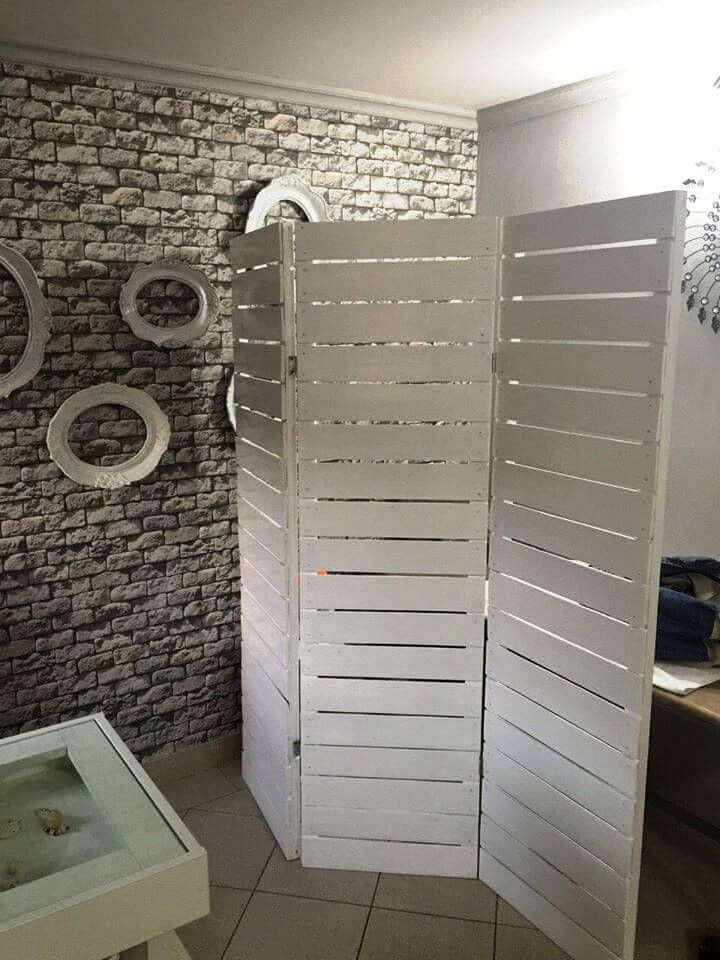 Beautiful pallet room divider, would all come in handy while planning a room interior or office room for multi-tasking, will create the necessary privacy in the room!
Pallet Colorful Toddler Chair: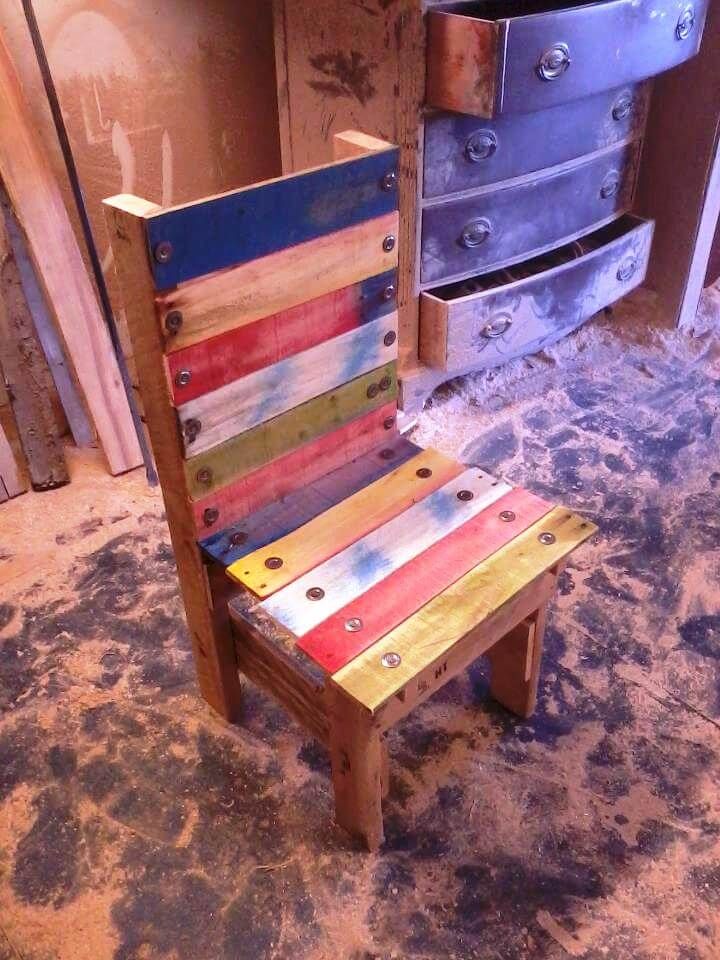 Rainbow toddler chair, here is how to please your kids with pallets, build kids-friendly out of pallets for free!
Colorful Pallet Dining Set: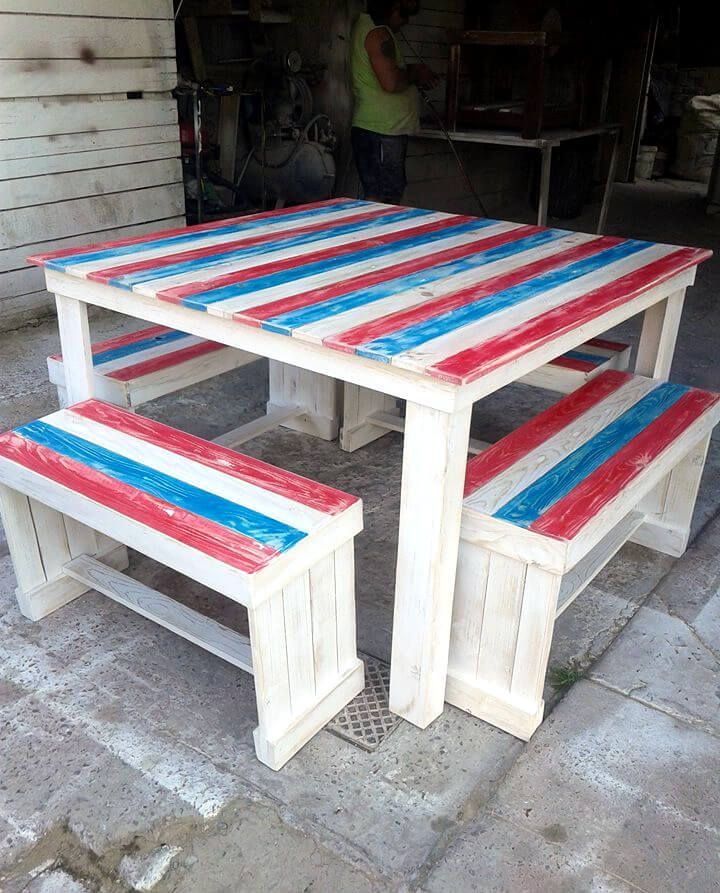 If dining sets are getting expensive then using pallets for building own custom ones at home would be great l0w-cost alternative, here is a beautiful dining table, a large square dining table and 4 matching benches are the total assets of this dining sets! Entire dining set has been painted in white, blue and red colors!
Pallet Sofa Table with 4 Matching Stools: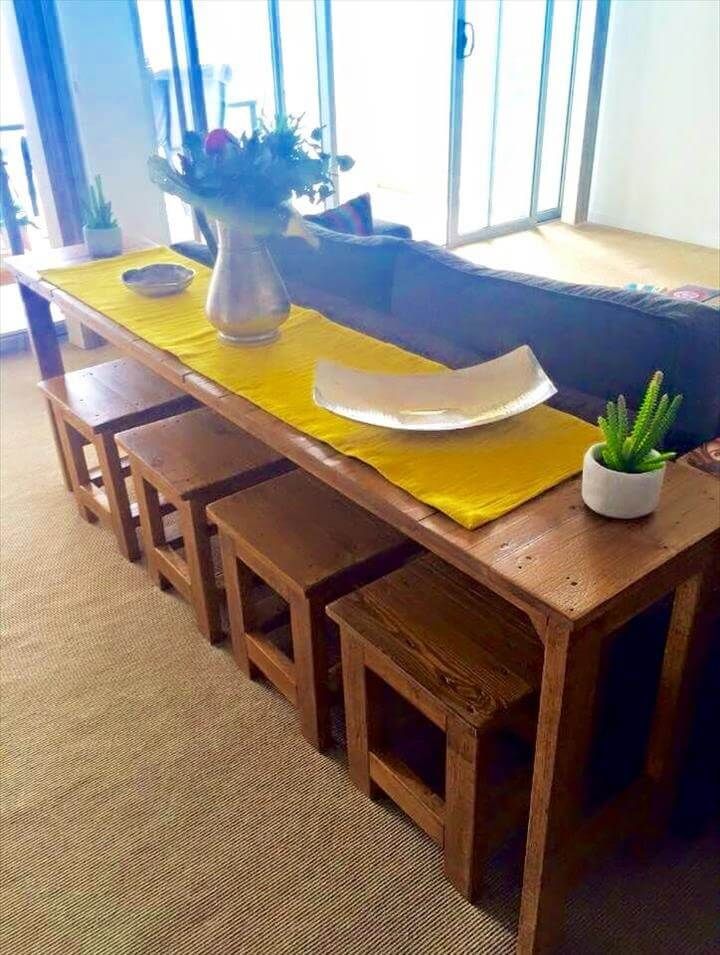 Here a longer wooden table has been built from pallets, comes in behind of living room couch as sofa table and also serves as a living room bar or party table, 4 matching stools has also been installed with pallets to sit around it while relishing your favorite drinks, stools can also be secured beautifully underside table table!
Pallet L-Shape Couch Frame: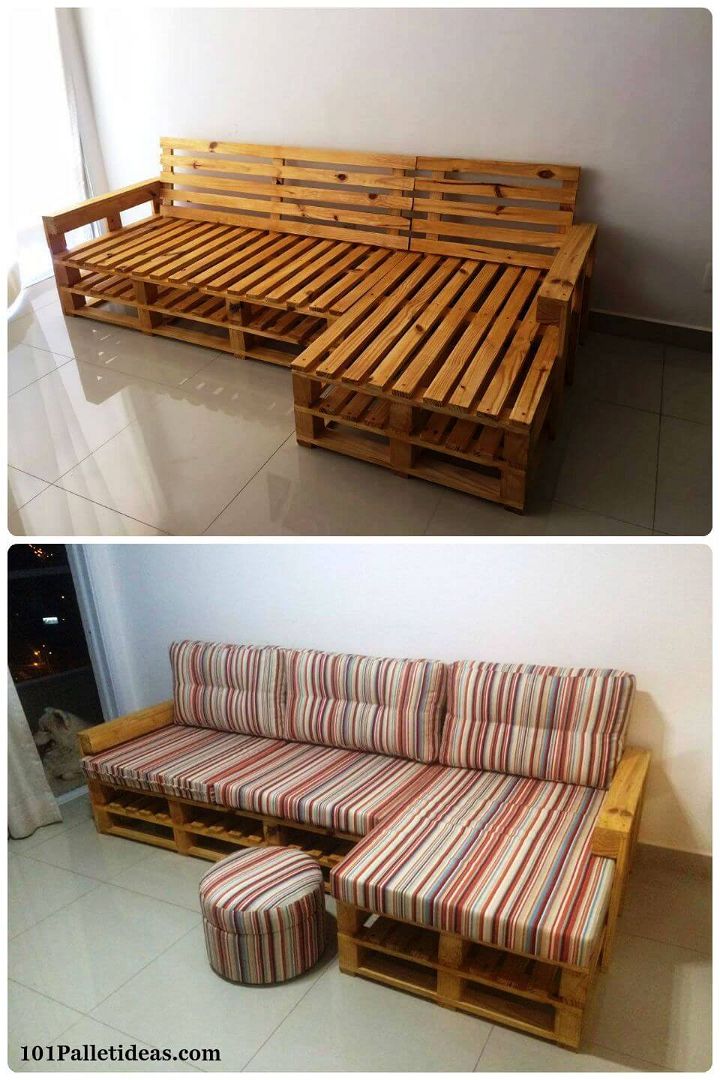 Pallets can build for the home lovers, the amazing sitting sets at no-cost budget plans, here is a sample corner sofa built by packing simple the uncut skids of shipping pallets! Cushions, pillows or mattresses may be of your own choice!
Pallet Crate Style Mini Bar with Built-in Glass Rack: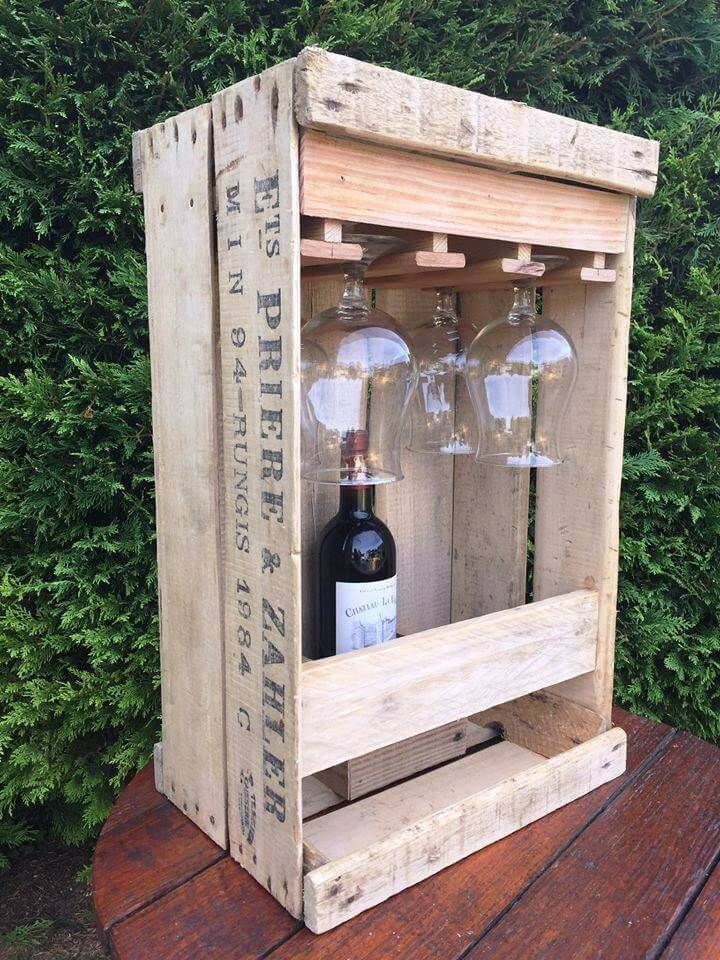 Here is a crate style mini wooden bar, has a built-in glass rack too, due to having a mini size it would also be easy to carry with or to hang on a wall area! Here credit once again goes to separated pallet slats. used for entire composition of it!
Large Pallet Dining Table with Matching Benches: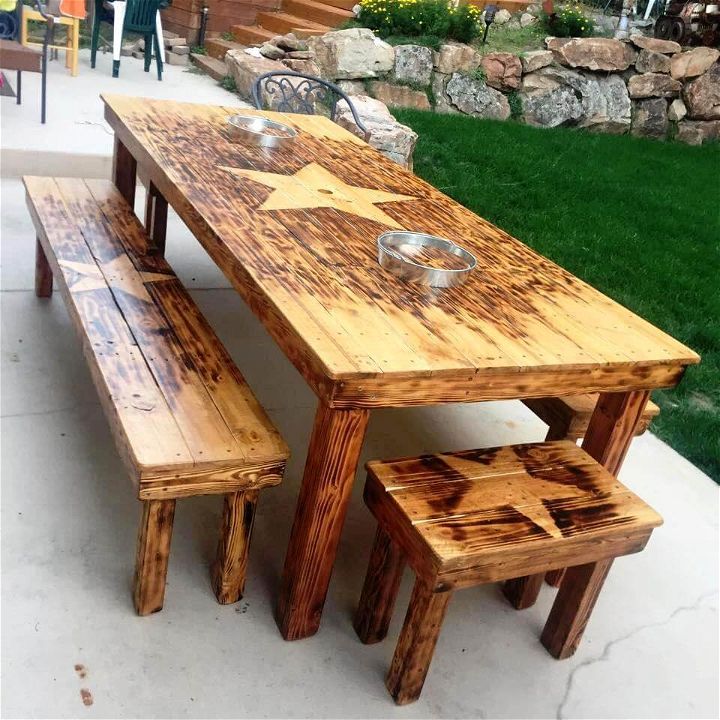 Bigger would be the pallets, bigger slats you will get for custom furniture composition, here this dining set is made of straight wooden slats got from bigger pallet skids, deconstructed through a little process! Here surfaces of benches and entire dining table has been made scorched through hot fire-flame wooden treatment by leaving blank the star shapes, this fancies up the entire dining set!