Pallet wood has also some great purposes in the bedroom, we have handcrafted very super bed layouts out of the pallet wood but now we are ready for another great trend. We have made stood well a big one pallet skid vertical just behind the bedroom frame and it came up with a rustic DIY pallet headboard for out bed which is looking now more amusing with its main head component. You can also get it attached to the bedroom through nuts and bolts.
This is the simplest DIY pallet projects and also a cheapest headboard plan you have ever heard, but is unbeatable in sturdiness. Just clean a pallet board and coated with some heavy duty varnish and you done to have this sophisticated piece of DIY pallet furniture to add a charming distinction to your bed. There are lot more inspirations and trendy designs of headboard on our site take a look on them to select one of your personal choice.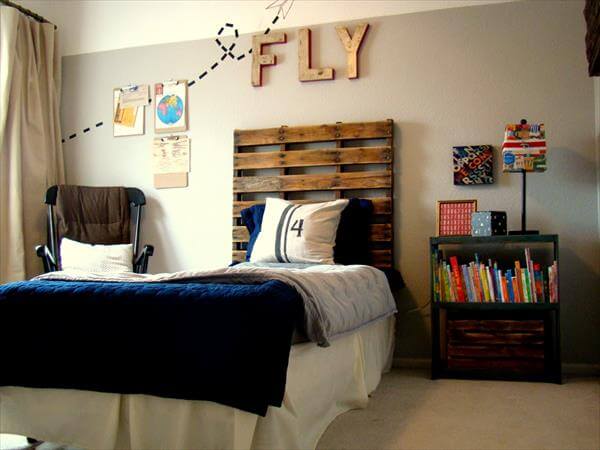 Nail holes, wooden cavities and imperfection are still there on the pallet which form a great rustic history of about and tells us how the aged wood it is. We have done nothing special in making of this headboard shape, it was much simple just like ABC.
just make it gritted with sandpaper or through hand-rubbing to get some really chic shine on the wooden grains and then make it coated with a spirit or stain to get some really cool and smashing wooden shade for your vintage headboard plan.
This will also add a unique rustic character to whole of the bedroom environment is will make also your bed isolated. Just grab the pallet wood to make this arresting and spell binding change to your bed which is also a great support for night accessories and personal material.