Headboards not only make the bed isolated but also a great component for perfect and complete look of a bed. For and fascinating bed the headboard held a much necessary ingredient and can be displayed in various artful ways. We have are here with very unique of a kind trend, we have recently produced a DIY pallet headboard with lamp light which is a very arresting combination. If you are facing problems due to be short in budget then this pallet headboard will really mean a lot for you.
We have gone for a really unique trend which looks very spellbinding and knockout in its trends. We have used the industrial lamp lights which have aesthetically fixed up on the both sides of the headboard. We have given plenty of DIY pallet headboard ideas here which are only visually attractive but also very thrifty in budget and have a very handy construction.

This industrial mix combination of rustic headboard came up with a very nice behavior which can easily be duplicated. You just need s0me big one pallet boards to get your hands on this rustic pallet wood delight of headboard.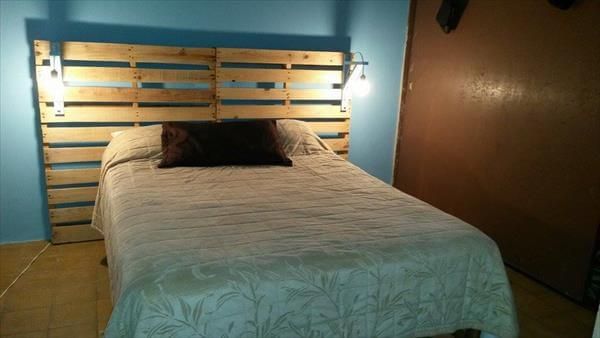 It not only make our bedroom gorgeous in looking but the light feature to it held much precious and functional for night study and reading of books. This pallet headboard for kids room is much affordable and if you be successful in finding the pallet wood then you will just get it free of cost.