Whether it is you lounge or a waiting room of your office, a lobby or a family room all need a sofa or couch to make the persons, guests and family members well seated! If you are missing the dire need of home due to not having enough money to buy it then take part in pallet wood recycling, an economical way to bypass the luxurious furniture on a budget! This DIY pallet sectional sofa with storage is a beautiful and creative example of pallet recycling and crafting as well! The berth section has so built that it can be opened up for storage any time!
You can simply store the gym bags, school bags and other types of luggage at underside the berth of this DIY pallet wood couch that is also superb for comfortable sitting! You can give more creative width to this awesome pallet furniture plan and can also construct tremendous styles of pallet patio L-shape or U-shape sitting plans and even the balcony sectional sitting plans! Mattress has been used to add high valued sitting comfort to this handmade frame of DIY pallet sofa which has just been build to last, amaze and inspire!!!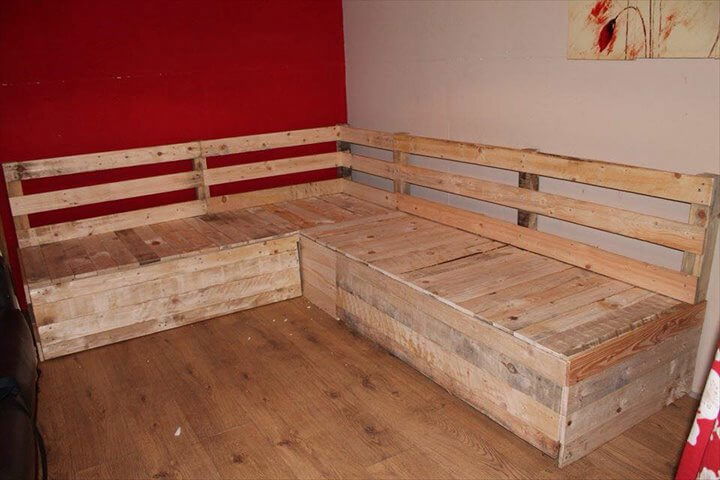 After installing the required furniture in our newly build living rooms, we often left with much less space to store or place more things in the environment! However, you can use the space under your bed frames or sofas to store plenty of your things!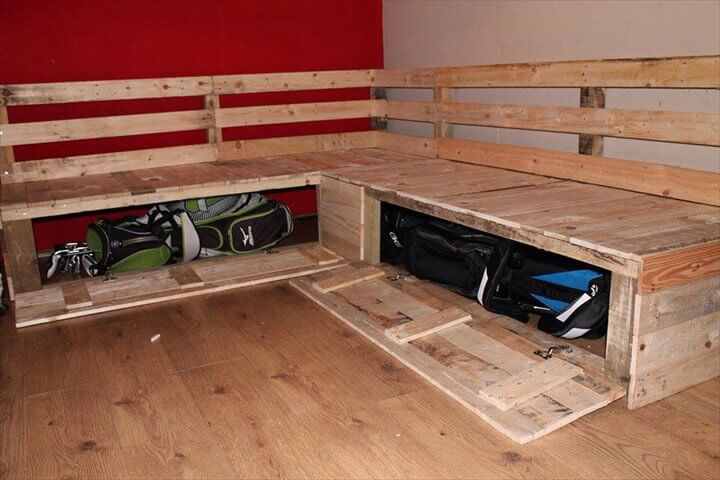 This pallet furniture project is all about the comfortable sitting and some secret stashes that you can build in your own furniture at home. This grand corner sitting plan has also been made of pallets completely!!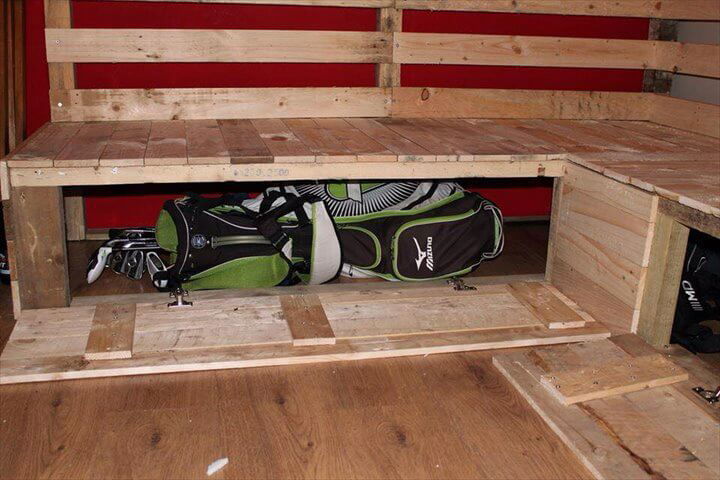 Underside berth space has wisely been planned to store a big pile of things like luggage bags, gym bags and sports bags. This creative DIY pallet idea will really rock while making your rooms uncluttered!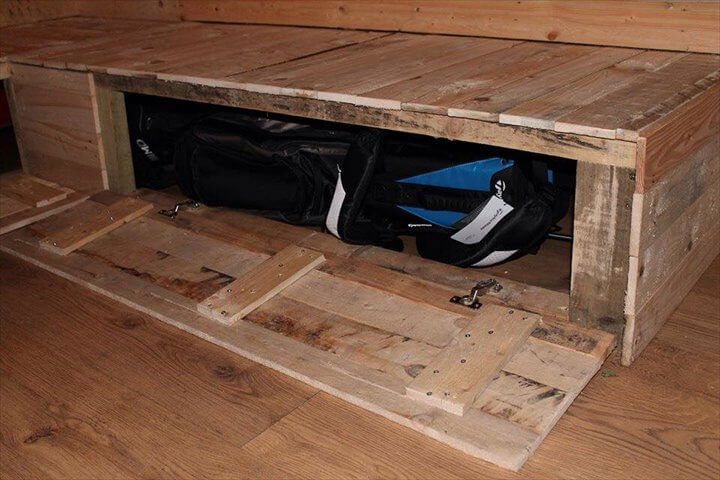 Special door have been design to securely hide the inside store items and have also been hinged for ease of opening and closing! All the wood have been used from pallets by making them disassembled first!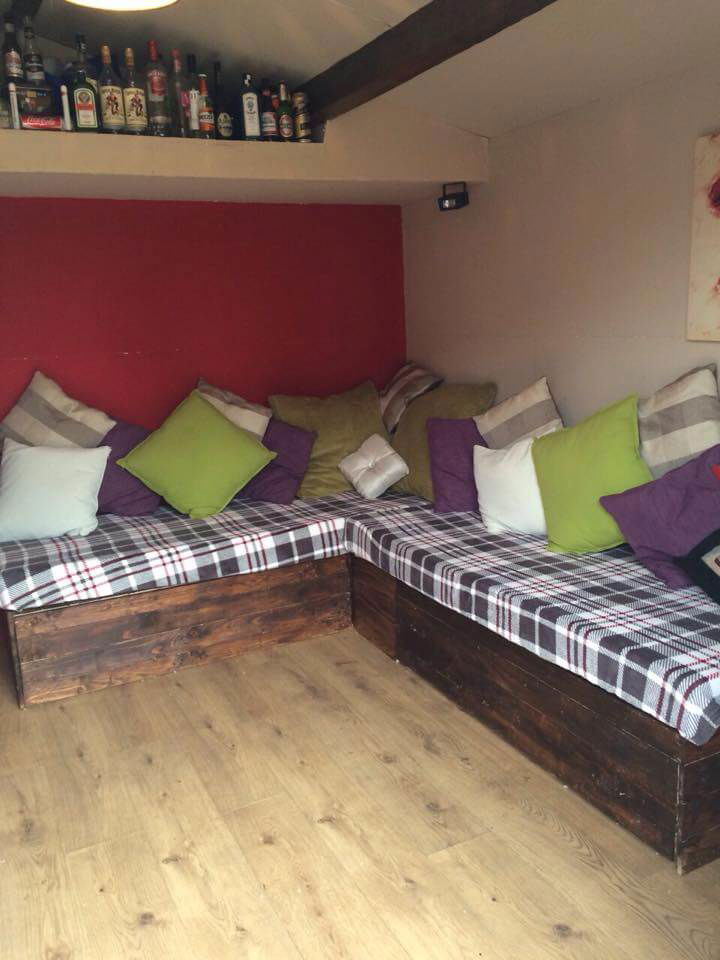 First of all the berth sections have been planned then comfortable backrests have been added to them, all have been planned from removed pallet slats and boards!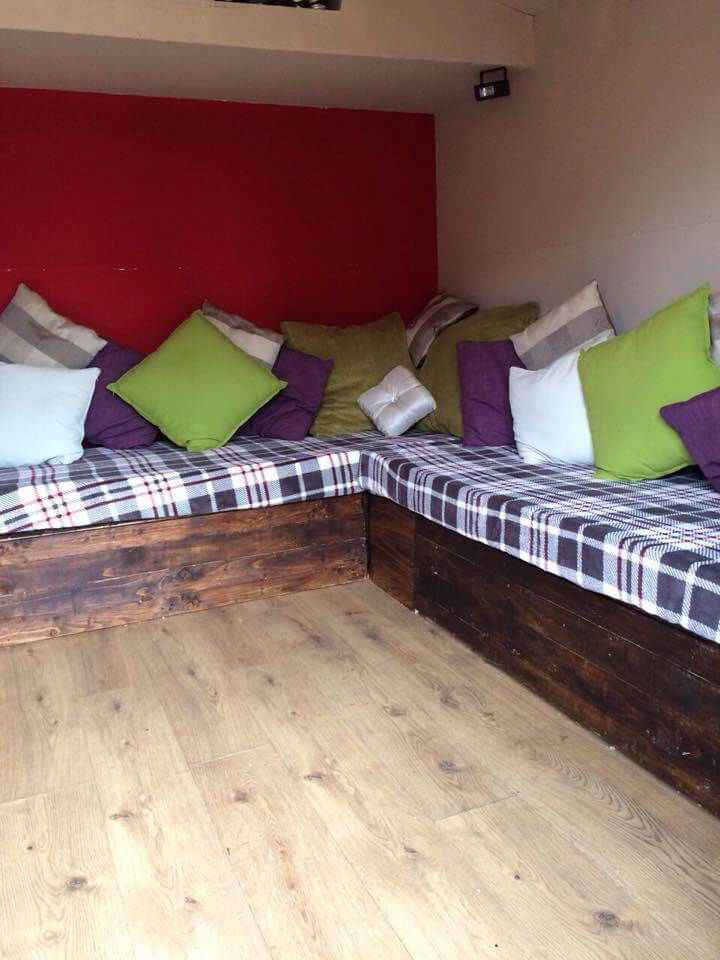 As you are planning it for your living room or patio corner place so go with configured values and according measurements to give a best fit!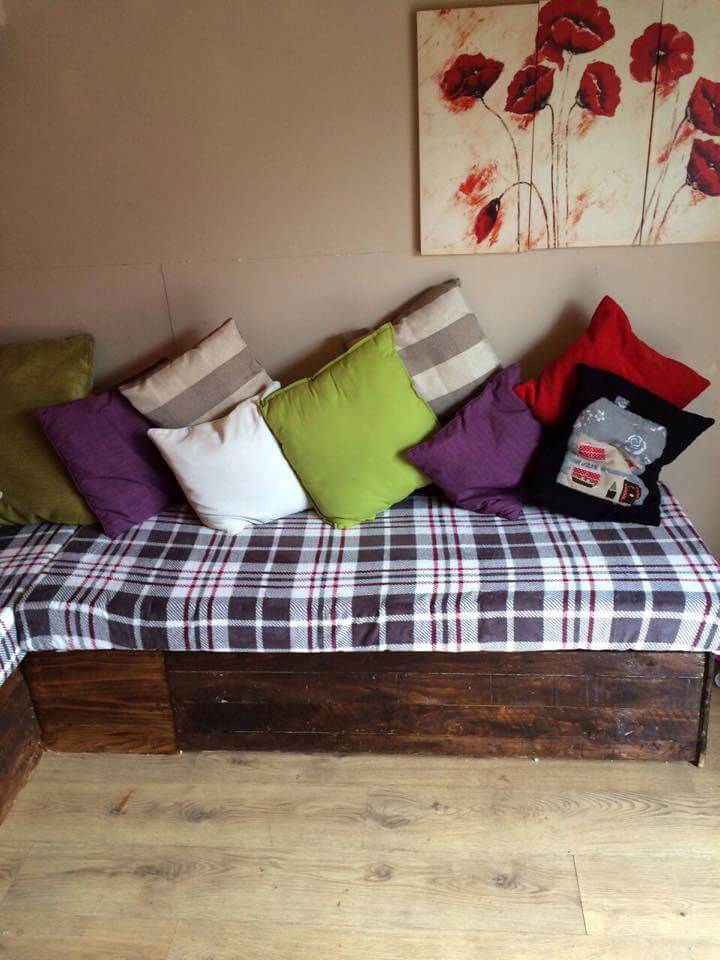 You can select the tailored cushion or can even use the high density foam for complete upholstering or we should say to maximize the sitting comfort to peak!
This is really a no-cost plan to get an awesome sofa with storage and sophisticated look! Nails have been added and glue has also been adhered for a lasting grip and to hold all the pieces in place!
Finishing may be optional and you can raise it to a modern look through paint or can change the wood tone using stain or can even enjoy this rustic appeal for your antique and mid century inspired interiors!