You will be amazed at revelation of pallet wood creativity here. All the hidden secretes of DIY projects has been revealed here, see the unbeatable functional and visually arresting possibilities of DIY pallet ideas and furniture projects here to make your vision come to life! Don't bind your genius thoughts give a creative release to your ingenious imaginations to build furniture with pallets with bigger statements. Check out these finally disclosed DIY pallet furniture ideas with subtle and fetching manifestations to rank up your home on a budget for a high performance and serviceability!!
Install the pallets into a table shape with unconventional twist and color blend to gain a beauteous desk for minimalist home office and study projects. Construct the pallet tables with user-oriented structures and let them perform and speak for your home, a wise example here is the colorful console table! Start brainstorming on pallets and get something unique and extra with pallets just like the unique cornered sofa given below here. Dignify your patio and poolside desk with this dramatic statement of double adorable pallet chair and outdoor furniture that can bound your guests and visitors under its creative spell.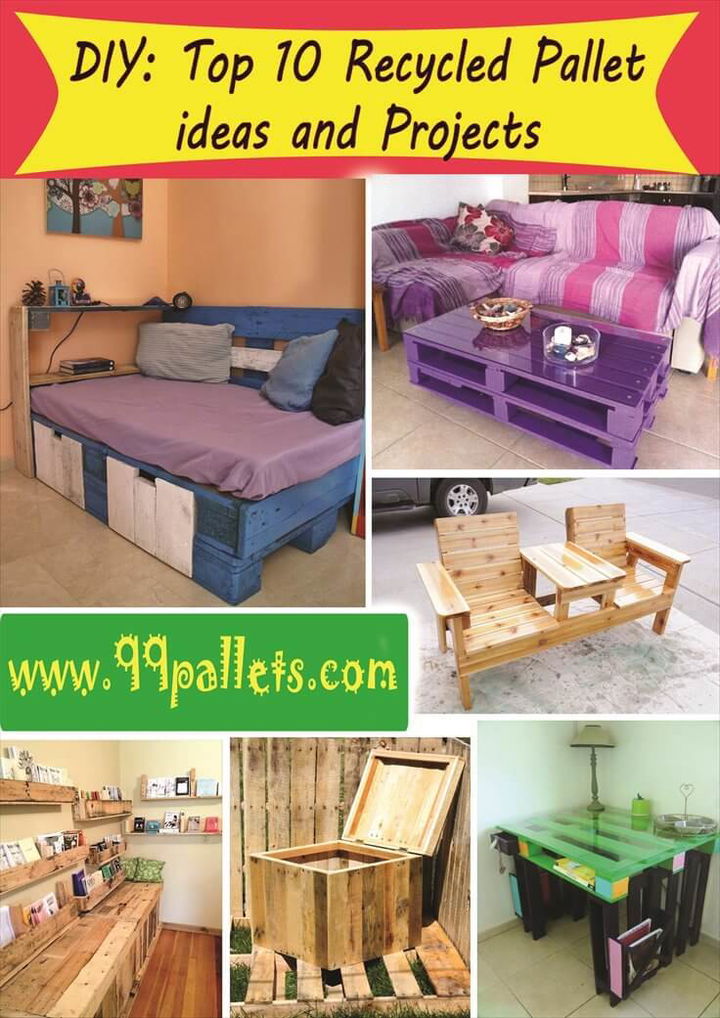 Build the storage units, wall hanging shelves and racks and also the outdoor trash bin with pallets to get your home uncluttered. All pallet products are always optional to be further modified, give them a personal touch through paint, stain, wood burning techniques and inscribing some name letters. Now a days the picture transfer on wooden objects is catching fame as a fashionable activity, do try it!
You can also give a more functional and visual boost to your finished pallet products using the hardware and other material like metallic wheels, glass tops, vintage and modern hinges, lid handles and many more.
Personalized Pallet Computer Desk – Study Table:
Take a look on this creative demonstration of table personalized with paint, perfect for your laptop operating and for doing school projects, comes with side pockets to give extra storage space to secure your stationery, completed assignments and also the media!!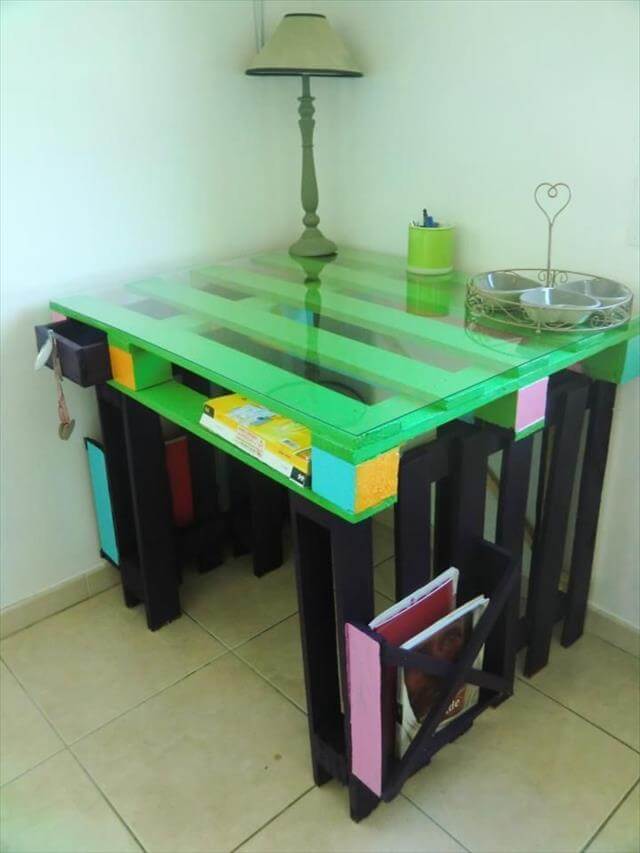 Rustic yet Modern Pallet Colorful Console Table:
You can change the hue while making a personal use of this table, this handmade console table is just perfect for mudroom, foyer, sofa side and hallway!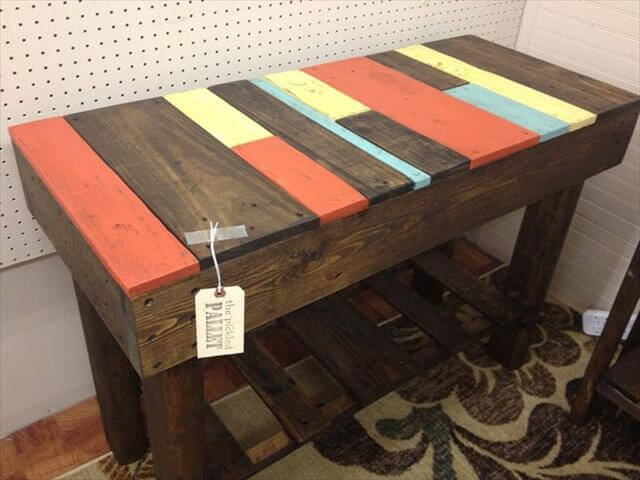 Pallet Corner Sofa with Storage + Decorative Mantle:
This corner sofa has been ranked up with a side wooden support that puts extra functionality to this sofa design, perfect to display your decors and to secure you reading books along with a comfy sitting place!!
Creative Pallet Double Chair Patio Bench:
Get this a totally changed changed design of patio bench, the seated persons on this double chair bench will not be needed a side table for sure!!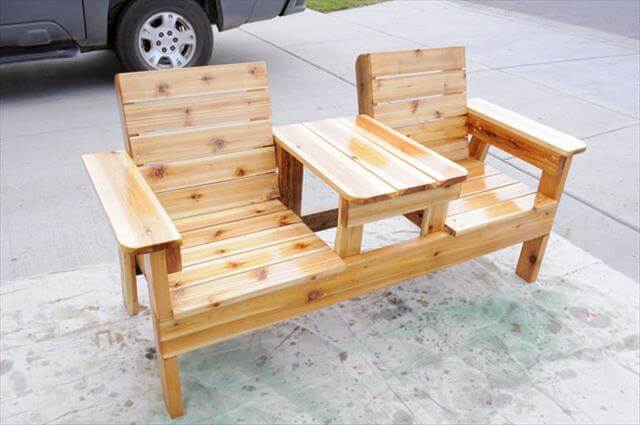 Recycled Pallet Shelving:
These are only the shelves that make the home wall speak! plan super quick shelving units with pallet for your kitchen or living room walls and get them uncluttered!!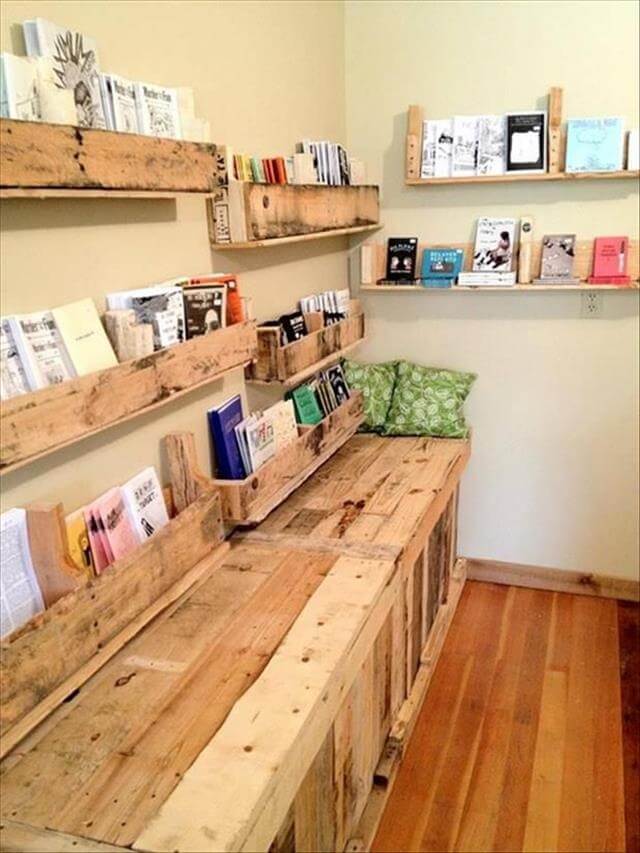 Handmade Pallet Trash Bin with Hinged Lid:
Need a recycle bin for home outdoor or kitchen, just build it with pallet using your brainpower. This pallet wood trash bin with hinged lid will be super cool to store your useless stuff and garbage!!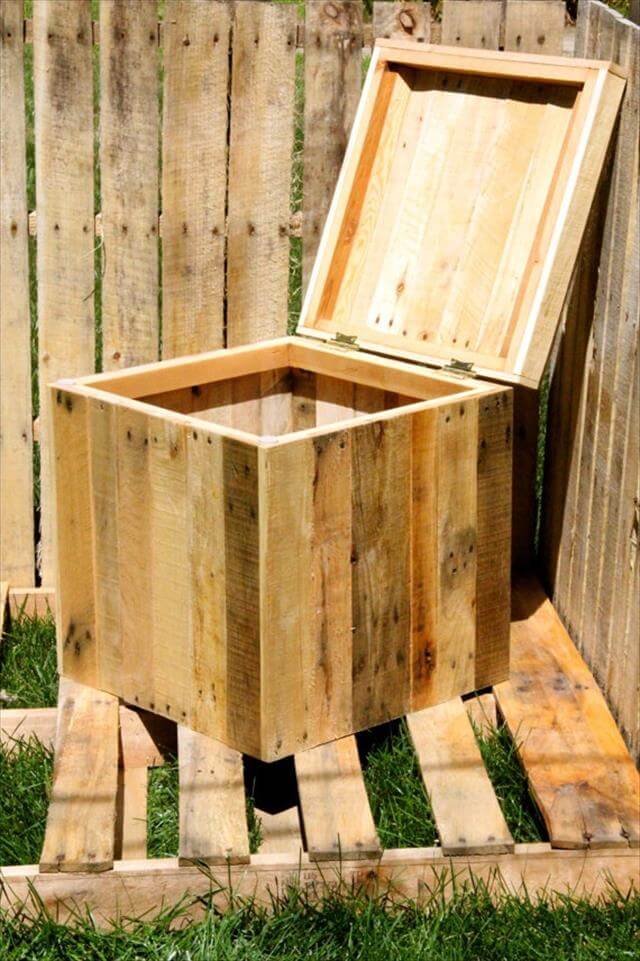 Ultra-Rustic Pallet Bathroom Shelf – Storage Unit:
Pallet boards are just much feasible to be installed into some extraordinary designs of racks and shelving units. This hand-built shelving unit is great for bathroom, kitchen and living room storage!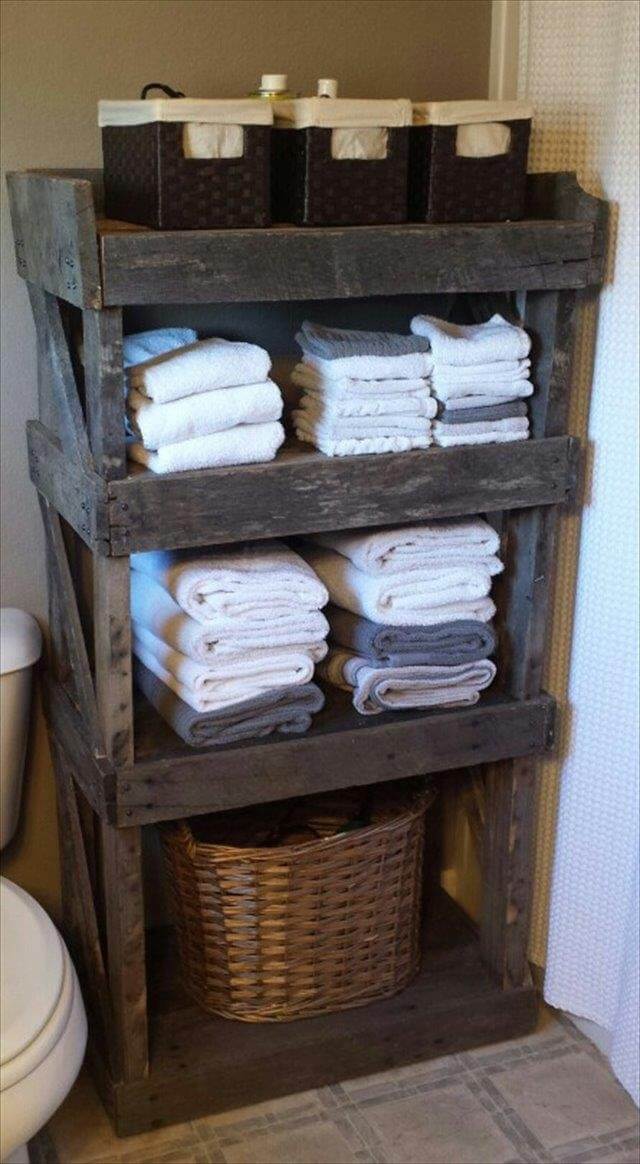 Easy-to-Install Pallet Chair with Storage Cubbies:
This design of comfy pallet chair has been attained using some miniature sizes of pallets, this project is free of any type of cutting. Openings of pallet boards serve as storage cubbies to store books, files and other documentation!!
Customized Pallet Dog Bed with Cushion:
Using two well built and sanded shipping skids this super comfortable and cushioned dog bed has been made and has been accentuated with a dog bone tag with name letters over written. Both top corners have been hooked to fasten the rope for your dog!!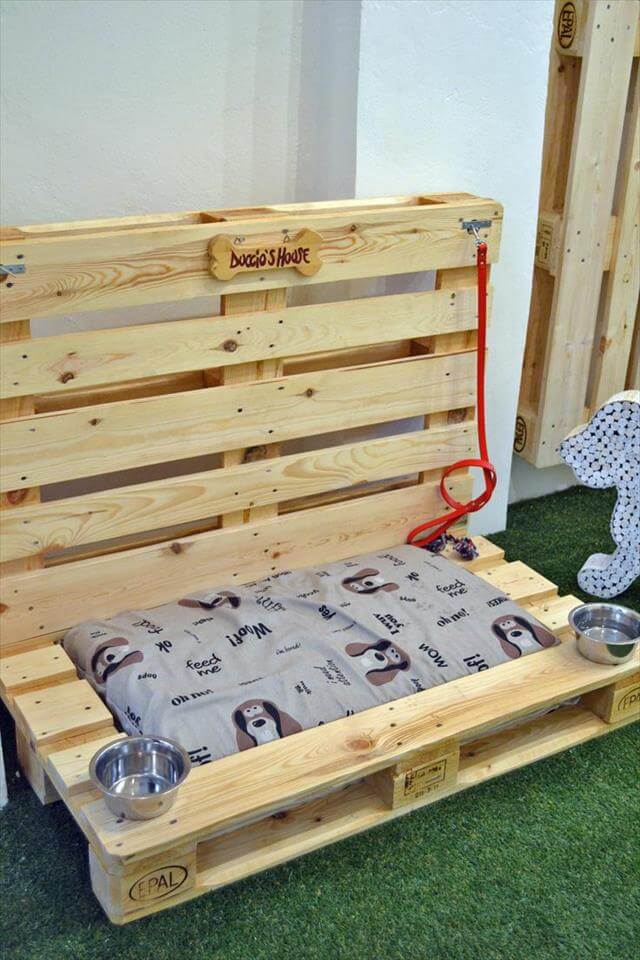 Painted Pallet Coffee Table with Magazine Rack:
Two pallet boards have been installed in top to bottom arrangement and have been finished with paint and glass top to give a central coffee table for your living room, really a beginner-friendly, budget-friendly and Eco-friendly project to earn a coffee table with lasting stability!!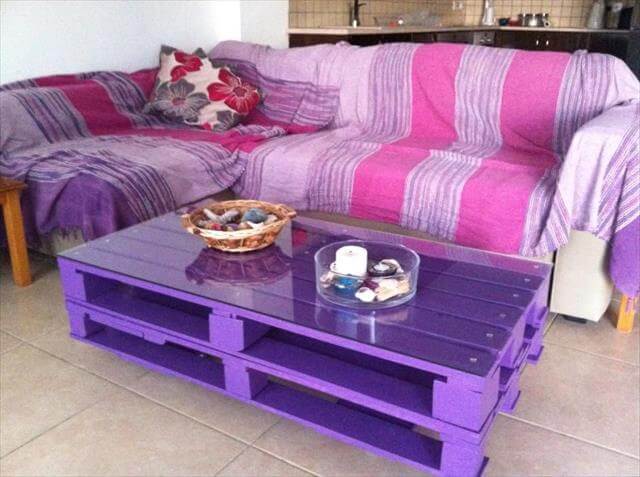 These DIY pallet ideas and projects are here to make your live the luxury on cost-effective plans. Reclaim pallet to add comfort to your life and this is also the wood to reduce the wood waste and recycling is the only way to keep the wood in use for a long long time!!