Release you inner creative person to apply more specific and intelligent techniques on pallets for amazingly functional products out of them. You can accent fun places of home with pallets and can also plan some more fun pallet projects to enjoy more comfortable life. If you really like to swing at outdoor then here comes a great fun project to full your dreams of outdoor entertainments. This DIY pallet outdoor swing will really be an outstanding platform to enjoy with your partner or to enjoy your loneliness with daydreaming.
Planning of this handmade DIY pallet sofa swing is just super easy as you need to strip up the pallets first then go for your own desired dimensions of wooden swing by cutting down the exactly measured sizes from separated pallet boards. To ensure its lifetime stability the entire swing setup has been painted with coats and has been finished with heavy duty hooks to pass through the metal chains to support its hanging. Choose any covered outdoor areas or targeted the porch roof shaft to hang this handmade setup and enjoy!!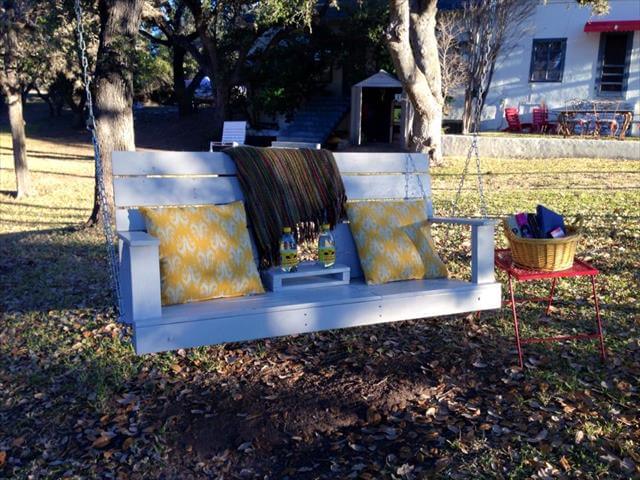 This swings setups comes with comfortable back and armrests and is just best to give sitting space to two mature people. Really enjoyable DIY pallet furniture ideas to boost up your outdoor fun and entertaining activities.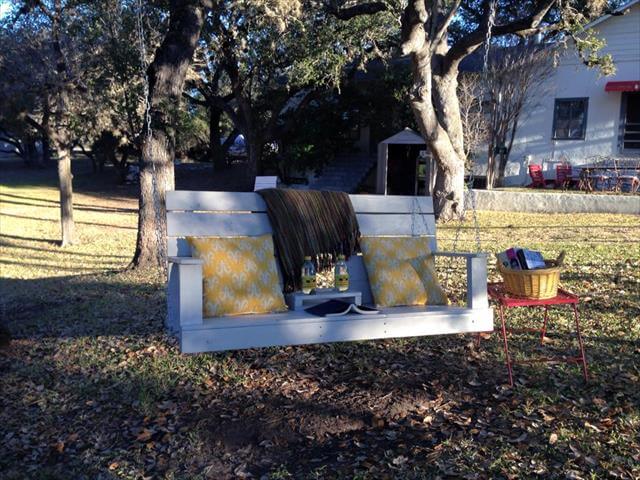 Search for an aloft support to allow hanging of this hand-built swing. This would really be a great DIY pallet project for summers when we mostly like to spend more of our time at outdoor under the cool shade of trees!!