If you really want to keep your outdoor spaces natural then wooden appeal of furniture will work great. Here we are with some perfectly planned DIY pallet sitting furniture ideas which will really create a comfy and natural atmosphere at your outdoor, home front porch, at home deck space and also on terrace. If any of your outdoor accent places is well planned for sitting then your will definitely like to spend more of your leisure time there. These DIY pallet ideas will surely make you get with some extraordinary and jazzy layouts of furniture for both interior and exterior spaces of home.
By getting some useless pallet skids from a nearby dumpster, we have reclaimed almost every concern of sitting furniture out of them in most wisely planned dimensions and designs. We have restored the pallet benches for both garden and home front porch areas. A chic model of Adirondack chair has also been designed which can really make you feel great while relaxing at outdoor. A complete sitting furniture set has also been planned for both living room and patio which are best places of home to entertain your guests. Moreover, some subtle designs of pallet stools has also been recycled out of pallets to provide some extra sitting plans and space to your home.
All these pallet furniture inspirations have left blank in natural wood theme that will completely make your outdoor or indoor look natural. You can also make their appearance customized and changed to any shade of color you desire the most.
All these pallet furniture projects are thrifty and cost effective in nature and can bring vibrancy and prominence to any living space.
Pallet Outdoor Bench:
The infrastructure of this sturdy pallet bench is much easy to understand and can easily be planned by making the pallets disassembled first. Very natural and pure wooden look will really gratify your outdoor.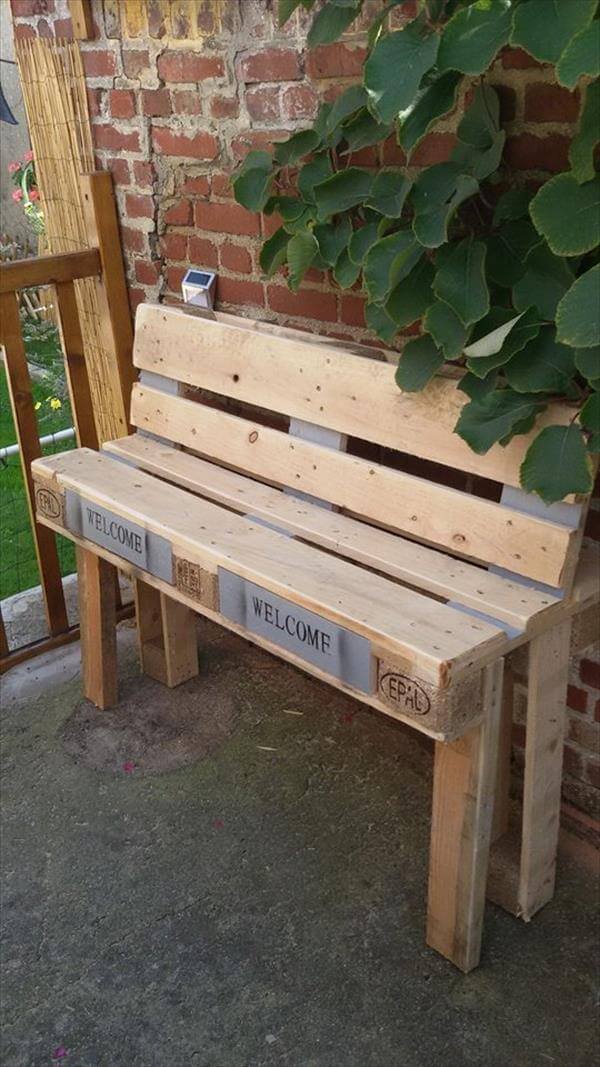 Vintage Pallet Adirondack Chair:
This chair model has very artistic berth and backrest with accurate circular cuts, you can do so by working with some accurate wood cutting tools to dignify the appearance more and more. This chair design is really a very wise and intelligent use of pallets.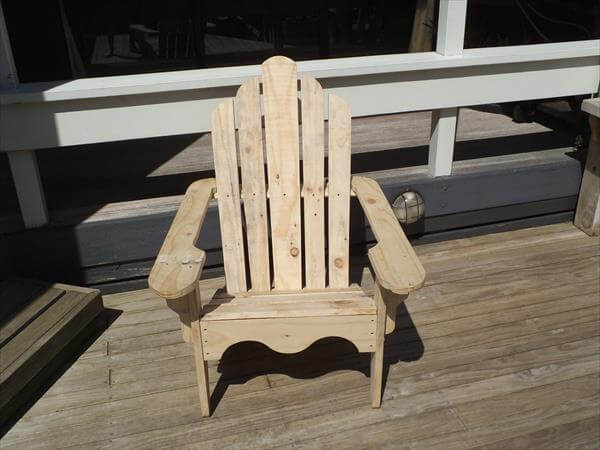 Reclaimed Pallet Chair:
Take a glance on this another amazing trend of pallet chair, very subtle, sturdy and feasible and also very special for kids. Go for it to get some more sturdy chairs for home on a budget.
DIY Reclaimed Pallet Fold-able Chairs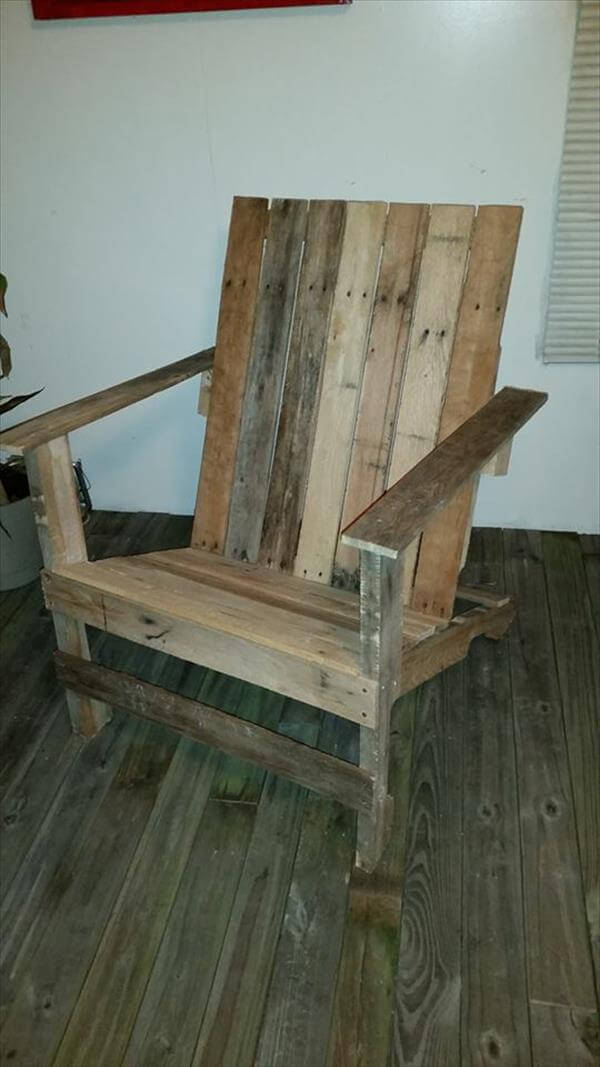 Pallet Sofa Set with Coffee Table:
As the pallet boards are basically the rectangular boards of wood so this feature of them really make them special for further and instant making of furniture. This living room sofa set with a coffee table is the perfect example of what we are trying to say.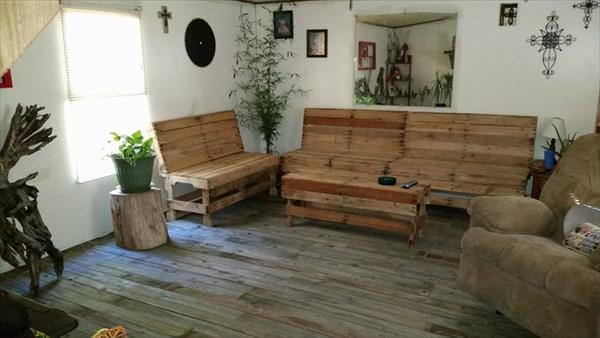 Polished Pallet Patio Furniture:
There are countless styles to get you own unique furniture out of pallets. Check out these dainty pieces of pallet furniture, two sturdy chairs and a 2 seated pallet sofa provide the best sitting plan for patio with a central coffee table which is also made of pallets. Cross sectioned legs are the reason for more sturdiness.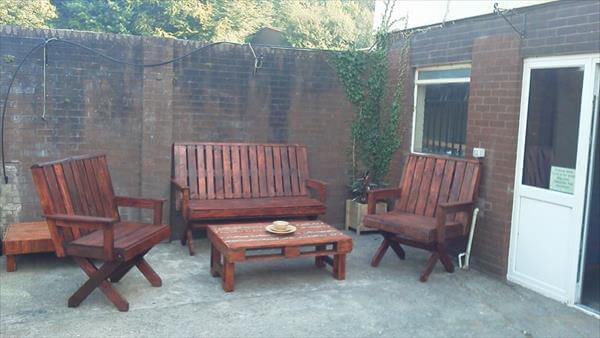 Beefy Pallet Bench With Metal Legs:
This thick and beefy design of pallet bench has bee supported on metal hairpin legs for more durability. It is just for your living room, garden, balcony or porch.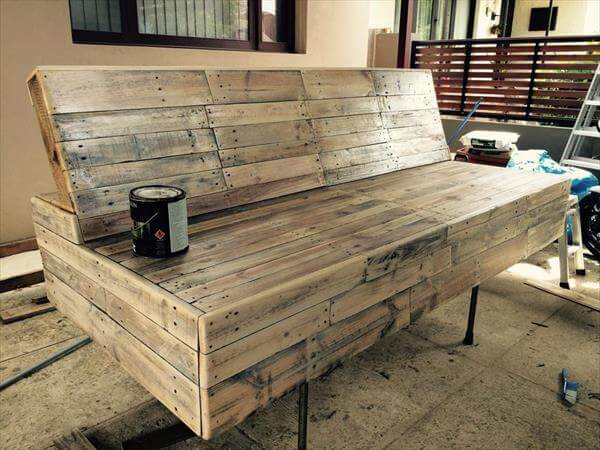 Handmade Pallet Stools:
These stools are purely handmade with pallets and can be used in kitchen or any where in home for sitting purposes. Get them painted for more dapper appearance and look.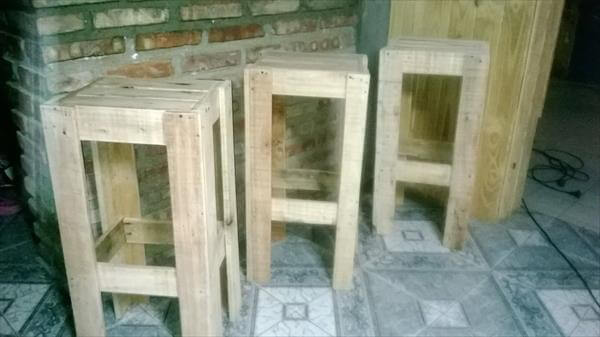 Rustic Pallet Sturdy Stool:
You can use this stool for garden sitting and also to get some height while reaching the higher shelves of home. it is also very best to be used as a side table or a decorative table in your living room.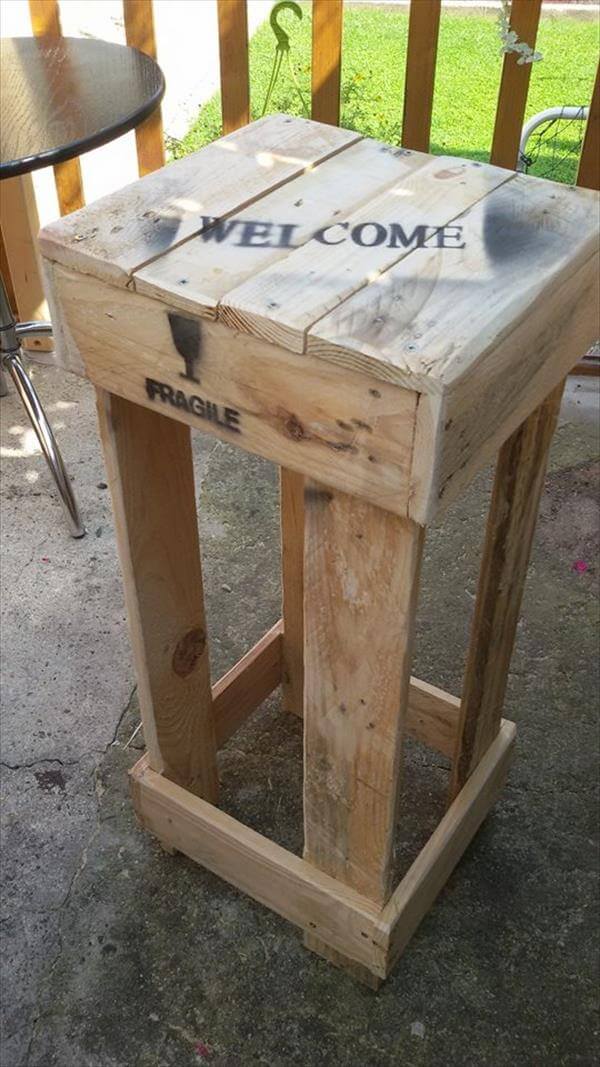 All these snazzy designs of pallet furniture are economically suitable and avoid to any overuse of your hardly earned money, so you can feel free to yield practically any of these DIY pallet furniture projects as they just free of cost and you only need some muscle strength and creative planning.