We have constructed this new mode and fashion of coffee table style for home with great delicacy and beauty. This handmade and handcrafted table qualifies all chic terms of modern furniture supremacy and primacy. The idea is offered to you after making a trial through reclaiming of pallet wood at home. The beauteous and good looking emergence has compelled us to make you aware of its makeover and worth in home atmosphere.
For every home serving need it may be dining purpose, taking tea or coffee and enjoyment of cold drinks and beverage, all need a table to put them in front. And all these table needs have been made possible to regain each from pallet wood the dining table, sofa side table, end table and pallet nightstand. You can manage all the expenditures on this homemade makeover of DIY pallet coffee table with glass top and smiling face because you will have to pay for only the silicon caster attached as moving feet to the coffee table.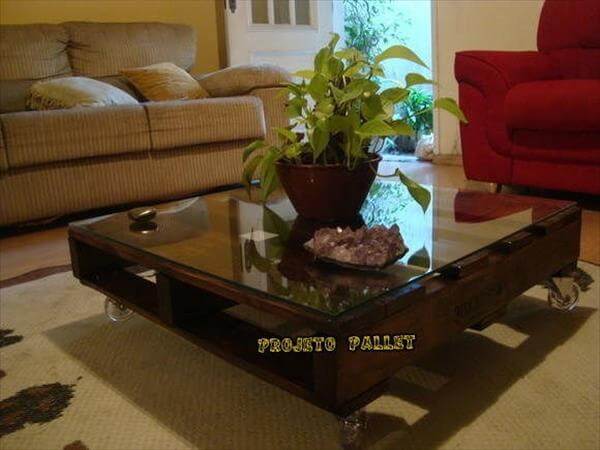 This absorbing architecture of DIY pallet coffee table can chase anyone's heart who is looking it for the first time, and it will be double in significance when you will attach the handmade tag on it. This homely crafted model is unconventional in nature and could not be beat in charm and grace.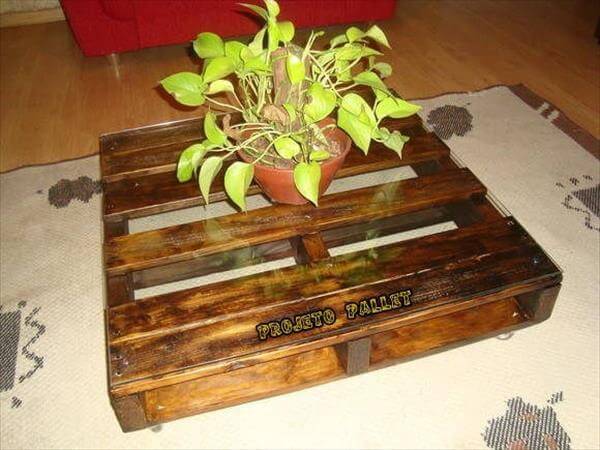 The whole pallet before getting it into framework, has been sanded for overall smooth and even appearance, the gritting and sanding can be done with skillful hands or electrical wooden tools famous for better and dominant results in wood surface cleaning.
We have selected the crystal silicon caster for fast and controllable mobility in whole room environment. The casters have been made functional and stoppable with inner locks in them. The top has many possibilities to act as a center of attention with various ornamented and convenient accessory items like this natural flower pot.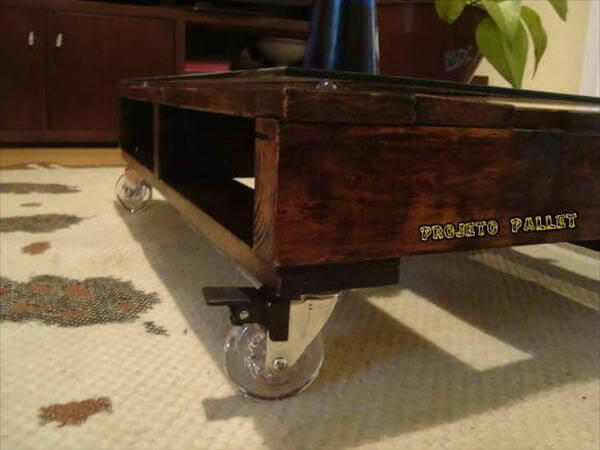 You can go with desired one set of casters from the beauteous and wide range of their availability in the market. But we thought these crystal clear silicon best for black and dark wooden combination. The whole joined wood into this pallet coffee table with glass top model has been varnished and stained for broadcasting of high-class wooden grace.