Dignify your entry to home with this amiable DIY pallet chevron entry table which has a very styled and perfect standing. The table is looking well planned and handsome in layout. The thin long top is a whole beauty to it. We have raised it in sturdiness and it will be a serviceable companion of your for many year to come. The shortage on money is a problem of every common person which makes him deprived from the luxury furniture.
We have sorted out a economical and very thrifty short cut to get that deluxe type of DIY pallet furniture at home. We have resurrected this DIY pallet entry table from productive reclaiming of pallet wood, a highly reachable and free of cost source of wood. The idea has wisely been supervised to earn a knockout standing style too. This DIY pallet project is a quick one and goes smoothly to completion without any hitch or trouble. It is highly serviceable and much enjoyable with chevron styled top and will be much visually attractive piece of furniture at home access point.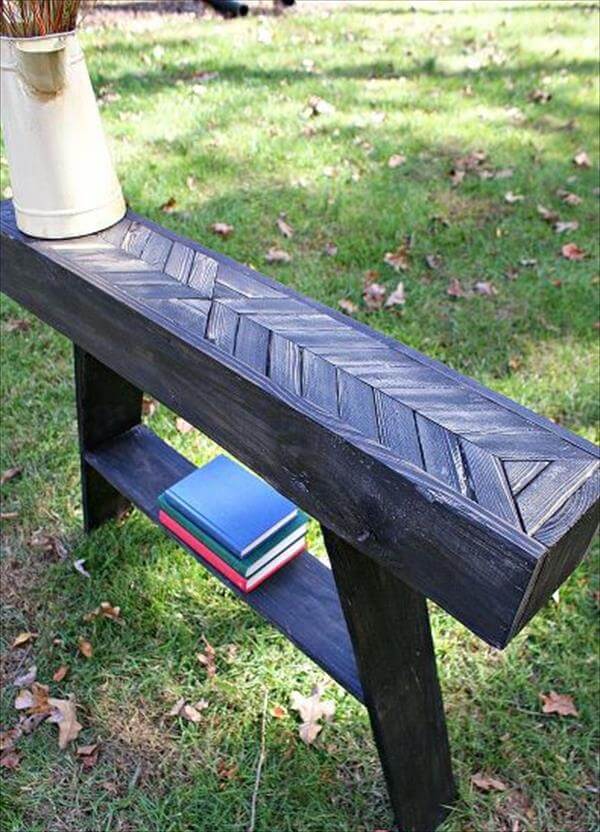 This DIY pallet table has stained in minwax for charming black shine on wooden grains, the stain also provides some lasting endurance to the targeted wooden surface. Table layout provides an additional shelf for book storage needs to be more that just a table.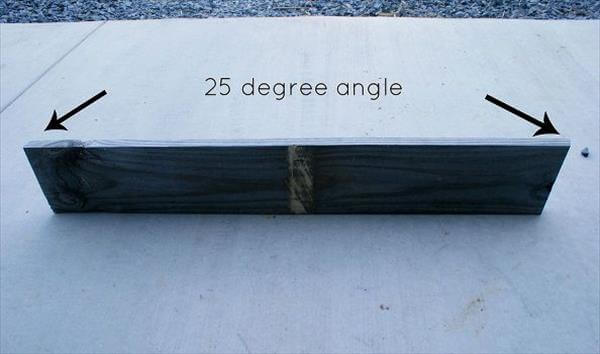 Make a flat DIY pallet shelf for the base of the table top and give two cuts opposite in direction at exact 25 degree, make the angled cut sharp and smooth to enjoy the precision in your targeted layout of table.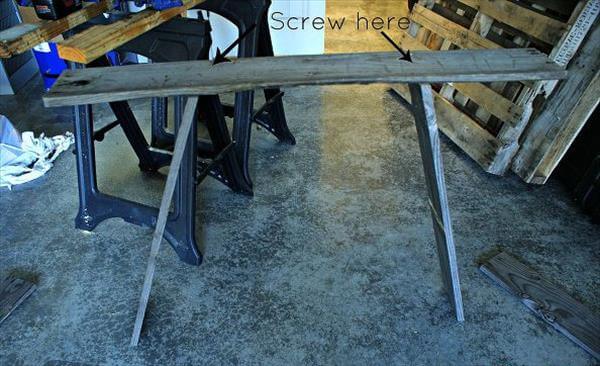 Add the screw at pointed location for leg support to the table to enjoy a perfect standing with sharp and angled style. Make sure that whether legs are equal in size or not and give the legs sharp and angled  edges to to get a perfect junction to the bottom of the shelf.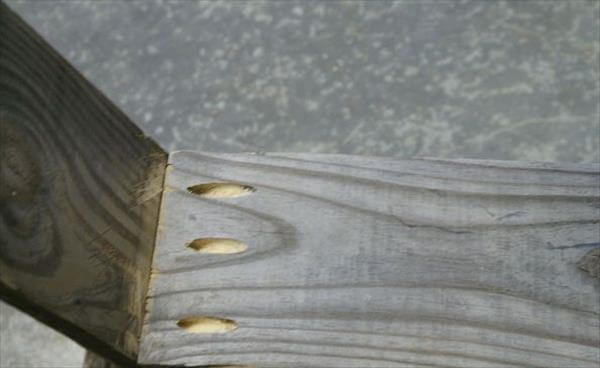 We have used Kreg jig tool for extra support to legs by adding three screws at the bottom joint of each legs. This will help you for hidden addition of screws which is appreciated.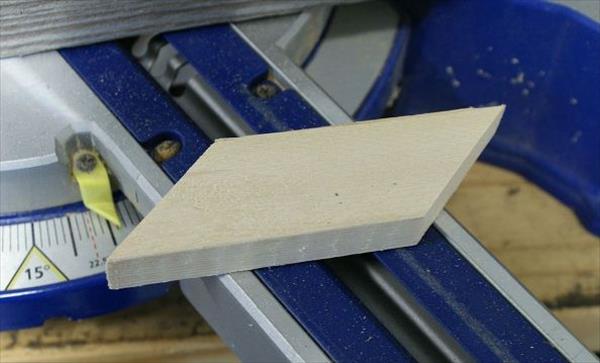 Prepare such a pieces of the wood with 45 degree cut at the both sides, cut it in half and start arranging it on the table top. You will also need some triangular pallet pieces to enclose the chevron style perfectly.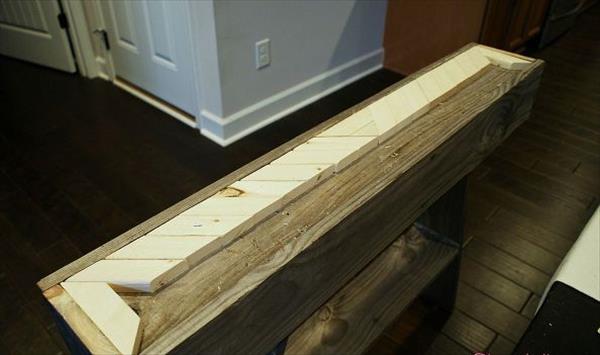 Make a the thin and long top of the out of pallet wood and make the side edges outer just equal to the thickness of above prepared 45 angled cut off pallet piece. Make the piece cut into halves and star arranging in such a way that other side will be have opposite alignment to for get the chevron top,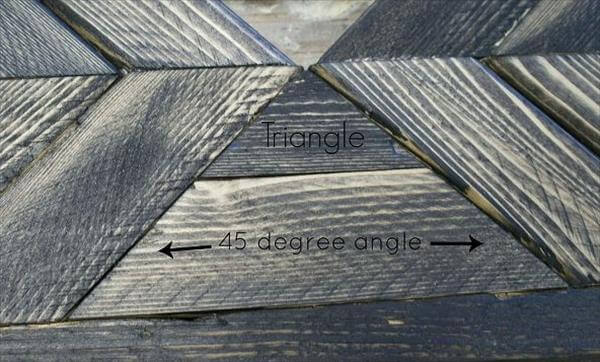 Enclose the in between spacing with according cut off pallet pieces and mid will be enclosed with the triangular shaped piece just we have pointed out for smooth appearance and visually attractive appearance of the chevron styled top of this handcrafted table.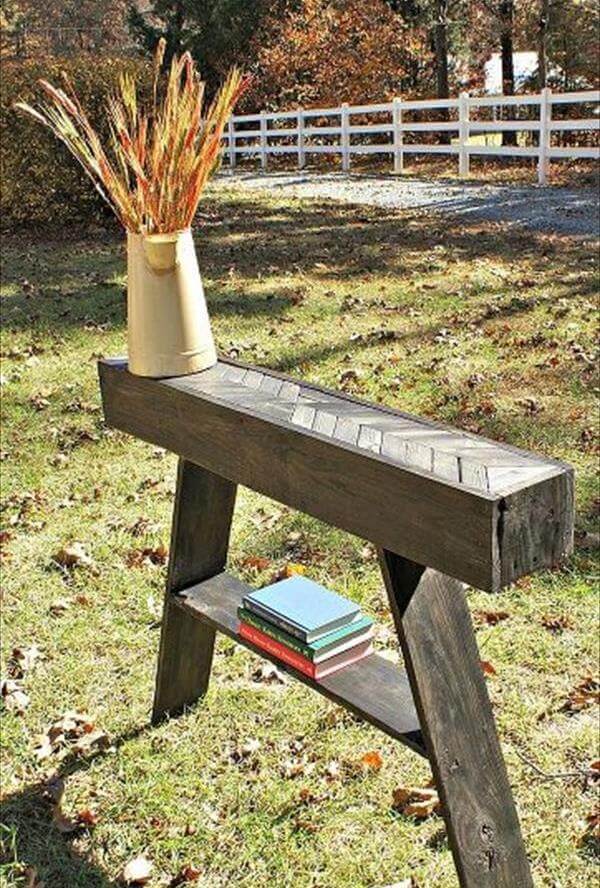 The whole we have got is just smashing and crushing in layout in is much coordinating to that of home access point for ornamental and decorative purposes. Display what you want through the thin and wisely crafted top of this pallet furniture DIY and enjoy the most temping and inviting previews of that every time you will make access to home.