The pallet furniture project we are going to share here, can render unconscious on you at very first glance! So you just need to hold your breath before you see this amazing combo of tech and rustic pallet wood. Watch closely this DIY pallet coffee table with solar panel and USB charger raised in dazzling statement of furniture and having dashing rolling movement to move in either direction you'll decide! After having this pallet industrial coffee table you can easily charge your iPhone with it while having your tea or coffee!
The conversation piece of furniture will really be eyeful to use at lounge or patio and can also be got inside of your living room as a visually attractive conversation starter!
Supplies:
Wooden Pallets, a 12 volt solar panel, a USB charger, hardware wheels and 8mm glass top are the main supplies to get this unique and phenomenal kind of table! Wood cutting tools, nails, screws, sanding block and hammer are also the primary tools that will be used while constructing this hilarious manifestation of table!
Construction:
Two Euro pallets have been installed in bottom to bottom arrangement first, then a 12 volt glass panel has been fitted nicely at the top and adjusted to absorb maximum intensity of sun rays! A USB charger has been connected to the solar panel to charge your i phones and mobiles. This super creative design of table has been finished with hardware rolling wheels and with a 8mm glass top for more functional and sophisticated look!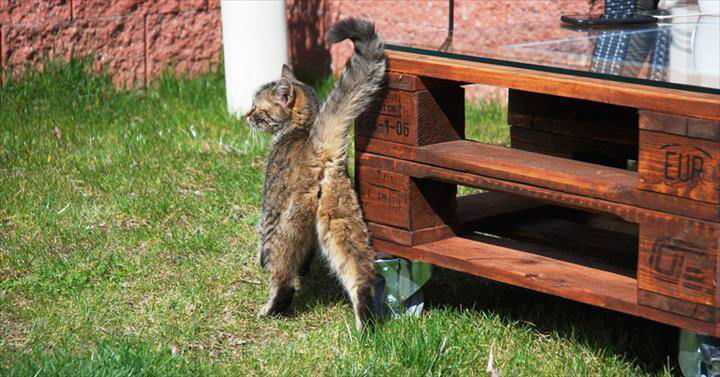 Finishing:
According to pallet wood species, select the a popular stain like walnut, chestnut, minwax or golden oak stain and vary the hue of your table to get the personal appearance of it. Paint would also be nice way to make it pleasing to eyes or compatible to your targeted environment decors!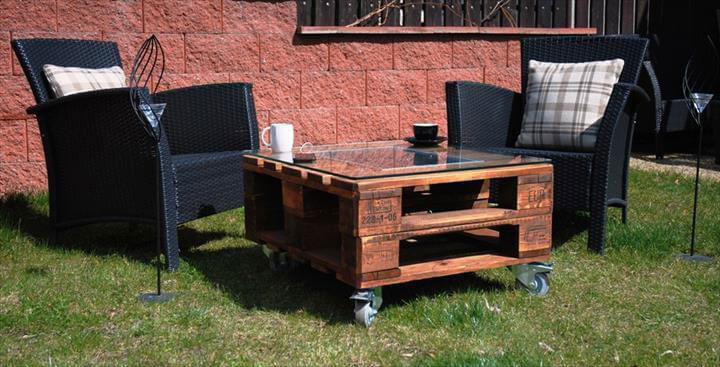 For a sleek appearance of table you can make it polished or can give a semi gloss finish with polyurethane that will also lock the integrity of wood to be safe from weathering and fading!