Wood pallets are more than just products that companies use for shipping. You'll find dozens of ways that you can use them around the house, including indoor and outdoor furniture. Once you look at some of the best pallet ideas for your bedroom, you may want to grab some tools and start building.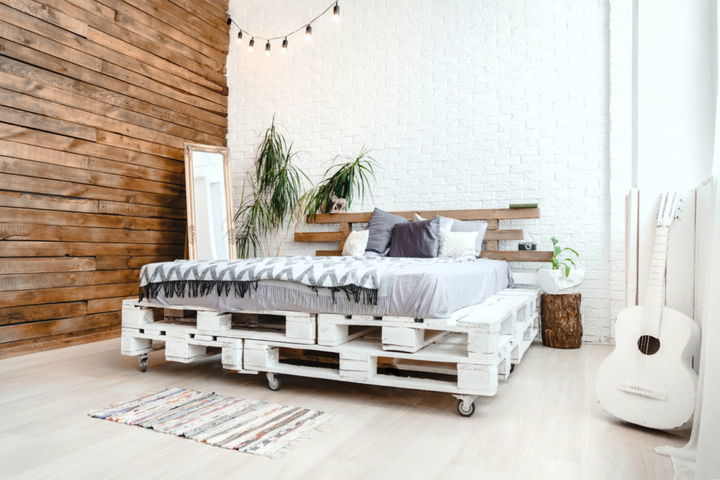 Pallet Bed
One of the best ways to use wood pallets is as a DIY bed frame. You can use just four pallets put flat on the ground to form a frame for a queen bed. If you want a platform bed or like to sleep higher off the ground, simply add another layer of pallets. There is no limit to how elaborate or intricate you can go with the DIY pallet bed frame. You might add pieces to the sides to serve as attached tables for your books and other supplies or several pieces to create a headboard. Just make sure that you have the minimum number of pallets needed to support the mattress that you have.
Pallet Bedside Table
Why settle for bedside tables that you can buy at any store? You can use your imagination to create the perfect tables to use next to your bed. One method requires breaking down the pallets into individual pieces or slats of wood. You can then rearrange the pieces to create a simple box. Using stain or paint allows you to add some colour to the wood and make it work in your bedroom. If you have lots of wall space, consider attaching each table directly to the wall. You can also buy hairpin legs made of metal and other legs that you attach to each table's bottom. If you go with legs, you'll want a set that lifts the edge of the table to the same height as your bed.
Pallet Bookshelf
While many stores sell pallet bookshelves, you can make your own for much less money. The most straightforward idea involves using a standard pallet size and painting the wood. You simply turn the pallet over so that the side with more wood faces the back. The front has two large wood slats that are the perfect size for holding books and other small decorations. If you want a more rustic look, you can leave the pallet as-is or seal it with a clear coat. To get more out of a pallet, consider cutting it in half and mounting the two pieces to the wall as two separate shelves.
Pallet Dresser
Though it takes more time to create a pallet dresser, you can make one you want to show off that can also hold most of your clothing. An easy way to make a pallet dresser is with old slats that you pull off the pallet. You then cut the slats to the correct size and mount them onto an existing dresser. If you have the right tools, you can pull several pallets apart and use the pieces to make a new dresser from the ground up. This requires looking at the pallet dimensions to ensure that you have enough wood for the job. You need pieces for both the exterior of the dresser as well as the drawers.
You will have lots of fun using wood pallets to make furniture for your bedroom. Keep in mind that the commercial pallets you might find for free often have chemicals that are not safe to sleep around. You need to either treat the pallets or seal them before using them in your bedroom. Once you have enough pallets, you can come up with dozens of ways to use them.