Pallets are just amazing for crafting and take no time to modified into a utilitarian layout. If you are looking for really an mind blowing exampling of wood reclaiming then have this DIY pallet and wire spool bench, creatively made using two useless types of wood. Pallet wood has been used to design the berth section of this rustic yet sturdy bench and two wire spool wheels have been fixed at both sides to serve as legs. To stop rolling and to make the wheels fixed like flat legs, sharp cuts have been given to them.
This DIY pallet bench can provide comfortable sitting anywhere at indoor or outdoor you want. It would be just perfect to use in your garden or at patio and home front porch areas will also be a good suggestion to go for daydreaming by sitting on it. Wood has been sanded and gritted to look bright and has been made splinters free. Enjoy this rustic appeal in your antique and vintage inspired interiors or make it painted to vary its colors to get most personal appearance of it!!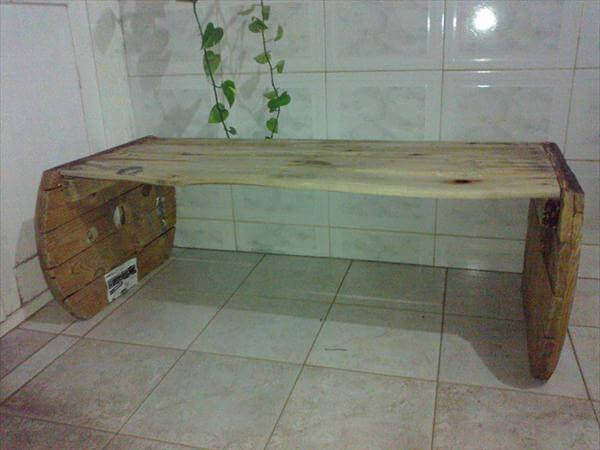 This is a no-cost plan to get a functional bench design. There are tons of more DIY pallet furniture ideas and suggestions to get extraordinary useful and super comfortable furniture through pallet wood recycling. You wise planning to reclaim the pallets, can really add a lifetime comfort your life on a budget!!