Outdoor playing makes the children healthy and strong and is scientifically approved a necessary phenomenon for natural growth of the children. You should always take care that what your children like in playing and what type of activities make them excited and cherished. What type of mind and nature your children have, they will definitely like this DIY pallet playhouse for outdoor playing and activities. Playhouse carries all in rustic type and have very well-build and lasting structure on a budget.
Look for more pallet wood to make it multiple in features like to add slides, hanging platform, monkey bars and all that your creative mind think to be in it for activeness and physical growth of your kids. We have also go for many scaled up DIY pallet project, like to have a pallet shed, outdoor pallet house and many ornamental wooden plans for gardens. So give space to pallet work in home for creative and artistic DIY pallet wall art work and for a plenty of storage schemes.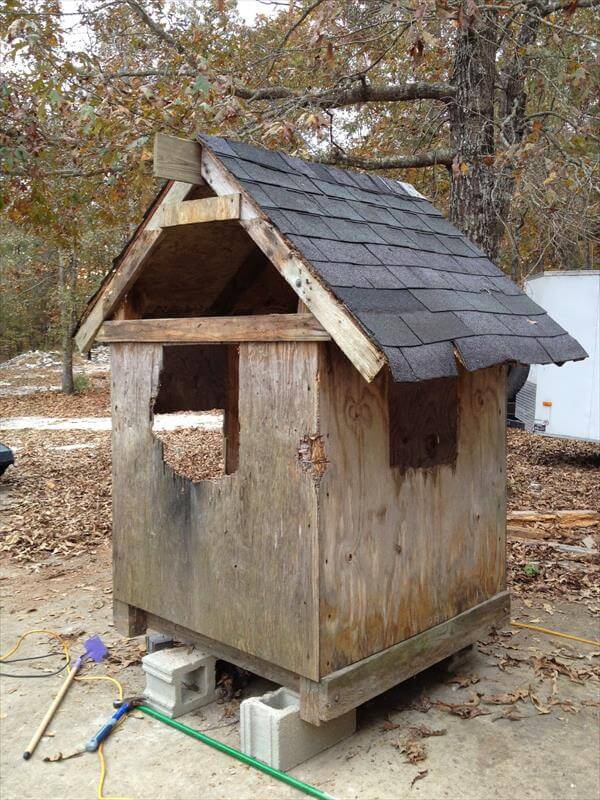 We happen to find an old and worn tree house which was which have been tossed to a rubbish pile to be ruined. It was about to decay and was in ultimate weathered layout. We have intended to get it renewed in modern terms of view to be more visually active and pleasing.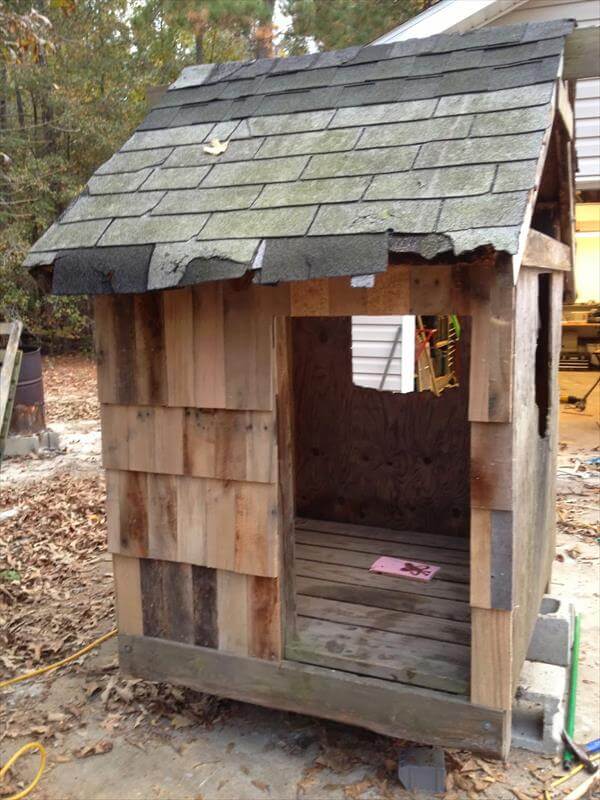 first of all we have lifted it on concrete blocks to be off the ground. It is necessary the place you are choosing to build this playhouse should be geographically safe and sound. It should be build on space having good weather conditions. After planning the area take out your pallet wood from the stock and get ready your wooden tools for its wooden modifications and alterations.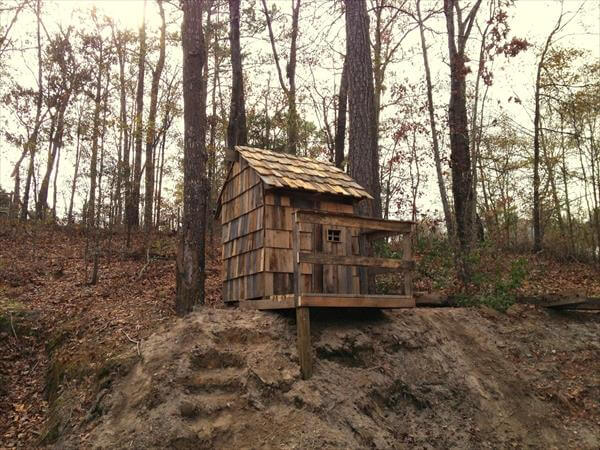 After stripping up the pallet the planks have covered the old rustic skeleton of the playhouse in pattern like the crocodile skin. Multiple pallet mounted layers with raised edges make the view very pleasing and sweat-tempered. We have chosen a small mountain like landscape for our playhouse in the open and wide natural environment.
The window frames chevron roof and main entrance and a little cozy balcony area, all have been reclaimed from pallet wood to adopt some home standard to give best fun to your children. If your find any type of wooden cavities then make it waxed and filled with patina.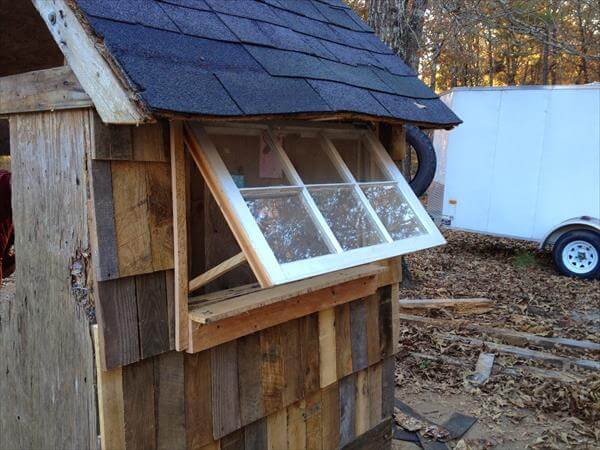 The inner temperature and air controlling and moderating can easily be handled with this old reclaimed window by making it adjusted according to desired. The window has been repurposed from old home broken up and crumbled furniture. You can find great things in your home scrap and discarded material to make it more aesthetic in beauty.