Get some trendy and new for better holidays effects and enjoyment by making DIY tiny pallet house with our plans and ideas. We have brought to you an extremely gorgeous and low budget plan to have some outdoor luxury comforts by constructing your own DIY pallet house. Working with pallets may be a tough and muscular one task to do for most of us who are unknown to deal with it. But having well supporting models of household furniture really means a lot when there is shortage of money. So now we are going to construct pallet house with given house plan to go crazy and mad with holidays events and parties.
You should know about pallet a little bit before you buy some supply of pallet for given project. Pallets provide coverage to shipping goods which are loaded on ships for trading. So to avoid bacteria, insects and fungus the pallet box containing goods are treated chemically for safety and health of goods. So we should stain it completely while separating apart the pallet planks to make arrangements for targeted DIY project. Now we have described every little and cozy detail about wood and construction instructions to construct you pallet house manually.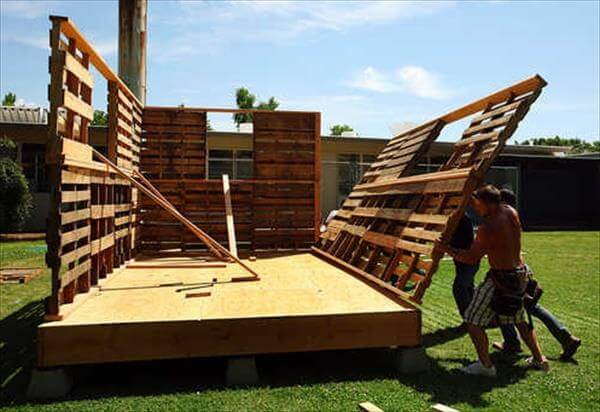 Roof:
Pallet are mostly the hard wood planks to they are heavy weigh and hard to work with. For safety issues of you and walls of pallet house the roof should be light weight and can compete modern fashion trend and should be resistant to weather and water effects so we have chosen pitched shape roof for our home with metal shelter and coverage to give all aspects and benefits regard to safety, support and fashion.
Floor:
The floor can also be constructed with pallets with some varnish of staining solution like polyurethane which if coated two or more times will give tremendous crystal clear effects to the whole floor surface of DIY pallet house but this would be less resistant to insects which are harmful to wood. so to avoid this you can also make your floor with concrete slabs now you have too strong opinions about floor making, choose that you think suitable and according to budget.
Walls:
The pallet walls will give you not only the closed shape residence but also useable for wall arts and wall decorations which can be made on walls or can be hanged with walls. So taking into account this tremendous use of walls, then walls should be made neat and clean by filling up the pallet wood cavities with some basic mixture of lime and sand and it may be stucco or plaster. But we have chosen here stucco and spray foam for ease and super fast cleaning and furnishing of walls. The spray should be atmosphere friendly and should have no side effects.
Window and Doors:
Now it's time to maintain air circulation in DIY pallet house and better captivating and appealing impressions. The door and windows can be constructed with pallet wood at home or may bought them for store but we recommend to you to try all door and window at home for provident budget. Our many pallet tutorials can guide you about most authentic attachments of doors and windows made of pallet wood. You can use some stylish hinges, latch locks and pulling handles for reliable and durable opening and closing of windows and doors with fluttering metal touch ornaments and knickknacks.
Assembly:
All parts of tiny pallet house should be merged together firmly to give a complete centerpiece for outdoor house and best last longing support. For this purpose we can make use nails, screws, and nuts and bolts with some hand tools like hammer, drill and screwdriver by taking into account the hardness of pallet wood which is basically the hardwood. You can also make use of glue for better way to go, and smarter supporting effects.
Another:
8-Inch Thick Wall Pallet House Concept :